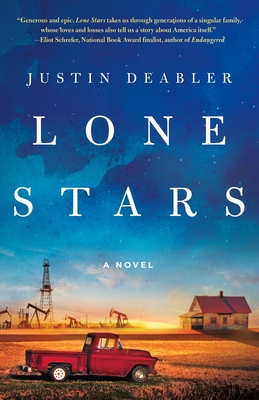 Lone Stars
A Novel
Hardcover

* Individual store prices may vary.
Description
"Generous and epic…takes us through generations of a singular family, whose loves and losses also tell us a story about America itself." —Eliot Schrefer, National Book Award finalist, author of Endangered

Lone Stars follows the arc of four generations of a Texan family in a changing America. Julian Warner, a father at last, wrestles with a question his husband posed: what will you tell our son about the people you came from, now that they're gone? Finding the answers takes Julian back in time to Eisenhower's immigration border raids, an epistolary love affair during the Vietnam War, crumbling marriages, queer migrations to Cambridge and New York, up to the disorienting polarization of Obama's second term. And in these answers lies a hope: that by uncloseting ourselves—as immigrants, smart women, gay people—we find power in empathy.
Praise For Lone Stars: A Novel…
"Deabler's bighearted debut...this novel proudly and emotionally defines what it means to be from the Lone Star State." —Publisher's Weekly

"Growing up gay in Houston, Texas does not sound like a recipe for an easy life, but it is a rich, meaningful, and endlessly interesting life, portrayed with sensitivity and verve in Lone Stars, a triumphant debut by Justin Deabler." —Matthew Sharpe, author of The Sleeping Father

"Deabler's lovely first novel read as if preserved in amber--come from a gentler and more generous time. Enormously poignant, Lone Stars is written with great care, honoring the nuanced and shifting shapes of two men moving together through the great journey of being fully alive... It illuminates with its tenderness, it's quiet clarity, and finally its vision of hope." —Carole Maso, author of Ava

"Deabler's wide-ranging empathy and emotional intelligence mark him as an important new writer to watch." —Eliot Schrefer, National Book Award finalist, author of Endangered and Threatened

"At once epic and timely, Deabler's stunning multi-generational novel is a deep dive into the complexities of family and identity. It is a reminder of how frequently American history repeats, a complicated love song to Texas, and (I'll be honest) a tear-jerker. You won't be able to set this one down." —Diana Spechler, author of Who by Fire and Skinny

"Lone Stars is a wonderfully humane and honest novel about a complicated modern American family. This perfectly paced story builds on secrets, betrayals and unconditional love toward a big-hearted ending that may leave you in tears." —Jim Lynch, author of Before the Wind
St. Martin's Press, 9781250256102, 304pp.
Publication Date: February 2, 2021
About the Author
Justin Deabler grew up in Houston. He dropped out of high school when he was fifteen, went to Simon's Rock College, and graduated from Harvard Law School. He is the General Counsel for the Queens Public Library. He lives in Brooklyn with his husband, son, and two cats. Lone Stars is his first novel.