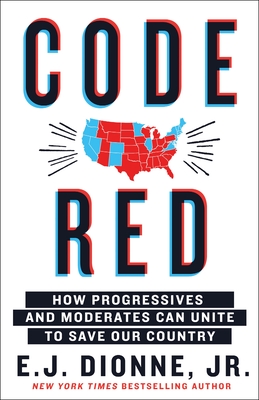 Code Red
How Progressives and Moderates Can Unite to Save Our Country
Hardcover

* Individual store prices may vary.
Other Editions of This Title:
CD-Audio (2/4/2020)
Description
"An exquisitely timed book ... Code Red is a worthwhile exploration of the shared goals (and shared enemies) that unite moderates and progressives. But more than that, it is a sharp reminder that the common ground on which Dionne built his career has been badly eroded, with little prospect that it will soon be restored." —The New York Times Book Review

New York Times bestselling author and Washington Post columnist E. J. Dionne, Jr. sounds the alarm in Code Red, calling for an alliance between progressives and moderates to seize the moment and restore hope to America's future for the 2020 presidential election.

Will progressives and moderates feud while America burns? Or will these natural allies take advantage of the greatest opportunity since the New Deal Era to strengthen American democracy, foster social justice, and turn back the threats of the Trump Era?

The United States stands at a crossroads. Broad and principled opposition to Donald Trump's presidency has drawn millions of previously disengaged citizens to the public square and to the ballot boxes. This inspired and growing activism for social and political change hasn't been seen since the days of Franklin Roosevelt's New Deal policies and the Progressive and Civil Rights movements. But if progressives and moderates are unable—and unwilling—to overcome their differences, they could not only enable Trump to prevail again but also squander an occasion for launching a new era of reform.

In Code Red, award-winning journalist E. J. Dionne, Jr., calls for a shared commitment to decency and a politics focused on freedom, fairness, and the future, encouraging progressives and moderates to explore common ground and expand the unity that brought about Democrat victories in the 2018 elections. He offers a unifying model for furthering progress with a Politics of Remedy, Dignity, and More: one that solves problems, resolve disputes, and moves forward; that sits at the heart of the demands for justice by both long-marginalized and recently-displaced groups; and that posits a positive future for Americans with more covered by health insurance, more with decent wages, more with good schools, more security from gun violence, more action to roll back climate change.

Breaking through the partisan noise and cutting against conventional wisdom to provide a realistic look at political possibilities, Dionne offers a strategy for progressives and moderates to think more clearly and accept the responsibilities that history now imposes on them. Because at this point in our national story, change can't wait.
Praise For Code Red: How Progressives and Moderates Can Unite to Save Our Country…
"Veteran political analyst E. J. Dionne, in his valuable new book, [Code Red], got this exactly right: We have no responsible Republican Party anymore. ... If the country is going to be governed responsibly, that leadership can come only from Democrats and disaffected Republicans... It is crucial, therefore, argues Dionne, that moderate and progressive Democrats find a way to build a governing coalition together." —Thomas Friedman, The New York Times

"Fascinating." —David Leonhardt, The New York Times

"Highly engaging, intellectually sound, and morally grounded... Dionne implores Democrats to recognize their divisions, debate them honestly, be more flexible, and ultimately forge some strategic consensus around a progressive but not extreme vision." —Washington Monthly

"The Washington Post columnist and NPR commentator offers a passionately reasoned argument for why both progressive and moderate wings of the Democratic Party must put aside differences to defeat Donald Trump in 2020.… A well-argued and persuasive treatise by a deeply concerned journalist and citizen." —Kirkus Reviews

"Democrats closely following the early stages of the 2020 presidential race will find this reasonable, evidence-based account to be a valuable source of information." —Publishers Weekly

"American political discourse is perhaps more divided than it has been at any time in the country's history. Republicans versus Democrats, alt-right versus far left: the chasm runs wide and deep… Dionne urges progressives and moderates to find common, rather than shaky, ground for the good of the country and their party's survival." —Booklist

Praise for E.J. Dionne, Jr.

"The insights of this award-winning journalist with unique access to politicians make wonderful reading." —The Washington Post on Why the Right Went Wrong

"[The authors'] sense of possibility offers a refreshing and very American contrast to today's dystopia." —Financial Times on One Nation After Trump

"That his bold prediction cannot be dismissed as mere whistling past the graveyard of liberalism is a tribute to Mr. Dionne's thoroughness as a reporter and rigor as a scholar, qualities manifested in his 1991 book, Why Americans Hate Politics.... They Only Look Dead is a luminously intelligent and quietly passionate polemic that deserves to alter the terms of American political debate." —The New York Times Book Review

"A thrilling book, from one of America's most universally respected minds. You should buy it." —Rachel Maddow on Our Divided Political Heart
St. Martin's Press, 9781250256478, 272pp.
Publication Date: February 4, 2020
About the Author
E.J. Dionne, Jr., is a columnist for The Washington Post, Senior Fellow at the Brookings Institution, and professor at Georgetown University. E.J. is the author of the New York Times bestseller, Why the Right Went Wrong.
or
Not Currently Available for Direct Purchase