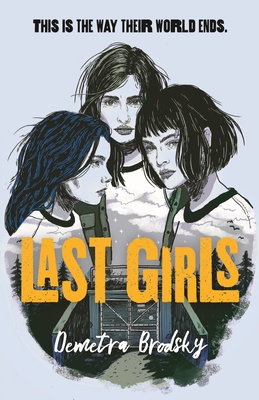 Last Girls (Hardcover)
Tor Teen, 9781250256522, 368pp.
Publication Date: May 5, 2020
* Individual store prices may vary.
Description
Demetra Brodsky's Last Girls is a twisting, suspenseful YA thriller about sisterhood, survival, and family secrets set in the world of doomsday prepping.
No one knows how the world will end.
On a secret compound in the Washington wilderness, Honey Juniper and her sisters are training to hunt, homestead, and protect their own.
Prepare for every situation.
But when danger strikes from within, putting her sisters at risk, training becomes real life, and only one thing is certain:
Nowhere is safe.
About the Author
Demetra Brodsky is an award-winning art director and designer turned writer. She has a B.F.A. from the Massachusetts College of Art and Design and lives in Southern California with her family of four and two lovable rescue dogs. Dive Smack is dedicated to the Monarch Butterfly she once saved from the brink of death.
Praise For Last Girls…
Praise for Dive Smack
"A tense psychological drama with a voice that pulls you in and a twist you won't see coming, Dive Smack is an instant Hitchcockian classic!"—Gretchen McNeil, author of Ten
"A twisty, witty thriller readers will love puzzling through to the very end. A visceral, delightful debut." -- Carrie Mesrobian, author of William C. Morris award finalist Sex & Violence
"This riveting debut will plunge readers into an accelerating coil of twists and turns as if in free fall, plummeting them from a precipice as they cling to the dwindling hope of safe entry into the mysterious darkness below." --S.A. Bodeen, author of The Compound
"Brodsky's debut combines an engaging school story, filled with best friend shenanigans, first love, and a fascinating look at competitive diving, with a tense psychological mystery." -- Booklist

"In an impressive debut, Brodsky injects her teen drama with ambiguity, and a subtle hint of paranormal phenomena, leaving readers to guess at what's really going on. Strong characters and a compelling mystery make this a real page-turner." -- Publishers Weekly
"The story combines intriguing elements, so that just when readers may think it is headed in one direction, it shifts or pulls from a new genre…Readers looking for an adolescent psychological thriller will not be disappointed."— Voya, Meghann Meeusen.
"A taut thriller with a twist ending that will blow your mind." -- Kim Liggett, Bram Stoker Award-Winning Author of The Last Harvest
"Complex, thrilling, and with a pitch-perfect narrative voice, Dive Smack will leave you on the edge of your seat and unable to put this one down." --C. Desir, author of Bleed Like Me
"Heartbreaking, human and heroic, Dive Smack is a Perfect 10!"— Karen LaFace, 1992 USA Olympic Springboard Diver
"A taut roller coaster of a thriller chock full of dark family secrets, twisty lies, and finally, the redeeming power of truth."-- Michelle Zink, author of This Wicked Game