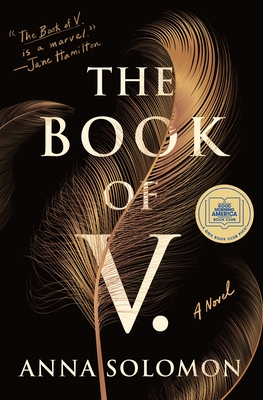 The Book of V. (Hardcover)
Henry Holt and Co., 9781250257017, 320pp.
Publication Date: May 5, 2020
* Individual store prices may vary.
Description
This kaleidoscopic novel intertwines the lives of a Brooklyn mother in 2016, a senator's wife in 1970s Washington, D.C., and the Bible's Queen Esther, whose stories of sex, power and desire overlap and ultimately converge—showing how women's roles have and have not changed over thousands of years.
Lily is a mother and a daughter. And a second wife. And a writer, maybe? Or she was going to be, before she had children. Now, in her rented Brooklyn apartment she's grappling with her sexual and intellectual desires, while also trying to manage her roles as a mother and a wife.
Vivian Barr seems to be the perfect political wife, dedicated to helping her charismatic and ambitious husband find success in Watergate-era Washington D.C. But one night he demands a humiliating favor, and her refusal to obey changes the course of her life—along with the lives of others.
Esther is a fiercely independent young woman in ancient Persia, where she and her uncle's tribe live a tenuous existence outside the palace walls. When an innocent mistake results in devastating consequences for her people, she is offered up as a sacrifice to please the King, in the hopes that she will save them all.
Following in the tradition of The Hours and The Red Tent, The Book of V. is a bold and contemporary investigation into the enduring expectations and restraints placed on women's lives.
About the Author
Anna Solomon's debut novel, The Little Bride, was a Boston Globe bestseller. Her stories and essays have appeared in The New York Times Magazine, More, One Story, Ploughshares, and elsewhere, and have twice been awarded the Pushcart Prize. She teaches at Brown University in Providence, Rhode Island, where she lives with her husband, daughter, and son.
Praise For The Book of V.…
"The Book of V. is a marvel. It's a testament to the enduring strength and flexibility of the novel form itself, and a testament to the wisdom, clarity, and boldness of Anna Solomon. She is a remarkable writer who has written an extraordinary book."—Jane Hamilton, author of The Excellent Lombards
"In The Book of V., Anna Solomon reaches across centuries to capture the timeliness and timelessness of being a strong, passionate woman in a world governed by men. How far we've come and yet how many of the battles look the same. I was riveted by this searingly inventive, humane, and honest page-turner of a novel."—Mary Beth Keane, author of Ask Again, Yes