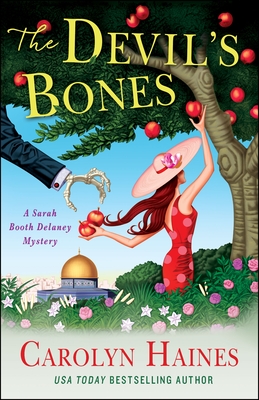 The Devil's Bones (A Sarah Booth Delaney Mystery #21) (Hardcover)
Minotaur Books, 9781250257864, 368pp.
Publication Date: May 12, 2020
* Individual store prices may vary.
Description
In Carolyn Haines' The Devil's Bones,, spunky southern private investigator Sarah Booth Delaney tackles a thorny murder while away on a girls' weekend.
Sarah Booth and Cece are in Lucedale, Mississippi, where the newly-pregnant Tinkie is treating her friends to a girls' weekend at the fabulous new Bexley B&B. The facials, organics, food, and fitness coaches are supposed to be phenomenal, but Tinkie's primary aim is to attend the Sunrise Easter Services at the incredible Palestinian Gardens, a miniature Holy Land that spreads over 20 acres and has recreations of all parts of Jerusalem—and to speak with the Biblical scholar, gardener, and creator of the Palestinian Garden Daniel Reynolds.
After waking up at the crack of dawn for the service the three friends wander around the gardens, taking in the wonder of entire cities in miniature and the acres of the Holy Land, with the River Jordan winding through it all. The day is brightening when the find themselves at the Mount of Olives—with a dead body.
Daniel identifies the dead man as local lawyer Perry Slay, who was well known for his sly and underhanded dealings, and had plenty of people out for his blood. When Erick Ward, a local pharmacist, is arrested, Sarah Booth takes the case.
As the bodies pile up like a pillar of salt and the suspect list grows as long as the River Jordan, Sarah Booth, Cece, and Tinkie must resurrect the truth before their own lives—and that of Tinkie's unborn child—are endangered.
About the Author
Carolyn Haines is the USA Today bestselling author of over 80 novels in a number of genres, mostly mystery and crime. She is the author of the long-running Sarah Booth Delaney mystery series, the Pluto's Snitch paranormal-historical mystery series, and the Familiar Legacy romantic suspense series featuring Trouble the black cat detective. She is the recipient of the Alabama Library Association's Lifetime Achievement Award, Harper Lee Award for Distinguished Writing, the Richard Wright Award for Literary Excellence, and the Mississippi Writers Guild Lifetime Achievement Award. She is a former journalist, bartender, photographer, farmhand, and college professor and lives on a farm where she works with rescue cats, dogs, and horses.