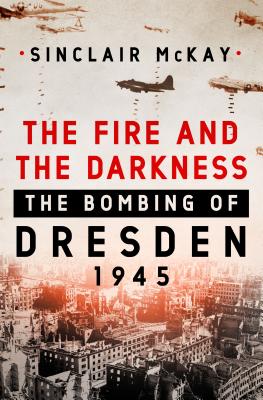 The Fire and the Darkness (Hardcover)
The Bombing of Dresden, 1945
St. Martin's Press, 9781250258014, 400pp.
Publication Date: February 4, 2020
Other Editions of This Title:
CD-Audio (2/4/2020)
* Individual store prices may vary.
Description
A gripping work of narrative nonfiction recounting the history of the Dresden Bombing, one of the most devastating attacks of World War II.
On February 13th, 1945 at 10:03 PM, British bombers began one of the most devastating attacks of WWII: the bombing of Dresden. The first contingent killed people and destroyed buildings, roads, and other structures. The second rained down fire, turning the streets into a blast furnace, the shelters into ovens, and whipping up a molten hurricane in which the citizens of Dresden were burned, baked, or suffocated to death.
Early the next day, American bombers finished off what was left. Sinclair McKay's The Fire and the Darkness is a pulse-pounding work of history that looks at the life of the city in the days before the attack, tracks each moment of the bombing, and considers the long period of reconstruction and recovery. The Fire and the Darkness is powered by McKay's reconstruction of this unthinkable terror from the points of view of the ordinary civilians: Margot Hille, an apprentice brewery worker; Gisela Reichelt, a ten-year-old schoolgirl; boys conscripted into the Hitler Youth; choristers of the Kreuzkirche choir; artists, shop assistants, and classical musicians, as well as the Nazi officials stationed there.
What happened that night in Dresden was calculated annihilation in a war that was almost over. Sinclair McKay's brilliant work takes a complex, human, view of this terrible night and its aftermath in a gripping book that will be remembered long after the last page is turned.
About the Author
Sinclair McKay is a features writer for The Telegraph and The Mail on Sunday. He is also the acclaimed author of the bestselling The Secret Life of Bletchley Park.
Praise For The Fire and the Darkness: The Bombing of Dresden, 1945…
"Disturbing and compelling in equal measure. Sinclair McKay brings a dark subject vividly to life."
—Keith Lowe, author of Savage Continent and The Fear and the Freedom

"A full and powerful account of warfare that ignored the distinction between military and civilian objectives."
—Kirkus Reviews

"There have been many books on the bombing of Dresden . . . but Sinclair McKay's account is a worthy addition. Eschewing easy moralising, he prefers to reflect on Dresden's intensely moving annual ceremony of remembrance and the episode's place in collective memory. Above all, he rejoices in the modern city's resurrection." —The Economist
"Engrossing . . . well-researched, powerfully written, and balanced. For all interested in military history and World War II." —Library Journal (starred review)
"McKay's extensive research and animated prose capture the terror and tragedy of the bombing. Readers won't soon forget this devastating account." —Publishers Weekly
"Mr. McKay's rich narrative and descriptive gifts provide us with an elegant yet unflinching account of that terrible night... to be recommended as a very readable and finely crafted addition to the literature on one of modern history's most morally fraught military operations." —Wall Street Journal