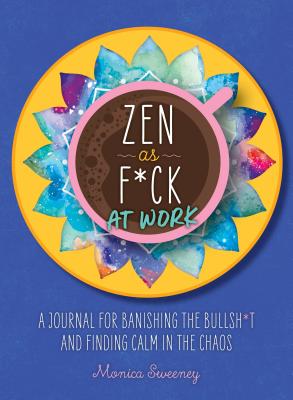 Zen as F*ck at Work (Paperback)
A Journal for Banishing the Bullsh*t and Finding Calm in the Chaos (Zen as F*ck Journals)
Castle Point Books, 9781250258373, 128pp.
Publication Date: December 31, 2019
* Individual store prices may vary.
Description
Seize the work day with the latest book in the Zen as F*ck series!
A guided journal brimming with cheerful profanity, each page of Zen as F*ck at Work is a chance to let go of the bullsh*t that floods your everyday workflow, find some tranquility in all that turmoil, and make the 9-to-5 grind a little grander. With a down-to-earth, funny, and peppy approach to mindfulness journaling, Zen as F*ck at Work is the encouraging nudge to take big and small leaps to make your world a little f*cking better.
Journaling prompts will help you:
· Get at that good sh*t! Make the most of what you love or merely tolerate about your job.
· Cast off bad vibes! Deflect the energy vampires, drama-lovers, and frenzy magnets that surround you.
· Sift through the bullsh*t to find what's golden.
About the Author
Monica Sweeney works in the publishing industry, and she is the author of several adult and children's books. She lives in Boston.