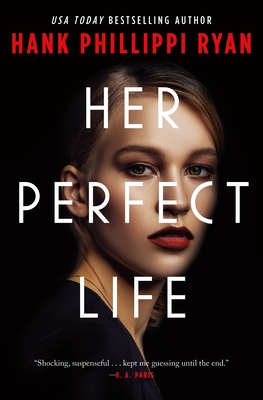 Her Perfect Life
Hardcover

* Individual store prices may vary.
Other Editions of This Title:
Digital Audiobook (9/13/2021)
Paperback (3/8/2022)
Mass Market (6/28/2022)
CD-Audio (9/14/2021)
Description
The next thrilling standalone novel by USA Today bestselling author Hank Phillippi Ryan.

Everyone knows Lily Atwood—and that may be her biggest problem. The beloved television reporter has it all—fame, fortune, Emmys, an adorable seven-year-old daughter, and the hashtag her loving fans created: #PerfectLily. To keep it, all she has to do is protect one life-changing secret.

Her own.

Lily has an anonymous source who feeds her story tips—but suddenly, the source begins telling Lily inside information about her own life. How does he—or she—know the truth?

Lily understands that no one reveals a secret unless they have a reason. Now she's terrified someone is determined to destroy her world—and with it, everyone and everything she holds dear.

How much will she risk to keep her perfect life?
Praise For Her Perfect Life…
"Keep[s] the reader guessing about characters' identities and different versions of events as the tension mounts...a well-crafted plot and strong female characters drive a satisfying psychological thriller." —Kirkus Reviews (starred review)

"Shocking, suspenseful, with clever twists and an abundance of secrets. Her Perfect Life kept me guessing until the end. I loved it!" —B. A. Paris, internationally bestselling author of The Therapist and Behind Closed Doors

"Superlative...this is a fast-paced, surprise-packed treat." —Publishers Weekly (starred review)

"When people say a book is a page-turner, they must be talking about Hank Phillippi Ryan. Her Perfect Life has everything: Compelling characters, a captivating story, and a pace that'll have you turning the pages deep into the night. You can't go wrong with a Ryan book, and this one is no exception." —Samantha Downing, bestselling author of My Lovely Wife

"Tense and twisty...You will read this in one sitting!" —Julie Clark, New York Times and USA Today bestselling author of The Last Flight

"There's a reason Hank Philippi Ryan keeps winning so many awards—she is a master at crafting suspense around fully formed characters with real emotion and depth. A mesmerizing thrill ride!"—Kimberly Belle, internationally bestselling author of Dear Wife and Stranger in the Lake

"Her Perfect Life is a stunning, wonderfully tense thriller about deceit, grief, fame and perfection, and the secrets we carry beneath our skin. A magnificent, knockout thriller." —Christina McDonald, USA Today bestselling author of Do No Harm

"I loved this book! Reading Hank Phillippi Ryan's Her Perfect Life made me paranoid--who's watching me, who's lying to me, who's hiding from their prior life? My nerves were shredded by the time I reached the last chapter of this big-hearted page-turner." —Rachel Howzell Hall, author of And Now She's Gone

"When you read a Hank Phillippi Ryan thriller you are in the hands of a master! Her Perfect Life offers shocking twists, whip-smart turns, and a deep-dive into the dark side of celebrity. I devoured it." —Robyn Harding, bestselling author of The Swap

"Strong women, creative twists, and tight pacing combine to make a suspense novel that will have readers turning pages at breakneck speed. Cancel your schedule, hold your calls, and lock the door so you can fully immerse yourself in this tension building tale of intrigue." —Pamela Klinger-Horn, Valley Bookseller

"Her Perfect Life by Hank Phillippi Ryan is a masterful story of the past and the present coming together, and the challenges of living in the spotlight. Just like an Agatha Christie novel, Ryan takes you on a twisty path to a major crescendo. Brava to Ryan on her best book yet!" —Andrea Peskind Katz, Great Thoughts Great Readers

"I raced through Hank Phillippi Ryan's taut, breathless thriller, Her Perfect Life, desperate to know how the dangerous secrets of three complex, compelling women would finally collide, never prepared for the perfectly stunning, explosive ending. Bravo Hank!" —Kate White, New York Times Bestselling Author of The Fiancee

"The fingerprints of Ryan's illustrious news career are all over this endlessly entertaining page-turner. A twisty delight, Her Perfect Life is steeped in secrets you'll long to decipher and complex characters whose motives you'll question at every turn. An unputdownable thriller, Her Perfect Life is the PERFECT read!" —Caitlin Wahrer, author of The Damage

"Her Perfect Life is a powerhouse of a novel with something for everyone." —Mystery Scene

"Her Perfect Life is, well, as close to perfect as a psychological thriller can be." —Providence Journal
Forge Books, 9781250258885, 336pp.
Publication Date: September 14, 2021
About the Author
USA Today bestselling author HANK PHILLIPPI RYAN has won five Agatha Awards in addition to Anthony, Macavity, Daphne du Maurier, and Mary Higgins Clark Awards. As on-air investigative reporter for Boston's WHDH-TV, she's won 37 Emmys and many more journalism honors, and her work has resulted in new laws, criminals sent to prison, homes saved from foreclosure, and millions of dollars in restitution for victims and consumers. A past president of National Sisters in Crime and founder of MWA University, her novels include Trust Me, The Murder List, the Charlotte McNally series (starting with Prime Time), and the Jane Ryland series (which begins with The Other Woman). Ryan lives in Boston with her husband, a nationally renowned civil rights and criminal defense attorney.


What does Lily's quest for perfection say about her state of mind? How does her success empower her for further achievements? How does her success make her vulnerable?


What were your initial theories about Cassie's disappearance? How did your impressions of the characters shift as new details were revealed?


What was it like to read Greer's point of view? What is at the root of her occasional resentment? How do her observations differ from Lily's?


Lily uses story tips from the anonymous Mr. Smith to unearth her award-winning news reports. Do you think about where reporters get their information, and how they have to decide which sources to trust? Do you think Lily's desire for a good story affected her decision-making?


Even with Petra's help, Lily naturally experiences stress as she manages her career along with her role as a single parent. What are the best traits that she brings to motherhood? Did the loss of Cassie make her overprotective or exceptionally skilled at keeping her child safe?


What is special about Rowen's view of the world? How does it compare to the perceptions young Lily had when she was a little girl? What truths appear with clarity through the eyes of a child?


The author of the novel is an award-winning investigative reporter herself. How does this enhance the way she tells a story and the way she delivers startling yet all-too-human clues?


When Banning comes into Lily's life, she doesn't trust him from the very beginning. But she thinks he may have information she needs, and as a result, she takes some personal risks in order to get answers about the people she cares about. What would you have done?


Does Cassie's path become entwined with Jem Duggan's because she is naïve or because she is more mature than the other college freshmen in her circle (including her roommate)? Was her disappearance simply an unavoidable consequence of her fate?


If you were a judge deciding whether Lily should share joint custody of Rowen with Sam, how would you rule? Which factors should matter the most when determining what will be best for Rowen?


How did you react when the truth was revealed? What would you have done in Cassie's situation? What did you think when you learned how the detective had manipulated the young woman—and used her guilt—for his own benefit?


Though Lily is much younger than Cassie, she experiences a powerful bond with her big sister through memories of their shared past. What is special about relationships between sisters? Which family members played a part in your most important childhood memories?