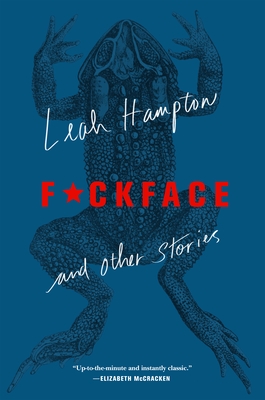 F*ckface
And Other Stories
Hardcover

* Individual store prices may vary.
Other Editions of This Title:
Digital Audiobook (7/13/2020)
Description
Named a Best Book of 2020 by Slate, Electric Literature, and PopMatters

F*ckface is a brassy, bighearted debut collection of twelve short stories about rurality, corpses, honeybee collapse, and illicit sex in post-coal Appalachia.

The twelve stories in this knockout collection—some comedic, some tragic, many both at once—examine the interdependence between rural denizens and their environment.

A young girl, desperate for a way out of her small town, finds support in an unlikely place. A ranger working along the Blue Ridge Parkway realizes that the dark side of the job, the all too frequent discovery of dead bodies, has taken its toll on her. Haunted by his past, and his future, a tech sergeant reluctantly spends a night with his estranged parents before being deployed to Afghanistan. Nearing fifty and facing new medical problems, a woman wonders if her short stint at the local chemical plant is to blame. A woman takes her husband's research partner on a day trip to her favorite place on earth, Dollywood, and briefly imagines a different life.

In the vein of Bonnie Jo Campbell and Lee Smith, Leah Hampton writes poignantly and honestly about a legendary place that's rapidly changing. She takes us deep inside the lives of the women and men of Appalachia while navigating the realities of modern life with wit, bite, and heart.
Praise For F*ckface: And Other Stories…
"A razor-sharp collection about life in the Appalachians. The title story is a tiny masterpiece of minimum-wage office politics and queer longing. Another story, a surprisingly tender romance, kicks off with this instant-classic opening line: 'The Holiday Inn Express on Richland Skyway seemed like as good a place as any for Margaret Price to maybe, possibly, stick her finger up a guy's butthole.'"
—Dan Kois, Slate

"The prose in every story in this collection is as punchy as the plots. Hampton's ability to render her characters with complex desires demonstrates her love for Appalachia and the people who live there."
—The Boston Globe

"[F*ckface] challenges the stereotypes of the region and its politics...Hampton sketches plots part-told, connections half-formed and breaking points near-reached, yet each of these stories is complete, and marks the arrival of an incisive new voice in American fiction."
—The Financial Times

"[A]n unapologetic yet compassionate portrayal of these Appalachian characters...[T]hese twelve stories make up an impressive debut marking Leah Hampton as a writer worth watching. And Hampton sure as hell nails place."
—Chicago Review of Books

"I urge you to pick up Leah Hampton's F*ckface and Other Stories. The humor and the hardship of those mountains are imprinted in the very bones of this collection. The title story immediately grabbed me with its compassion and wit, and the rest of them continued to push the envelope by constantly reasserting the dignity of the populace alongside the political, economic, and ecological tragedy of the region."
—The Paris Review, staff picks

"A piercing debut... Hampton's stories predominantly feature intelligent women who live non-normative lives...Vibrant descriptions of the woodlands, the smoky mountains, and rural landscapes strengthen Hampton's narratives and temper the bleak subjects she undertakes."
—PopMatters

"Hampton's openers are all knuckle-crackers . . . [A] gem of a collection."
—Salon

"Exquisite, poignant, engrossing . . . any of these terms could be applied to Leah Hampton's remarkable collection, but none would capture the diverse and complex nature of her exceptional work."
—NY Journal of Books

"The short stories in Leah Hampton's debut collection explore life in post-coal Appalachia with humor, heart, and honesty."
—Bust

"[A] gloriously quick-witted and unashamedly melancholic Appalachian debut short story collection."
—Medium

"F*ckface is an attention-grabbing title, and the twelve short stories within hold that attention. In this debut collection, Leah Hampton delivers wonderfully rounded portraits of a varied group of characters. Through all these different individuals' eyes, she masterfully depicts the unique stresses and pleasures of life in rural Appalachia… F*ckface is honest and real, and heartbreakingly sad, with every story ending on a perfectly open stopping point… Hampton never fails to bring us a deeply intimate look into the world of Appalachian living or valuable insights into human environmental impact."
—The Harvard Crimson

"Along with an impressive body count, [Hampton] also succeeds in revealing the complexities of life in South and South-Central Appalachia...it's this message — that life is forever demanding, baffling and bewildering, with moments of beauty in between — that Hampton shares with readers throughout F*ckface."
—Mountain Xpress

"F*ckface sure has grit—complemented by great compassion, wit, and ingenious connections between startlingly unrelated subjects...Leah Hampton really sees people. So this allows her, without any pretenses, to deliver a hell of a story."
—Lit Hub (Most Anticipated List)

"Told with humor and heart."
—The Millions (Most Anticipated List)

"Dazzling...In writing about an often misunderstood region, Hampton could easily have succumbed to the romanticism of Lee Smith or the negative stereotypes of J.D. Vance's Hillbilly Elegy, but she avoids these tendencies with cleareyed honesty, humor, and compassion. A marvelous introduction to a fresh Southern voice."
—Kirkus (starred)

"Hampton's penetrating descriptions do a remarkable job of evoking a region where nature is dying off and tourism and mining boom and bust while the locals ponder their existence. These approachable, thought-provoking tales offer a range of insights on the characters's complicated relationships to their environment."
—Publishers Weekly

"Gripping...Hampton brings the complex people and sweeping landscapes of the Blue Ridge Mountains to life...She writes with awe and admiration of the scenery of Kentucky and North Carolina, and with radical empathy for its inhabitants."
—Booklist

"These stories tackle the intricacies of post-coal Appalachia and the myriad communities within."
—Library Journal (Most Anticipated List)

In these stories Leah Hampton is merciful and merciless as life, as heartrending and as funny and as thought-provoking. This book is both up-to-the-minute and instantly classic, a clear-eyed view of America and Americans for the 21st century.
—Elizabeth McCracken, author of Bowlaway


"Full of wry gallows humor and unexpected tenderness, F*ckface leaves me feeling hopeful about humanity. Hampton's voice is dark, funny, smart, and wise: a perfect companion for the apocalypse."
—Amy Bonnaffons, author of The Regrets

"What a visit this book is! A devastating, funny, poignant, unapologetic, astonishing collection. These stories of loss and landscape, hope, meat and Dolly Parton are an extraordinary hymn to Appalachia and announce a bold, brilliant, beautiful new voice. What an outstanding debut."
—Edward Carey, author of Little

"Leah Hampton writes with an unflinching honesty that brings to mind the stories of Dorothy Alison, but Hampton's subjects and voices are her own. No matter their circumstances or faults, she never condescends to her characters but always allows them their full humanity. F*ckfac­e is an outstanding debut, one that should gain her a wide and appreciative readership."
—Ron Rash, author of Serena

"Extraordinary and heart-wrenching. These stories ache with the unspoken truths about what it means to be a woman in this world; they are a testament to everything our bodies carry. Through characters who stay with you long after reading, Leah Hampton will demolish your expectations about modern Appalachia, make you laugh, then break your heart. A truly remarkable debut."
—Lara Prescott, author of The Secrets We Kept

"Hampton writes about Appalachia with such sharpness, such clear-eyed compassion. These stories are deceptively simple—a firefighter's marriage dissolves, a woman meets an old classmate, a beloved coworker quits—until they are not. These stories take you apart slowly, piece by piece, and by the time you realise what's happening, it's already too late. The stories are in your blood now. They live in you, with all their strangeness and decay, isolation and comfort, hellscapes and moments of grace."
—Rachel Heng, author of Suicide Club

"In a voice firmly grounded and unwavering, Leah Hampton writes with an honesty and authority seldom realized so early in a career. These stories are fully matured, raising big questions, providing no easy answers, and leaving us to linger for more. Hampton has staked her claim as a writer to watch and I for one will not turn away."
—David Joy, author of The Line That Held Us

"Leah Hampton is a master at rendering people and places in all their vital complexity. In these stories, environmental devastation and natural wonder, familial disintegration and the most tender intimacies, exist all together. Hampton writes with bold, photorealistic precision; these stories are life on the page, with sentences so true they will stop you in your tracks. An indelible debut."
—Alexis Schaitkin, author of Saint X

Henry Holt and Co., 9781250259592, 208pp.
Publication Date: July 14, 2020
About the Author
Leah Hampton is a graduate of the Michener Center for Writers and the winner of the University of Texas's Keene Prize for Literature, as well as North Carolina's James Hurst and Doris Betts prizes. Her work has appeared in storySouth, McSweeney's Internet Tendency, Appalachian Heritage, North Carolina Literary Review, the Los Angeles Times, Ecotone, Electric Literature, and elsewhere. A former college instructor, Hampton lives in and writes about the Blue Ridge Mountains.