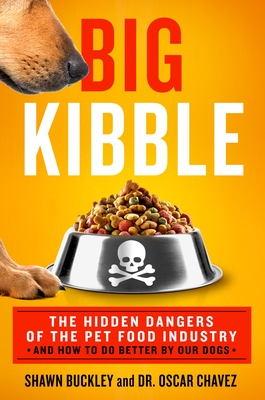 Big Kibble
The Hidden Dangers of the Pet Food Industry and How to Do Better by Our Dogs
Hardcover

* Individual store prices may vary.
Other Editions of This Title:
Compact Disc (12/1/2020)
MP3 CD (12/1/2020)
Description
A big, inside look at the shocking lack of regulation within the pet food industry, and how readers can dramatically improve the quality of their dogs lives through diet.

What's really going into commercial dog food? The answer is horrifying.

Big Kibble is big business: $75 billion globally. A handful of multi-national corporations dominate the industry and together own as many as 80% of all brands. This comes as a surprise to most people, but whats even more shocking is how lax the regulations and guidelines are around these products. The guidelinesor lack thereoffor pet food allow producers to include ever-cheaper ingredients, and create ever-larger earnings. For example, legal ingredients in kibble include poultry feces, saw dust, expired food, and diseased meat, among other horrors. Many vets still dont know that kibble is not the best food for dogs because Big Kibble funds the nutrition research. So far, these corporations have been able to cut corners and still market and promote feed-grade food as if it were healthful and beneficialuntil now.

Just as you are what you eat, so is your dog. Once you stop feeding your dog the junk thats in kibble or cans, you have taken the first steps to improving your dogs health, behavior and happiness.

You know the unsavory side of Big Tobacco and Big Pharma. Now Shawn Buckley, Dr. Oscar Chavez, and Wendy Paris explain all you need to know about unsavory Big Kibbleand offer a brighter path forward for you and your pet.
Praise For Big Kibble: The Hidden Dangers of the Pet Food Industry and How to Do Better by Our Dogs…
Big Kibble is a must read for anyone who loves their pup and wants to make sure they are feeding them the best possible diet for their health. As someone who has been cooking for my senior dogs for a few years, I can tell you that the turnaround in their health has been remarkable. Big Kibble can help you choose a diet that is best for your dog. Thank you Dr. Chavez and Shawn Buckley for helping us to better understand commercial dog food and our dogs health! Kristin Davis

If like me you believe that your pets are members of the family you have to read Big Kibble. It is alarming to see what large corporations are trying to pass off as healthy food for our dogs, and people deserve to know the truth. Switching from processed kibble to fresh food saved my dog Finns life, so I know first-hand the difference that diet can make. Amanda Seyfried

The quality of a pets diet has a profound impact on their energy levels and longevity. JustFoodForDogs uses real ingredients to supply a well-rounded diet. I have been a long time devotee of this brand and Im so happy they now have a book to help spread awareness and information on how to improve animals' lives. Kristen Bell

"I saw personally the difference switching from kibble to fresh food made for my own dogs, Penny and Sally. There's really nothing quite like seeing them this excited for mealtime. I hope pet parents everywhere will read this book and make an educated choice for themselves and their pets. Diane Guerrero, actor and author of In the Country We Love

"Big Kibble sheds a much needed light on how dog food corporations operate and what is truly going into our pets food. The information provided made me question the food I gave my dogs and to look deeper into the ingredients rather than just the marketing. My hope is that all dog food companies will now be more transparent in what their real ingredients are and how the food is manufactured. I do everything for my dogs Alice and Wolf so why wouldnt I make sure they are receiving quality, nutritious and real food? You will be prepared to answer that question after you read this. Heather Kun, MS PhD, CEO of FCancer

So you love your dog right? Well you need to read this book right now! As an animal scientist (and dog lover) I was grateful that someone finally decided to blow open the closed doors to the secrets of the pet food industry. Every pet parent should read this so that they can make informed decisions about how they choose to care for their four- legged family members. Dr. Broc Sandelin, Ph.D., Dean of Agriculture and Environmental Sciences, Delaware Valley University

"Big Kibble is a reader-friendly book that discusses the complexity of the pet food industry in frank and simple terms. If your eyes spin looking at nutrition tables, then this easy to read text provides essential information for pet guardians struggling to make better choices for their beloved four-legged family members. The book covers a wide variety of subjects and offers a counter point to the industry line of advertising, so prevalent in modern society. If you've thought that the bowl of brown kibbles or gooey brown pudding looks less than optimal, you are right. To get past that, read this book, which will show you how to lower the level of disease- promoting chemicals found in commercial foods and put your dog on the road to better health." Richard E. Palmquist, DVM, GDVCHM, ACCHVM

"An important book for pet parents." Booklist

"Pet food is one of the biggest processed food industries in the United States, and its getting a comprehensive and hard-hitting look in Big Kibble." UpNewsInfo

"This book gives you the tools to make an educated choice about what you feed your pets, and even includes recipes if you want to cook for them at home." QDT





St. Martin's Press, 9781250260055, 320pp.
Publication Date: December 1, 2020
About the Author
Entrepreneur and founder SHAWN BUCKLEY is a disruptor in the dog food industry, and invented a category of dog food made with only USDA/human grade ingredients, fit for human consumption.

Veterinarian and professor in clinical pet nutrition DR. OSCAR CHAVEZ is a disruptor in the dog food industry, and invented a category of dog food made with only USDA/human grade ingredients, fit for human consumption.