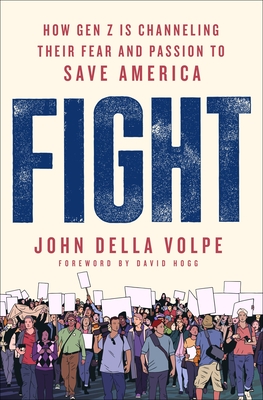 Fight
How Gen Z Is Channeling Their Fear and Passion to Save America
Hardcover

* Individual store prices may vary.
Other Editions of This Title:
Digital Audiobook (3/28/2022)
Paperback (4/11/2023)
Description
From John Della Volpe, the director of polling at the Harvard Institute of Politics, Fight is an exploration of Gen Z, the issues that matter most to them, and how they will shape the future.

9/11. The war on terror. Hurricane Katrina. The 2008 financial crisis. The housing crisis. The opioid epidemic. Mass school shootings. Global warming. The Trump presidency. COVID-19.

Since they were born, Generation Z (also known as "zoomers")—those born from the late 1990s to early 2000s—have been faced with an onslaught of turmoil, destruction and instability unprecedented in modern history. And it shows: they are more stressed, anxious, and depressed than previous generations, a phenomenon John Della Volpe has documented heavily through decades of meeting with groups of young Americans across the country.

But Gen Z has not buckled under this tremendous weight. On the contrary, they have organized around issues from gun control to racial and environmental justice to economic equity, becoming more politically engaged than their elders, and showing a unique willingness to disrupt the status quo.

In Fight: How Gen Z Is Channeling Their Passion and Fear to Save America, Della Volpe draws on his vast experience to show the largest forces shaping zoomers' lives, the issues they care most about, and how they are—despite older Americans' efforts to label Gen Z as overly sensitive, lazy, and entitled—rising to the unprecedented challenges of their time to take control of their country and our future.
Praise For Fight: How Gen Z Is Channeling Their Fear and Passion to Save America…
"Perceptive and informative...Abundant statistical evidence and insightful analysis buttress Della Volpe's optimistic view that Gen Z can help lead America to a brighter future. This is the rare sociological study that manages to inspire." —Publishers Weekly

"A provocative pleasure for demography geeks and political trend-watchers." —Kirkus Reviews

"Scrupulously documented." —Booklist

"A compelling, comprehensive, and intensely readable roadmap for why Gen Z is so angry at the political reality they've inherited—and why they're stepping up to stop their parents and grandparents' generations from destroying their future...urgent, essential reading. It'll put you in a fighting mood—and give you hope for a better tomorrow." —Charlotte Alter, Senior Correspondent, TIME, and author of The Ones We've Been Waiting For

"John brings the numbers to life as we ride alongside a generation forever altered by the Trump era but committed to creating a better America for everyone." —Mika Brzezinski and Joe Scarborough

"Despite his Gen. X status, there's no one I'd rather read on the rise of Zoomers and their determination to save America...Even the most cynical Boomer will walk away from John's authoritative and essential read on our next generation of leaders feeling hopeful about the arc of the moral universe." —Jacqueline Alemany, The Washington Post, politics reporter and Power Up anchor

"A deep dive into the Gen Z voter's brain that provides the reader with a detailed understanding of what issues have become supremely important—especially in light of the 2020 election. It shows this generation's complexity as individuals, not just as a voting bloc." —Stephanie Ruhle, MSNBC Anchor, NBC News Senior Business Correspondent

John Della Volpe is without peer in his study of young voters. It shows in Fight, a meticulous, engaging account of how Gen Z voters are trying to change American politics. Read it if you care about the country's future. —Janet Hook, national political analyst

"The definitive account of America's next great generation. Raised in the shadow of war, during a period of economic decline and technological leaps, Zoomers are mad as hell and uniquely equipped to force positive and enduring change. If you want to know what America looks like in 2050 and 2099, it starts with Generation Z." —Ron Fournier, bestselling author of Love That Boy

"A great read with a tremendous amount of learning for anyone in the business of marketing, selling, or otherwise engaging with the most exciting generation in decades, or perhaps ever...Della Volpe's narrative broadened my mind and was hard to put down." —John Reid, President, Live Nation EMEA

"From climate change to racial justice, this generation has put its collective foot down and demanded change. More than that, they are taking responsibility for it. It's an exciting and encouraging chapter in the American experiment and Fight captures that and the implications of it." —Deval Patrick, Former Governor of Massachusetts

"An amazing contribution and beautifully written. While so many analysts and social scientists are obsessed with partisan polarization, John has really focused on probably the more consequential polarization that will define the country." —James N. Druckman, Payson S. Wild Professor of Political Science and Faculty Fellow at the Institute for Policy Research at Northwestern University.

"An outstanding piece of scholarship, which sets out in brilliant color how Gen Z have become politically active and begun to reshape American politics." —Professor James Sloam, PhD, Department of Politics & International Relations, Royal Holloway (University of London)

"Engrossing....At a time of so much division and hopelessness, it is encouraging to learn of Generation Z's enthusiasm for tackling the powerful inequities that limit our people and endanger our world." —Dr. Nicholas Covino, President, William James College
St. Martin's Press, 9781250260468, 272pp.
Publication Date: January 18, 2022
About the Author
JOHN DELLA VOLPE is the Director of Polling at the Harvard Kennedy School Institute of Politics, where he has led the institute's polling initiatives on understanding American youth since 2000. The Washington Post referred to John as one of the world's leading authorities on global sentiment, opinion and influence especially among Millennials and in the age of digital and social media. John appears regularly on MSNBC's Morning Joe and his insights on the Millennial generation are found in national media outlets in the U.S. and abroad, including the Daily Show with Trevor Noah.