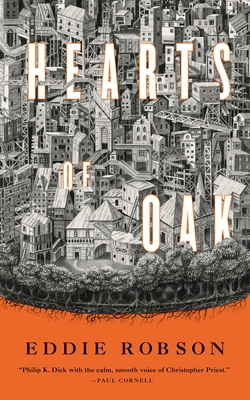 Hearts of Oak
Paperback

* Individual store prices may vary.
Description
"[Hearts of Oak packs in] the sort of profound and lacerating laughter that Robson's countrymen Douglas Adams and Terry Pratchett perfected." –NPR


Hearts of Oak is a delightful science fiction adventure from Eddie Robson, the creator of the acclaimed Welcome to Our Village, Please Invade Carefully.

The buildings grow.
And the city expands.
And the people of the land are starting to behave abnormally.
Or perhaps they've always behaved that way, and it's normality that's at fault.

And the king of the land confers with his best friend, who happens to be his closest advisor, who also happens to be a talking cat. But that's all perfectly natural and not at all weird.

Iona, close to retirement, finds that the world she has always known is nothing like she always believed it to be. There are dark forces . . . not dark. There are uncanny forces . . . no, not uncanny. There are forces, anyway, mostly slightly odd ones, and they appear to be acting in mysterious ways. It's about town planning, it's about cats and it's about the nature of reality.
Praise For Hearts of Oak…
"Robson's prose and pacing are brisk and lively... An involving and original adventure." —SFX

"It's books like Hearts of Oak, stories that instil a sense of wonder, a thrill for the strange and the outlandish, that brought many of us to the genre in the first place. I loved it, and so will you." —Locus

"Strange, charming, unpredictable, and full of unusual images, this is an off-the-wall delight."—Kirkus Reviews

"Twists and surprises abound in this engaging sf adventure. A mesmerizing look at facing reality and what you believe to be true. Robson's characters are well-rounded and themes of exploration and expansion undergird the playful prose."—Library Journal Starred Review

"Entertaining and quite satisfying."—Booklist

"Clever, emotional, and thematically rich, this is sure to please fans of classic science fiction."—Publishers Weekly

"A far-out science fiction novel with all the right notes of a good supernatural fantasy. And it has an easy pace and an impending, looming darkness waiting ahead that will keep you planted firmly in your seat until you get to the last page."—Borg

Tordotcom, 9781250260536, 272pp.
Publication Date: March 17, 2020
About the Author
Eddie Robson is a British comedy and science fiction writer best known for his sitcom Welcome to Our Village, Please Invade Carefully and his work on a variety of spin-offs from the BBC Television series Doctor Who. He has written books, comics, short stories and for television and theatre, and has worked as a freelance journalist for various science fiction magazines.

Eddie is the author of Hearts of Oak.