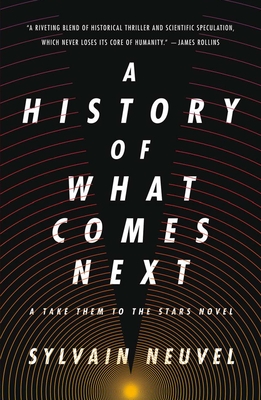 A History of What Comes Next
A Take Them to the Stars Novel
Paperback

* Individual store prices may vary.
Other Editions of This Title:
Digital Audiobook (2/1/2021)
Hardcover (2/2/2021)
Description
"A History of What Comes Next is a riveting blend of historical thriller and scientific speculation, which never loses its core of humanity."—James Rollins, #1 New York Times bestselling author

For generations, Mia's family has shaped human history to push them to the stars. The year is 1945 and now it is her turn. Her mission: to lure scientist Wernher Von Braun away from the Nazi party and into the American rocket program, securing the future of the space race.

But there is a threat.
A ruthless enemy lurks behind the scenes.

Sylvain Neuvel's genre-bending sci-fi thriller is a dark and gripping exploration of the amorality of progress and the nature of violence, as seen through the eyes of the women who make that progress possible and the men who are determined to stop them.

Always run, never fight.
Preserve the knowledge.
Survive at all costs.
Take them to the stars.
Praise For A History of What Comes Next: A Take Them to the Stars Novel…
Praise for A History of What Comes Next:

"Sylvain's Neuvel's latest genre-bending bit of genius, A History of What Comes Next, is a riveting blend of historical thriller and scientific speculation, which never loses its core of humanity. It's exciting, thought-provoking, and ultimately shocking in both scope and plotting. It's the opening gambit in a trilogy that spans decades and promises much more to come. I'm in for the ride to the very end!" —James Rollins

"There's real cleverness at play, here." —The Times

"Alt-history with a difference... all good fun." —The Guardian

"[This series] is filled with virtually limitless narrative possibilities." —Kirkus Reviews

"An extraordinary twist on the space race and a paean to what smart, strong women can accomplish. I'm always over the moon for Neuvel's stories!"—Delilah S. Dawson

Sylvain Neuvel proves once again he deserves the title of the hottest new SF writer of the 21st century — and this time he does it by looking back at the storied development of rocketry in the 20th. Clever and compelling, with a succession of kick-ass heroines propelling events along via mayhem and murder behind the scenes, A History of What Comes Next blasts off on page one and will keep you enthralled until the end.
—Robert J. Sawyer, Hugo Award-winning author of The Oppenheimer Alternative

"A highly crafted and unique look at the space race, through the eyes of those who exist only to ensure its success... Neuvel's intriguing first-contact story is set through centuries of manipulation and pursuit. It's a promising start to what looks to be a dark and exciting trilogy." —Library Journal

"The balance of wry narration, wired action, and delicate worldbuilding make for deeply gratifying reading. Fans of alternate history and intelligent sci-fi will love this." —Publishers Weekly starred review.


More Praise for Neuvel:

"Thought-provoking and disturbing. A cautionary tale illuminated with dark enlightenment."—Kirkus reviews, starred review on The Test

"As high-concept as it is, Sleeping Giants is a thriller through and through. . . . Not only is Sleeping Giants one of the most promising series kickoffs in recent memory, it's a smart demonstration of how science fiction can honor its traditions and reverse-engineer them at the same time." —NPR

"But the most surprising thing about the book may just be how compelling the central characters are in the midst of these larger-than-life concepts. . . . I can't stop thinking about it." —The Chicago Review of Books

"Reminiscent of The Martian and World War Z, Sleeping Giants is a luminous conspiracy yarn that shoots for (and lands among) the stars." —Pierce Brown
Tordotcom, 9781250262097, 304pp.
Publication Date: February 22, 2022
About the Author
Sylvain Neuvel has taught linguistics in India and worked as a software engineer in Montreal. He is also a certified translator, though he wishes he were an astronaut. His girlfriend would have him believe that he has too many toys, so he writes about aliens and giant robots as a blatant excuse to build action figures (for his son, of course). His debut, Sleeping Giants, was described by NPR as "one of the most promising series kickoffs in recent memory."