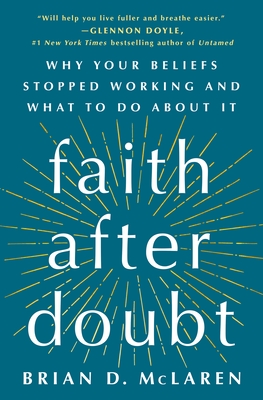 Faith After Doubt
Why Your Beliefs Stopped Working and What to Do About It
Hardcover

* Individual store prices may vary.
Other Editions of This Title:
Digital Audiobook (1/4/2021)
Paperback (5/3/2022)
Description
From the author of A New Kind of Christianity comes a bold proposal: only doubt can save the world and your faith.

ONE of the Best Spiritual Books of 2021—Spirituality & Practice

"Will help you live fuller and breathe easier.." —Glennon Doyle

Sixty-five million adults in the U.S. have dropped out of active church attendance and about 2.7 million more are leaving every year. Faith After Doubt is for the millions of people around the world who feel that their faith is falling apart.

Using his own story and the stories of a diverse group of struggling believers, Brian D. McLaren, a former pastor and now an author, speaker, and activist shows how old assumptions are being challenged in nearly every area of human life, not just theology and spirituality. He proposes a four-stage model of faith development in which questions and doubt are not the enemy of faith, but rather a portal to a more mature and fruitful kind of faith. The four stages—Simplicity, Complexity, Perplexity, and Harmony—offer a path forward that can help sincere and thoughtful people leave behind unnecessary baggage and intensify their commitment to what matters most.
Praise For Faith After Doubt: Why Your Beliefs Stopped Working and What to Do About It…
"Deeply reassuring." —Spirituality&Health

"If you thought life before doubt was good, McLaren concludes, wait until you see where doubt can lead you and what doubt can teach you... Personal and gently convincing." —Kim Shippey, International journalist and former features Editor for The Christian Science Journal and Christian Science Sentinel

"There is a much healthier kind of doubt I suggest you consider... In his just-published book, Faith After Doubt, Brian McLaren made this affirmation." —Rev. Paul Graves, The Spokesman Review

"In this important book, my friend and colleague Brian McLaren helps you find a deeper and wiser faith that is enriched by doubt instead of threatened by it." —Fr. Richard Rohr, OFM, founder of the Center for Action and Contemplation, author of The Universal Christ

"In Faith After Doubt, he invites us into an honest, vital conversation about the pain and shame created by inherited certainty, and the powerful usefulness of thought and doubt. For all those who have understood that doubt and free thinking are failings of your faith, Brian's book will help you live fuller and breathe easier. He illuminates the reality that belief and doubt are not opposites, they are the twin sisters with whom any honest person of faith walks continuously." —Glennon Doyle, #1 New York Times Bestselling author of Love Warrior and Untamed, founder of Together Rising

"McLaren's kind and wise voice will be a breath of fresh air to many a person who has secretly wondered what to do with their doubts." —The Presbyterian Outlook

"This book will save lives." —Bishop Yvette Flunder, author of Where the Edge Gathers

"In this smart rumination......McLaren's persuasive argument for doubt as a means to save one's spirituality and rescue religion at-large...will appeal to questioning Christians." —Publishers Weekly, Starred
St. Martin's Essentials, 9781250262776, 256pp.
Publication Date: January 5, 2021
About the Author
A former college English teacher, Brian D. McLaren was a pastor for twenty-four years. Now he's an author, activist, public theologian, and frequent guest lecturer for gatherings in the U.S. and internationally. His work has been covered in TIME Magazine, Newsweek, USA Today, The New York Times, Washington Post, CNN, and many other media outlets. The author of more than 15 books, including Faith After Doubt, Do I Stay Christian?, and A New Kind of Christian, he is a faculty member of The Living School at the Center for Action and Contemplation. McLaren lives in Florida.