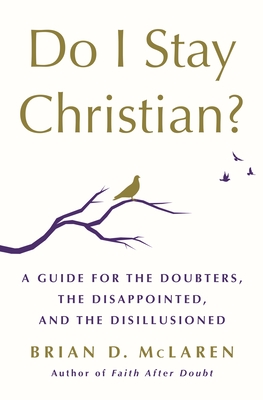 Do I Stay Christian?
A Guide for the Doubters, the Disappointed, and the Disillusioned
Hardcover

* Individual store prices may vary.
Description
Dubbed "a heroic gate-crasher" by New York Times bestselling author Glennon Doyle, Brian McLaren explores reasons to leave or stay within the church and if so how...

"Brian's new book on remaining Christian knocks it out of the ballpark in terms of framing and naming the questions. I cannot stop reading it. Thank you, Brian!"
—Fr. Richard Rohr, OFM, founder of the Center for Action and Contemplation, author of The Universal Christ

"Any thoughtful Christian has been asking the questions McLaren tackles here, but many of us are afraid to voice them aloud. In Do I Stay Christian? we're gifted a gentle guide who opens ideas and voices the questions we cannot, naming our frustration, fear, and hesitant hope."
—Rev. Dr. Amy Butler, former Senior Minister, The Riverside Church; Founder, Invested Faith

Do I Stay Christian? addresses in public the powerful question that surprising numbers of people—including pastors, priests, and other religious leaders—are asking in private. Picking up where Faith After Doubt leaves off, Do I Stay Christian? is not McLaren's attempt to persuade Christians to dig in their heels or run for the exit. Instead, he combines his own experience with that of thousands of people who have confided in him over the years to help readers make a responsible, honest, ethical decision about their religious identity.

There is a way to say both yes and no to the question of staying Christian, McLaren says, by shifting the focus from whether we stay Christian to how we stay human. If Do I Stay Christian? is the question you're asking—or if it's a question that someone you love is asking—this is the book you've been waiting for.
Praise For Do I Stay Christian?: A Guide for the Doubters, the Disappointed, and the Disillusioned…
"McLaren helps people who are rightly frustrated with the state of American Christianity understand that there are so many more possibilities... This book gives me a map for finding what lies beyond—a Christianity that's bigger, wiser, and more powerful than I dared to dream."
—Jana Riess, author of Flunking Sainthood and The Next Mormons; senior columnist for Religion News Service

"McLaren is one of my favorite Spirit guides. He is a wonderful story-teller, a discerner of patterns and cultural trends, and a kind soul articulating urgent and critical questions for the Church in these hot-mess times. In his new book, Brian asks, "Do I Stay Christian?" in such a way that all of the Church needs to ponder. Are we in this, for real? If we answer this question thoughtfully, guided by this book, I'm convinced the true called-out-ones (ekklesia) could heal the world."
—Rev. Dr. Jacqui Lewis, author of Fierce Love: A Bold Path to Ferocious Courage and Rule Breaking Kindness That Can Heal the World


"In his usual thoughtful provocative style McClaren provides a thoughtful examination of the Christian tradition, its faults and failures and its gifts and graces. He takes seriously the harm Christians and Christianity have done across the ages while considering its promise, realized and unrealized. He also casts a vision of a Christianity beyond its infancy which would be worth working and praying for.
I recommend this book for individuals wrestling with their faith, pastors, book clubs and those seeking honest conversation about the very complex realities of Christianity."
—The Rev. Wil Gafney, Ph.D.+, The Right Rev. Sam B. Hulsey Professor of Hebrew Bible, Brite Divinity School, Ft. Worth, Texas

"In Do I Stay Christian?, McLaren wrestles the scandalous theological questions and conscientiousness objections that keep so many of us awake at night—and he does so with the courage and grace that have become his trademark. If you're wondering whether it's time to shake off your sandals and walk away from Christianity, I beg you to read this book before making up your mind."
—Jonathan Merritt, Contributing writer for The Atlantic and author of Learning to Speak God from Scratch
St. Martin's Essentials, 9781250262790, 272pp.
Publication Date: May 24, 2022
About the Author
A former college English teacher, Brian D. McLaren was a pastor for twenty-four years. Now he's an author, activist, public theologian, and frequent guest lecturer for gatherings in the U.S. and internationally. His work has been covered in TIME Magazine, Newsweek, USA Today, The New York Times, Washington Post, CNN, and many other media outlets. The author of more than 15 books, including Faith After Doubt, the forthcoming Do I Stay Christian? (May 24, 2022), and A New Kind of Christian, he is a faculty member of The Living School at the Center for Action and Contemplation. McLaren lives in Florida.