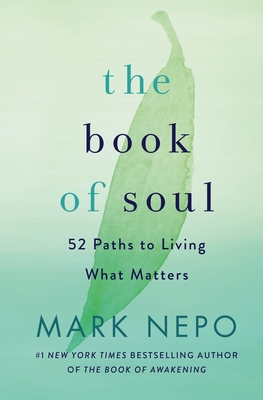 The Book of Soul (Hardcover)
52 Paths to Living What Matters
St. Martin's Essentials, 9781250262967, 288pp.
Publication Date: May 5, 2020
* Individual store prices may vary.
Description
"It's easy in these times to allow ourselves to slip into resignation, isolation, or despair. The Book of Soul is an antidote."
?Arianna Huffington, Founder & CEO, Thrive Global and Founder, Huffington Post
"I recommend The Book of Soul for all of us wanting to stay connected to a deeper purpose."
?Melinda Gates, New York Times Bestselling Author of The Moment of Lift
A powerful new book of spiritual awakening from #1 New York Times bestselling author Mark Nepo
In The Book of Soul, Mark Nepo, the bestselling author of The Book of Awakening, offers a powerful guide to inhabiting an authentic and wholehearted life. After we are physically born, we must be spiritually born a second time, a process that takes place through the labor of a lifetime as we develop into more fully realized beings. The Book of Soul delves into the spiritual alchemy of that transformation in all its mystery, difficulty, and inevitability.
The book is divided into four sections that mark the passages we all face: enduring our Walk in the World, until we discover Our True Inheritance, which allows us to live in the open by Widening Our Circle, as we Help Each Other Stay Awake. The Book of Soul is a piercing guide, replete with beautiful truths and startling insight, that leads us deeply into the process of transformation.
About the Author
Mark Nepo has moved and inspired readers and seekers all over the world. Beloved as a poet, teacher, and storyteller, Mark has been called "one of the finest spiritual guides of our time." A #1 New York Times bestselling author of The Book of Awakening, his more than twenty books and fifteen audio projects have been translated into over twenty languages. Mark has appeared several times with Oprah Winfrey on her Super Soul Sunday program on OWN TV. In 2015, he was given a Life-Achievement Award by AgeNation, and in 2016, he was named by Watkins: Mind Body Spirit as one of the 100 Most Spiritually Influential Living People.
Praise For The Book of Soul: 52 Paths to Living What Matters…
"It's easy in these times to allow ourselves to slip into resignation, isolation, or despair. The Book of Soul is an antidote, a path that leads us back to our own wisdom and intuition and to the authentic truth of our souls."
—Arianna Huffington, Founder & CEO, Thrive Global and Founder, Huffington Post
"Mark Nepo has long been one of my favorite spiritual writers, and The Book of Soul is further proof why. It's filled with breathtaking lines you'll want to linger over, commit to memory, and carry with you. I recommend it for all of us wanting to stay connected to a deeper purpose as we rush through our days."
—Melinda Gates, New York Times Bestselling Author of The Moment of Lift
"In The Book of Soul, Mark Nepo reminds us how rare it is to be here at all and how precious, real, and raw our tether to this life and each other. The insights gathered here will help you negotiate the currents of life while resting in the barest of simplicities. This book will strengthen your soul."
—Joan Borysenko, author of The PlantPlus Diet Solution and Your Soul's Compass
"Mark Nepo's The Book of Soul is like finding manna in the desert. I began reading it and instantly got chills. And a profound sense of relief. No matter what is going on "outside" of us, our soul's journey in this human body is the sweet honey that, when recognized, sustains us most reliably. Read this book and be refreshed."
— Christiane Northrup, MD, New York Times Bestselling author of The Wisdom of Menopause


"Mark Nepo has written another generous and valuable call to truth—at once, inspiring, enlightening, empowering, and humbling. His words and the spaces between them remind me to slow down, to explore the still unfinished and awkward places in my life, and to honor and surrender to what is sacred, pure, and often confounding but always true about being human. Nepo's commitment to transform the tumble and grist of life into insights and understandings helps me improve my life."
—George Cappannelli, Co-Founder of AgeNation