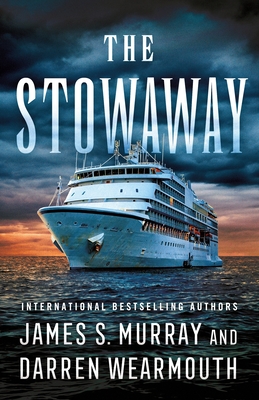 The Stowaway
A Novel
Hardcover

* Individual store prices may vary.
Other Editions of This Title:
Digital Audiobook (9/20/2021)
Paperback (3/21/2023)
Description
From writer, producer, and actor best known as "Murr" on the hit television shows Impractical Jokers and The Misery Index, James S. Murray, and co-writer Darren Wearmouth, comes The Stowaway, a suspenseful masterpiece that leaves a cruise ship stranded at sea with a serial killer hiding aboard.

Two years ago, Maria Fontana, the head of the Psychology Department at Columbia University, sat on a jury for one of the most depraved cases ever to pass through the hallowed halls of City Hall. Wyatt Butler, an antique watch restorer and alleged serial killer, was portrayed in the courtroom as a brutal monster. But Maria had to make the tough choice. In good conscience, she couldn't convict him based purely on circumstantial evidence, and her deciding vote set Wyatt Butler free. The media soon outed her as the lone juror and her successful and quaint life was turned upside down. The victims of Wyatt's ritualistic killings never forgave her either.

Now, she and her family have decided to take a vacation to get away from everything: a two-week-long transatlantic cruise. Nothing, and nobody should be able to bother her there. With her two twins and her fiancé Steve, she is set to put the past behind her as soon as the ship leaves port. But when a passenger mysteriously disappears, Maria is left to wonder if maybe this was no coincidence. When another passenger is discovered brutally murdered in a similar way to Butler's ritualistic MO, the ship goes on lockdown.

Maria, one of only twelve people in the world with intimate knowledge of the case, faces a perilous ticking clock. Is it a copycat? Or is she trapped on board with the bloodthirsty maniac she chose to set free?
Praise For The Stowaway: A Novel…
"I knew they were twisted, but now Murray and Wearmouth turn their attention to a serial killer!? And they trap us on a cruise ship with someone who may or may not be copying his crimes? Get ready. You're in for some scary, good fun." —Brad Meltzer, New York Times bestselling author of The Escape Artist

"Murray and Wearmouth's latest thriller The Stowaway is a riveting high-seas game of cat and mouse. It's Agatha Christie crossed with James Patterson. If you're nervous about taking a cruise now, you'll be terrified after this read. Pick up a copy and enjoy the thrill ride." —James Rollins, #1 New York Times bestseller of The Last Odyssey

"Trapped on a cruise ship with a twisted murderer onboard. Intense horror. Frightening suspense. A true mystery. Lots of twists and turns. What more could you want? This is my kind of book!" —R.L. Stine, author of Goosebumps and Fear Street

"Murray and Wearmouth have written a gripping thriller filled with clever plot twists that kept me guessing as to the serial killer's identity right up until the final pages." —Steve Alten, New York Times bestselling author of The Meg and The Loch

"The authors maintain tension throughout and provide several clever twists...Fans of Brandon Webb and John David Mann's Steel Fear will want to check this one out." —Publishers Weekly

"This is a really good thriller, claustrophobic and creepy and fastpaced." —Booklist

"The Stowaway unwinds in such unbelievable, unbearable suspense that I could not put it down until the final page." —Roger's Reads

"5/5 Stars...This is a fantastic read for fans of action and suspense." —Portland Book Review

St. Martin's Press, 9781250263650, 320pp.
Publication Date: September 21, 2021
About the Author
JAMES S. MURRAY is a writer, executive producer, and actor, best known as "Murr" on the hit television show Impractical Jokers on truTV. He is the bestselling author of the novels Awakened and The Brink. Originally from Staten Island, he now lives in Manhattan.

DARREN WEARMOUTH is a bestselling author and co-author of many novels, including Critical Strike and Fast Forward. He is a member of the International Thriller Writers Group and the British Science Fiction Association, and currently lives in Manchester, England.
or
Not Currently Available for Direct Purchase