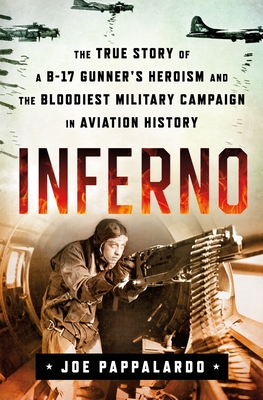 Inferno
The True Story of a B-17 Gunner's Heroism and the Bloodiest Military Campaign in Aviation History
Hardcover

* Individual store prices may vary.
Other Editions of This Title:
Paperback (5/24/2022)
Description
Joe Pappalardo's Inferno tells the true story of the men who flew the deadliest missions of World War II, and an unlikely hero who received the Medal of Honor in the midst of the bloodiest military campaign in aviation history.

There's no higher accolade in the U.S. military than the Medal of Honor, and 472 people received it for their action during World War II. But only one was demoted right after: Maynard Harrison Smith.

Smith is one of the most unlikely heroes of the war, where he served in B-17s during the early days of the bombing of France and Germany from England. From his juvenile delinquent past in Michigan, through the war and during the decades after, Smith's life seemed to be a series of very public missteps. The other airmen took to calling the 5-foot, 5-inch airman "Snuffy" after an unappealing movie character.

This is also the man who, on a tragically mishandled mission over France on May 1, 1943, single-handedly saved the crewmen in his stricken B-17. With every other gunner injured or bailed out, Smith stood alone in the fuselage of a shattered, nameless bomber and fought fires, treated wounded crew and fought off fighters. His ordeal is part of a forgotten mission that aircrews came to call the May Day Massacre. The skies over Europe in 1943 were a charnel house for U.S. pilots, who were being led by tacticians surprised by the brutal effectiveness of German defenses. By May 1943 the combat losses among bomb crews were a staggering 40 to 50 percent.

The backdrop of Smith's story intersects with some of the luminaries of aviation history, including Curtis Lemay, Ira Eaker and "Hap" Arnold, during critical times of their storied careers. Inferno also examines Smith's life in a new, comprehensive light, through the use of exclusive interviews of those who knew him (including fellow MOH recipients and family) as well as public and archival records. This is both a thrilling and horrifying story of the air war over Europe during WWII and a fascinating look at one of America's forgotten heroes.
Praise For Inferno: The True Story of a B-17 Gunner's Heroism and the Bloodiest Military Campaign in Aviation History…
"Mr. Pappalardo, a veteran journalist, has a nice way with words. The mission itself, targeting German submarine pens in France, is fairly routine and brilliantly described...a wonderful yarn." —Wall Street Journal

"With both his heroism and his flaws, Medal of Honor recipient 'Snuffy Smith' perfectly represents the dramatic and deadly campaign for control of the skies over Europe in World War II. The ornery, charming, and brave B-17 tail gunner anchors this thrilling tale of how, warts and all, we won that brilliant and bloody air war." —Tom Clavin, New York Times bestselling author of Tombstone and co-author of Lucky 666

"Inferno is written with the energy, resolve, bloody-mindedness of a B-17. This is the Greatest Generation reconsidered as a diminutive Michigan-born anti-hero who is awarded the Congressional Medal of Honor for his amazing conduct on his first combat mission over Europe, May 1, 1943. Pappalardo's story takes on more than Maynard's Smith's pell-mell and eventually surprisingly sad life. The book reconsiders the still controversial American decision to carry out daylight bomber attacks, 1943-44, that led to well-documented and shocking casualty rates. This is a thrilling and important read." —John Batchelor, nationally syndicated radio host and author
St. Martin's Press, 9781250264237, 352pp.
Publication Date: December 1, 2020
About the Author
JOE PAPPALARDO is the author of the critically acclaimed books Sunflowers: The Secret History (2008) and Spaceport Earth: The Reinvention of Spaceflight (2017). Pappalardo is a writer and former associate editor of Air & Space Smithsonian magazine, a writing contributor to National Geographic magazine, and a former senior editor and current contributor to Popular Mechanics. He has also appeared on the television shows What on Earth? and Strange Evidence on the Science Channel and Roswell: The First Witness and Chuck Norris's Epic Guide to Military Vehicles on the History Channel.
or
Not Currently Available for Direct Purchase