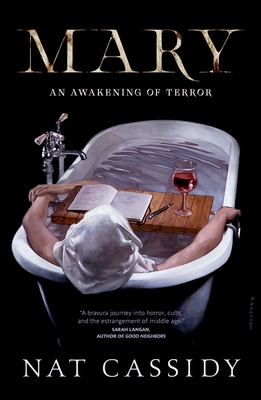 Mary
An Awakening of Terror
Paperback

* Individual store prices may vary.
Other Editions of This Title:
Digital Audiobook (7/18/2022)
Description
Nat Cassidy's highly commercial, debut horror novel Mary: An Awakening of Terror, blends Midsommar with elements of American Psycho and a pinch of I'll Be Gone in the Dark.

USA Today 5 New Books This Week
Book Riot Summer Scares (2022)
CrimeReads Most Anticipated Crime Books 2022

Mary is a quiet, middle-aged woman doing her best to blend into the background. Unremarkable. Invisible. Unknown even to herself.

But lately, things have been changing inside Mary. Along with the hot flashes and body aches, she can't look in a mirror without passing out, and the voices in her head have been urging her to do unspeakable things.

Fired from her job in New York, she moves back to her hometown, hoping to reconnect with her past and inner self. Instead, visions of terrifying, mutilated specters overwhelm her with increasing regularity and she begins auto-writing strange thoughts and phrases. Mary discovers that these experiences are echoes of an infamous serial killer.

Then the killings begin again.

Mary's definitely going to find herself.
Praise For Mary: An Awakening of Terror…
Praise for Mary

"Heads up, Nat Cassidy's debut novel is not for the faint of heart. It's gory and horrific, but underneath the blood-soaked pages is a commentary on society's view of older women and their place in the world."—The Seattle Times

"Razor-sharp horror debut.... Cassidy expertly twists the invisibility and disposability of society's most vulnerable into qualities ideally suited to a terrifying avenging angel. It's as scary as it is smart."—Publishers Weekly

"This tale of horror is a good read-alike for Stephen King's Carrie and Paul Tremblay's A Head Full of Ghosts."—Booklist

"[An] emerging genre star . . ."—Library Journal

"Searing imagery. Immediate chills. Also, you see this cover?"—Rachel Harrison, author of Cackle

"Gripping from the start. What begins in a bloodbath leads us through decades into a nightmare of cults, ghosts, and self-hatred, where great and terrible expectations await. Mary is a devastating threat made manifest."—Hailey Piper, Bram Stoker Award-winning author of Queen of Teeth

"Operatic and tremendously unsettling, there's a dangerous current churning beneath the pages . . . a current that will carry you far away and forever change you the way all excellent books do. This is first class horror."—Eric LaRocca, author of Things Have Gotten Worse Since We Last Spoke

"Who doesn't want to read the book equivalent of vampire Kathy Bates killing some hipsters in the fifth season of American Horror Story? Middle-aged women's rage is in this year, and I couldn't be happier."—CrimeReads

"Cassidy's character-building is so incredibly complex that I can't help but . . . make a comparison to Stephen King. . . . An extraordinary metaphor for women's struggles, Mary is edgy as hell. A chilling compilation of horror with masterful storytelling."—Cemetery Dance

"One of the scariest, freaky, and mind bending horror novels of 2022 and you should absolutely pick this one up!"—Horror Reads

"All I can say is, it has haunted me since I read it, and I may have to re-read it again soon."—Horrorble Books

"Cassidy has given us a classic horror novel of a middle-aged woman tormented by all the little-town horrors of her past—those she can remember and those she is forced to remember. Who is Mary, or better yet, what is Mary? She has been called home to find out. A fine read."—Elizabeth Engstrom, author of When Darkness Loves Us

"A collision of supernatural and real-life horrors, Nat Cassidy's Mary throbs with a relentlessly sinister energy. Packed with visceral shocks and quiet menace, breakneck storytelling and profound character work, Mary is absolutely riveting. I can't recommend it highly enough."—Jonathan Janz, author of The Siren and the Specter and The Raven

"Mary, Mary, quite extraordinary... How does your novel grow? With pillow cases hiding sliced off faces, and porcelain dolls all in a row. With an acidic sense of humor more barbed than any cactus, Nat Cassidy's fast-paced Mary is a perfect blend of Stephen King's Dolores Claiborne and Frank De Felitta's Audrey Rose. This book goes out to all those bad seeds who have gone beyond their bloom and entered the twilight of their murderous lives."—Clay McLeod Chapman, author of The Remaking

"Oh my god so Nat Cassidy's Mary is one of the most engaging, most cathartic, and above all most fundamentally *satisfying* books I've read in a while. If you like scary stories you really really really need to read this one. [T]his is up there with Dolores Claiborne for me and that's really saying something. Many cis men suck at writing women. Nat does not. Nat does NOT."—Sunny Moraine, author of Singing with All My Skin and Bone

"[E]very bit as brilliant as everyone's saying: a gory, body horror-soaked exploration of menopause, cults, self-worth, & true crime junkies. I can't recommend this book enough—even the afterword is revelatory."—Ally Wilkes, author of All the White Spaces

"Just finished Mary: An Awakening of Terror by Nat Cassidy & WOW! The horror arrives like a monsoon thunderstorm: ominous page 1 rumbles that build to a frenzied, spectacular conclusion that'll leave you awestruck & trembling. Smart, scary & full of heart, Mary is a force of nature!"—KC Jones, author of Black Tide

"Genuinely scary, and at times both heartfelt and heartbreaking, Mary is a powerhouse of a horror novel, with something important to say. We need more like this. Standing ovation!"—Brian Keene

"Nat Cassidy's Mary is a bravura journey into horror, cults, and the estrangement of middle age. It's one BANANAS ride, by a very talented writer."—Sarah Langan

"Congrats on a loud and bloody Mary. She's going to make herself heard and then some."—Kathe Koja
Tor Nightfire, 9781250265234, 416pp.
Publication Date: July 19, 2022
About the Author
NAT CASSIDY writes horror for the page, stage, and screen. His critically-acclaimed, award-winning horror plays have been produced across the United States, as well as Off- and Off-Off-Broadway. He won the New York Innovative Theatre Award for Outstanding Solo Performance for his one-man show about H. P. Lovecraft and was commissioned by the Kennedy Center to write the libretto for a short opera (about the end of the world, of course). An established actor on stage and television (usually playing monsters and villains on shows such as Blue Bloods, Bull, Quantico, FBI, and Law & Order: SVU), Nat also authored the novelization of the hit podcast Steal the Stars, which was published by Tor Books and named one of the best books of 2017 by NPR. Mary: An Awakening of Terror is Nat's Nightfire debut. He lives in New York with his wife.