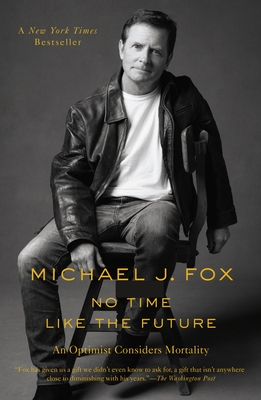 No Time Like the Future
An Optimist Considers Mortality
Paperback

* Individual store prices may vary.
Other Editions of This Title:
Hardcover (11/17/2020)
CD-Audio (11/17/2020)
Library Binding, Large Print (12/2/2020)
Description
INSTANT NEW YORK TIMES BESTSELLER

A moving account of resilience, hope, fear and mortality, and how these things resonate in our lives, by actor and advocate Michael J. Fox.


The entire world knows Michael J. Fox as Marty McFly, the teenage sidekick of Doc Brown in Back to the Future; as Alex P. Keaton in Family Ties; as Mike Flaherty in Spin City; and through numerous other movie roles and guest appearances on shows such as The Good Wife and Curb Your Enthusiasm. Diagnosed at age 29, Michael is equally engaged in Parkinson's advocacy work, raising global awareness of the disease and helping find a cure through The Michael J. Fox Foundation for Parkinson's Research, the world's leading non-profit funder of PD science. His two previous bestselling memoirs, Lucky Man and Always Looking Up, dealt with how he came to terms with the illness, all the while exhibiting his iconic optimism. His new memoir reassesses this outlook, as events in the past decade presented additional challenges.


In No Time Like the Future: An Optimist Considers Mortality, Michael shares personal stories and observations about illness and health, aging, the strength of family and friends, and how our perceptions about time affect the way we approach mortality. Thoughtful and moving, but with Fox's trademark sense of humor, his book provides a vehicle for reflection about our lives, our loves, and our losses.


Running through the narrative is the drama of the medical madness Fox recently experienced, that included his daily negotiations with the Parkinson's disease he's had since 1991, and a spinal cord issue that necessitated immediate surgery. His challenge to learn how to walk again, only to suffer a devastating fall, nearly caused him to ditch his trademark optimism and "get out of the lemonade business altogether."


Does he make it all of the way back? Read the book.
Praise For No Time Like the Future: An Optimist Considers Mortality…
INSTANT NEW YORK TIMES BESTSELLER

"For a certain consumer of Generation X pop culture, Michael J. Fox calls to mind 'Family Ties' in prime time, 'Back to the Future' in movie theaters, interviews in Tiger Beat. The energy that made him such a riveting presence onscreen comes through in his book."—The New York Times

"You're going to love this book. This is vintage Michael J. Fox. It is funny, it is intimate, it is philosophical.... Mike doesn't call himself a writer or a philosopher, but he is both. And it really comes through in this book. It is so well written [and] it brings you inside what is a very tough time for him, but it also tells you what he learned from it. A lot of wisdom there."—George Stephanopoulos, Good Morning America

"But what makes the book a page-turner is its tenor: drolly conspiratorial, affably best-friend-y, infectiously convivial and unapologetically pensive. This is a book you really hear whether you have the audiobook or not. The quality of the prose, the care in the pacing, the delight in storytelling, all made me reexamine why I read and write in this genre in the first place."--Porochista Khakpour, Washington Post

" A heartfelt, unselfish book about never giving up..." -Kirkus

"Filled with humorous and thoughtful anecdotes and reflections, the book offers insights into a man who knows struggle all too well, but refuses to let it get in the way of living." —Time

"Personal stories that sometimes sound like allegories." —The Wall Street Journal

"A moving account of resilience and hope." —USA Today

"Appealing humor, gratitude and optimism." —AARP
Flatiron Books, 9781250265630, 256pp.
Publication Date: December 7, 2021
About the Author
Michael J. Fox gained fame by playing Alex P. Keaton on the sitcom Family Ties. His blockbuster movies include Back to the Future, The Secret of My Success, Doc Hollywood, Casualties of War, and The American President. He returned to television in his award-winning lead role as Deputy Mayor Mike Flaherty on Spin City, followed by guest appearances in series like Rescue Me, Curb Your Enthusiasm, and The Good Wife. His many awards include five Emmys, four Golden Globes, one Grammy, two Screen Actors Guild awards, the People's Choice award, and GQ Man of the Year. In 2000, he launched the Michael J. Fox Foundation for Parkinson's Research, which is now the leading Parkinson's organization in the world. He is the author of three New York Times bestselling books: Lucky Man, Always Looking Up, and A Funny Thing Happened on the Way to the Future. Michael lives with his family in New York City.