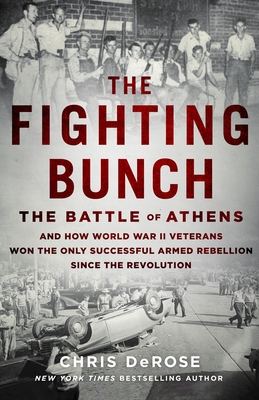 The Fighting Bunch
The Battle of Athens and How World War II Veterans Won the Only Successful Armed Rebellion Since the Revolution
Hardcover

* Individual store prices may vary.
Other Editions of This Title:
Digital Audiobook (11/2/2020)
Paperback (5/3/2022)
MP3 CD (11/3/2020)
Compact Disc (11/3/2020)
Description
In The Fighting Bunch: The Battle of Athens and How World War II Veterans Won the Only Successful Armed Rebellion Since the Revolution, New York Times bestselling author Chris DeRose reveals the true, never-before-told story of the men who brought their overseas combat experience to wage war against a corrupt political machine in their hometown.

Bill White and the young men of McMinn County answered their nation's call after Pearl Harbor. They won the freedom of the world and returned to find that they had lost it at home.

A corrupt political machine was in charge, protected by violent deputies, funded by racketeering, and kept in place by stolen elections - the worst allegations of voter fraud ever reported to the Department of Justice, according to the U.S. Attorney General.

To restore free government, McMinn's veterans formed the nonpartisan GI ticket to oppose the machine at the next election.

On Election Day, August 1, 1946, the GIs and their supporters found themselves outgunned, assaulted, arrested, and intimidated. Deputies seized ballot boxes and brought them back to the jail. White and a group of GIs - "The Fighting Bunch" - men who fought and survived Guadalcanal, the Bulge, and Normandy, armed themselves and demanded a fair count. When they were refused the most basic rights they had fought for, the men, all of whom believed they had seen the end of war, returned to the battlefield and risked their lives one last time.

For the past seven decades, the participants of the "Battle of Ballots and Bullets" and their families kept silent about that conflict. Now in The Fighting Bunch, after years of research, including exclusive interviews with the remaining witnesses, archival radio broadcast and interview tapes, scrapbooks, letters, and diaries, Chris DeRose has reconstructed one of the great untold stories in American history.
Praise For The Fighting Bunch: The Battle of Athens and How World War II Veterans Won the Only Successful Armed Rebellion Since the Revolution…
"Doggedly researched and briskly narrated, this rousing chronicle testifies to the importance of free and fair elections." —Publishers Weekly

"This is an especially timely tale in a year of social and political turmoil. The pulse-pounding narrative of The Fighting Bunch takes us to a place in America where the struggle against evil did not end when the war did and once more people of good will had to take a courageous stand." —Tom Clavin, bestselling author of Tombstone and Wild Bill

"In a remarkable feat of dogged fresh reporting, historical research and narrative aplomb, DeRose breathes new life into the little-remembered saga of the 1946 Battle of Athens, Tennessee, when a force of angry men, led by recent World War II veterans with the 'stamp of combat in their eyes,' mounted a successful armed rebellion against entrenched municipal corruption and police brutality." —Joe Sharkey, author of Above Suspicion

"History's best lessons are sometimes forgotten, and it's up to authors like Chris DeRose to resurrect them. He does so elegantly in The Fighting Bunch, the astonishing story of how, in August 1946, a band of World War II veterans summoned all their courage and fighting skills to stand up to and destroy a corrupt political machine in McMinn County, Tennessee. It's likely you never knew about it before - but once you've read this book, their act will resonate in your mind forever." —Jeff Guinn, New York Times bestselling author of Manson and The Road to Jonestown: Jim Jones and Peoples Temple

"Men who went overseas to defend the freedom for the world returned home to discover they had lost it here. How they fought to reclaim it is a riveting story that should remind every American of how precious and fragile are the freedoms we too often take for granted." —John Bicknell, author of Lincoln's Pathfinder: John C. Fremont and the Violent Election of 1856 and America 1844

"In 'The Fighting Bunch,' Chris DeRose unearths a fascinating and incredibly timely piece of American history. This lively and well-researched account of American GIs and their people-powered revolution, which restored democracy to McMinn County, Tennessee, soon after the war, is a lesson for us all – and a warning for those tempted by power or complacency not to forget the role that justice and fairness play in this country. Or to put it as one of the heroes might have (outside of polite company): Don't screw with democracy, the ballot box, or angry GIs.

It's another reminder that the men and women who endured World War II were in fact members of the Greatest Generation." —Jim DeFelice, New York Times best-selling co-author of American Sniper, Every Man a Hero
St. Martin's Press, 9781250266194, 352pp.
Publication Date: November 3, 2020
About the Author
CHRIS DEROSE is the New York Times bestselling author of Founding Rivals: Madison vs. Monroe, the Bill of Rights, and the Election that Saved a Nation, and The Presidents' War: Six American Presidents and the Civil War That Divided Them. He has appeared on over 60 television and radio shows and spoken to audiences around the country, including having recently addressed members of Congress at the U.S. Capitol. A native of Chicago, DeRose lives in Phoenix, Arizona.
or
Not Currently Available for Direct Purchase