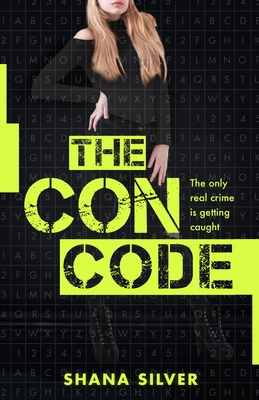 The Con Code (Hardcover)
Swoon Reads, 9781250266811, 336pp.
Publication Date: August 25, 2020
* Individual store prices may vary.
Description
A teen forger and thief forms a criminal crew from her high school friends (and crush) to perform a series of heists leading to the location of her missing mother in this action-packed contemporary YA novel, The Con Code.

By day, seventeen-year-old Fiona Spangler runs small cons for her ritzy prep-school classmates: getting them out of tests and forging fake hall passes. But by night, Fiona joins her dad on riskier heists: stealing back the clue-filled forgeries her mom scattered across the country before she disappeared. Fiona desperately hopes that her mother will be waiting at the end of the scavenger hunt she left behind.

And they are SO close. Just three more heists remain, but then disaster strikes when Fiona's dad is captured by the FBI. Desperate to finish the job and save what's left of her family, Fiona assembles of crew of teen criminals: a master of disguise who can transform into anyone, a talented hacker who only communicates in glares, and a rival con artist with a vendetta against—and possible crush on—Fiona.

All they have to do is perform three nearly impossible heists, solve her mother's incredibly complex clues, and evade the FBI. Easy, right?

Praise for Shana Silver's Mind Games:

"An edge-of-your-seat thriller that will keep readers guessing. The complex plot, the occasional twists, and the quick pacing make this a difficult read to put down." —School Library Journal

"It's a YA Michael Crichton novel, minus the 100-page master class intro on quantum mechanics, biotech, and string theory...Mind Games is an absolute blast. If you are a fan of Memento or Strange Days, this one's definitely for you!" —NPR
About the Author
Shana Silver studied creative writing at Syracuse University. She's been a computer animator, an e-book creator for a major publisher, and now works as a Project Manager in digital and TV advertising where she enjoys telling people what to do. She lives in New Jersey with her husband, young daughter, and the characters she dreams up. Reverse is her debut novel.
Praise For The Con Code…
For Mind Games:
"It's a YA Michael Crichton novel, minus the 100-page master class intro on quantum mechanics, biotech, and string theory.... Mind Games is an absolute blast. If you are a fan of Memento or Strange Days, this one's definitely for you!" —NPR

"An edge-of-your-seat thriller that will keep readers guessing. The complex plot, the occasional twists, and the quick pacing make this a difficult read to put down." — School Library Journal

"A fun read for those wanting a twisty sf mystery with a steamy high-stakes romance woven in." —Booklist

"This book is impressive not just because it's a fantastically written debut, but it's refreshingly different from pretty much anything I can remember reading. ... It's intense, high-stakes action from beginning to end—and it's incredibly intelligent." —Bookwyrm Bites