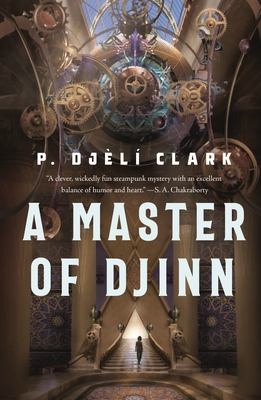 A Master of Djinn (Dead Djinn Universe #1)
Paperback

* Individual store prices may vary.
Other Editions of This Title:
Hardcover (5/11/2021)
Description
Included in NPR's Favorite Sci-Fi And Fantasy Books Of The Past Decade (2011-2021)
A Nebula Award Winner
A Ignyte Award Winner
A Compton Crook Award for Best New Novel Winner
A Locus First Novel Award Winner
A RUSA Reading List: Fantasy Winner
A Hugo Award Finalist
A World Fantasy Award Finalist
A NEIBA Book Award Finalist
A Mythopoeic Award Finalist
A Dragon Award Finalist
A Best of 2021 Pick in SFF for Amazon
A Best of 2021 Pick in SFF for Kobo

Nebula, Locus, and Alex Award-winner P. Djèlí Clark goes full-length for the first time in his dazzling debut novel

This trade paperback edition contains new-to-print content!

Cairo, 1912: Though Fatma el-Sha'arawi is the youngest woman working for the Ministry of Alchemy, Enchantments and Supernatural Entities, she's certainly not a rookie, especially after preventing the destruction of the universe last summer.

So when someone murders a secret brotherhood dedicated to one of the most famous men in history, al-Jahiz, Agent Fatma is called onto the case. Al-Jahiz transformed the world forty years ago when he opened up the veil between the magical and mundane realms, before vanishing into the unknown. This murderer claims to be al-Jahiz, returned to condemn the modern age for its social oppressions. His dangerous magical abilities instigate unrest in the streets of Cairo that threaten to spill over onto the global stage.

Alongside her Ministry colleagues and a familiar person from her past, Agent Fatma must unravel the mystery behind this imposter to restore peace to the city—or face the possibility he could be exactly who he seems…

Novellas by P. Djèlí Clark
The Black God's Drums
The Haunting of Tram Car 015
Ring Shout

The Dead Djinn Universe contains stories set primarily in Clark's fantasy alternate Cairo, and can be enjoyed in any order.
Praise For A Master of Djinn (Dead Djinn Universe #1)…
Locus Award Winner!
A 2022 RUSA Reading List Fantasy Winner
A 2021 NEIBA Book Award Finalist
World Fantasy Award Nominee
Salt Lake County Library System Reader's Choice Award Nominee
A Best of 2021 Pick in SFF for Kobo
Included in NPR's Favorite Sci-Fi And Fantasy Books Of The Past Decade (2011-2021)


"Clark reconfigures history with a keen, critical eye toward gender, class, and imperialism. An epic tale of magic and mystery, this is sure to wow." - Publishers Weekly, starred review

"Clark deftly explores colonialism and the history of Cairo with an immersive setting that acts as another character in this delightful combination of mystery, fantasy, and romance. Give this to alternate history enthusiasts and mystery readers who enjoy a dose of the magical." - Booklist, starred review

"What a wonderful world P. Djélì Clarke has created here — an Arab world never colonized, where magic-powered trams glide through a cosmopolitan Cairo and where djinns make mischief among humans." - NPR

"With its richly imagined world and characters and its high-stakes and thrilling plot, this novel would make such a fantastic show in the vein of The Nevers and Carnival Row, but better." - Buzzfeed

"A clever, wickedly fun steampunk mystery with an excellent balance of humor and heart. I loved it." - S. A. Chakraborty, internationally-bestselling author of The City of Brass

"A Master of Djinn is everything you might expect from Clark: cinematic action, a radical reimagining of real history, and magic on every page. I loved it." - Hugo Award winner Alix E. Harrow, author of The Ten Thousand Doors of January

"A delightful whodunnit full of sly commentary and a wonderfully lived-in steampunk Cairo. The perfect read when I needed a break from this world to enjoy one wholly made from Clark's enviable imagination." - Hugo and Nebula Award-winning Rebecca Roanhorse, author of Trail of Lightning and Star Wars: Resistance Reborn

"A Master of Djinn has all the tricky twists I want in a police procedural and all the djinns, magic and wonder I want from fantasy." - Mary Robinette Kowal, Hugo and Nebula award-winning author of The Calculating Stars

"Fascinating! I love the intricate alt-history world of A Master of Djinn, with its hints at the changed destinies of nations and ordinary people alike after the cataclysmic return of magic to the world. Clark gives us an engaging mystery with a wonderful mix of the fantastic and the mundane, chain-smoking crocodile gods, stuffy marid librarians, and a brilliant heroine with a dashing bowler." - Django Wexler, author of The Thousand Names

"Alternate historic Cairo comes to vivid life in Clark's first novel. His cosmopolitan city includes not only humans from all around the world, but supernatural creatures aplenty. When their interests and agendas collide, the result is the kind of book you don't want to put down." - World Fantasy and Hugo Award finalist Marie Brennan
Tordotcom, 9781250267665, 448pp.
Publication Date: July 19, 2022
About the Author
Born in New York and raised mostly in Houston, P. DJÈLÍ CLARK spent the formative years of his life in the homeland of his parents, Trinidad and Tobago. He is the author of the novel A Master of Djinn and the novellas Ring Shout, The Black God's Drums, and The Haunting of Tram Car 015. He has won the Nebula, Locus, and Alex Awards and been nominated for the Hugo, World Fantasy, and Sturgeon Awards. His stories have appeared in online venues such as Tor.com, Daily Science Fiction, Heroic Fantasy Quarterly, Apex, Lightspeed, Beneath Ceaseless Skies, and in print anthologies, including Griots, Hidden Youth, and Clockwork Cairo. He is also a founding member of FIYAH Magazine of Black Speculative Fiction and an infrequent reviewer at Strange Horizons.