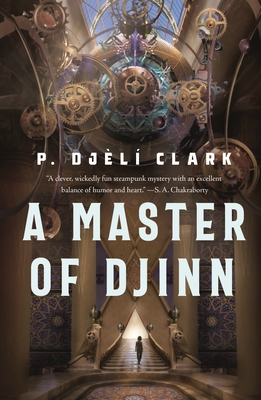 A Master of Djinn
Hardcover

* Individual store prices may vary.
Description
Nebula, Locus, and Alex Award-winner P. Djèlí Clark returns to his popular alternate Cairo universe for his fantasy novel debut, A Master of Djinn

Cairo, 1912: Though Fatma el-Sha'arawi is the youngest woman working for the Ministry of Alchemy, Enchantments and Supernatural Entities, she's certainly not a rookie, especially after preventing the destruction of the universe last summer.

So when someone murders a secret brotherhood dedicated to one of the most famous men in history, al-Jahiz, Agent Fatma is called onto the case. Al-Jahiz transformed the world fifty years ago when he opened up the veil between the magical and mundane realms, before vanishing into the unknown. This murderer claims to be al-Jahiz, returned to condemn the modern age for its social oppressions. His dangerous magical abilities instigate unrest in the streets of Cairo that threaten to spill over onto the global stage.

Alongside her Ministry colleagues and a familiar person from her past, Agent Fatma must unravel the mystery behind this imposter to restore peace to the city—or face the possibility he could be exactly who he seems…

A Master of Djinn is poised to launch P. Djèlí Clark's SFF career to new heights as the highly-anticipated debut readers are clamoring for.


Novellas by P. Djèlí Clark
The Black God's Drums
The Haunting of Tram Car 015
Ring Shout

Praise For A Master of Djinn…
"A clever, wickedly fun steampunk mystery with an excellent balance of humor and heart. I loved it." —S. A. Chakraborty, internationally-bestselling author of The City of Brass

"A delightful whodunnit full of sly commentary and a wonderfully lived-in steampunk Cairo. The perfect read when I needed a break from this world to enjoy one wholly made from Clark's enviable imagination." —Hugo and Nebula Award-winning Rebecca Roanhorse, author of Trail of Lightning and Star Wars: Resistance Reborn

"A Master of Djinn has all the tricky twists I want in a police procedural and all the djinns, magic and wonder I want from fantasy." —Mary Robinette Kowal, Hugo and Nebula award-winning author of The Calculating Stars

"A Master of Djinn is everything you might expect from Clark: cinematic action, a radical reimagining of real history, and magic on every page. I loved it." —Hugo Award winner Alix E. Harrow, author of The Ten Thousand Doors of January

"Alternate historic Cairo comes to vivid life in Clark's first novel. His cosmopolitan city includes not only humans from all around the world, but supernatural creatures aplenty. When their interests and agendas collide, the result is the kind of book you don't want to put down." —World Fantasy and Hugo Award finalist Marie Brennan

"Fascinating! I love the intricate alt-history world of A Master of Djinn, with its hints at the changed destinies of nations and ordinary people alike after the cataclysmic return of magic to the world. Clark gives us an engaging mystery with a wonderful mix of the fantastic and the mundane, chain-smoking crocodile gods, stuffy marid librarians, and a brilliant heroine with a dashing bowler."—Django Wexler, author of The Thousand Names
Tordotcom, 9781250267689, 400pp.
Publication Date: May 11, 2021
About the Author
Born in New York and raised mostly in Houston, P. DJÈLÍ CLARK spent the formative years of his life in the homeland of his parents, Trinidad and Tobago. P. Djèlí Clark is the author of the novellas The Black God's Drums, winner of a 2019 Alex Award from the American Library Association; The Haunting of Tram Car 015; and A Dead Djinn in Cairo. His short story "The Secret Lives of the Nine Negro Teeth of George Washington" (Fireside Fiction) has earned him both a Nebula and Locus award. He is loosely associated with the quarterly FIYAH: A Magazine of Black Speculative Fiction and an infrequent reviewer at Strange Horizons. He currently resides in New England and ruminates on issues of diversity in speculative fiction.