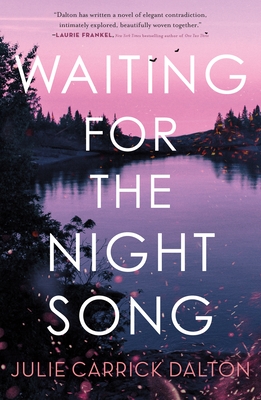 Waiting for the Night Song
Paperback

* Individual store prices may vary.
Other Editions of This Title:
Digital Audiobook (1/11/2021)
Hardcover (1/12/2021)
Library Binding, Large Print (2/3/2021)
CD-Audio (1/12/2021)
Description
Named a Most Anticipated book by Newsweek * USA Today * CNN * Parade * Buzzfeed * Medium * GoodReads * PopSugar * Frolic Media * Betches * The Nerd Daily * SheReads and more

"Smart and searingly passionate...an illuminating snapshot of nature, betrayal, and sacrifices set in the evocative New Hampshire wilderness."--Kim Michele Richardson, bestselling author of The Book Woman of Troublesome Creek

A startling and timely debut, Julie Carrick Dalton's Waiting for the Night Song is a moving, brilliant novel about friendships forged in childhood magic and ruptured by the high price of secrets that leave you forever changed.

Cadie Kessler has spent decades trying to cover up one truth. One moment. But deep down, didn't she always know her secret would surface?

An urgent message from her long-estranged best friend Daniela Garcia brings Cadie, now a forestry researcher, back to her childhood home. There, Cadie and Daniela are forced to face a dark secret that ended both their idyllic childhood bond and the magical summer that takes up more space in Cadie's memory then all her other years combined.

Now grown up, bound by long-held oaths, and faced with truths she does not wish to see, Cadie must decide what she is willing to sacrifice to protect the people and the forest she loves, as drought, foreclosures, and wildfire spark tensions between displaced migrant farm workers and locals.

Waiting for the Night Song is a love song to the natural beauty around us, a call to fight for what we believe in, and a reminder that the truth will always rise.
Praise For Waiting for the Night Song…
"Waiting for the Night Song is not just a coming of age story, but several coming of age stories. It's a novel about how time passes and how time stands still, ties that bind and ties that constrict, place and our place in the world, what keeps us together and what keeps us apart, all of which is to say that Julie Carrick Dalton has written a novel of elegant contradiction, intimately explored, beautifully woven together." —Laurie Frankel, New York Times bestselling author of One Two Three

"Julie Carrick Dalton's deftly constructed, urgent yet slow-burning debut novel reads like a warning from the frontlines of our rapidly deteriorating natural world." —Omar El Akkad, American War

"Both a timely and timeless literary mystery, Waiting for the Night Song is as seductive as it is smart, blending the allure of Julie Dalton's beloved rural New Hampshire setting with the dark undercurrents of a community's racial divisions and betrayals. This is a story of love, of home, of friendship and family, of a childhood's innocence and an adult's comeuppance, all of which are in the line of fire in this beauty of a page turner." —Michelle Hoover, award-winning author of Bottomland and The Quickening.

"Human nature clashes with Mother Nature in this riveting and heartbreaking coming of age story— gorgeously written, and wonderfully told. With its combination of powerful themes and intensely immersive setting, fans of Delia Owens will swoon to find their new favorite author. A phenomenal debut!" —Hank Phillippi Ryan, award-winning author of The First to Lie

"Dalton writes masterfully of human relationship and the fraught relationship humanity has with ecology…put it on your lists NOW." —Michael Zapata, author of The Lost Book of Adana Moreau

"I marvel when I come across a book that is at once timely and timeless…It's a novel that burns–figuratively and literally–with sharp prose and uncommon wisdom. Do yourself a favor and have a look for yourself." —Peter Geye, award-winning author of Wintering

"Waiting for the Night Song is a beautiful book that is also a hell of a read. Complex characters, unforgettable setting, taut storyline, big ideas." —Ashley Shelby, author of South Pole Station

"Smart and searingly passionate, Dalton's absorbing mystery debut explores many timely issues including global warming, female friendships, childhood secrets, and the lengths we take to protect them — Waiting For The Night Song is an illuminating snapshot of nature, betrayal and sacrifices set in the evocative New Hampshire wilderness." —Kim Michele Richardson, award-winning author of The Book Woman of Troublesome Creek

"A killer, gorgeous debut that tackles love, racism and even climate change. Waiting for the Night Song will break your heart, leave you breathless and wanting more." —Rachel Barenbaum, bestselling author of A Bend in the Stars

"Dalton weaves the vagaries of friendship, the wonder of the natural world, and the power of truth to create a powerful and unforgettable story." —Erica Ferencik, bestselling author of The River at Night and Into the Jungle

"Dalton's debut is a story of friendship, family, and the consequences of acting out of fear, especially when those actions are performed to protect those we love. The storytelling is made even more vivid by the way the novel practically breathes the woods of New Hampshire." —Booklist

"Stirring...a taut novel that builds suspense to the very end." —Publishers Weekly

"Dalton writes thoughtfully and poetically about a place clearly close to her own New Hampshire–based heart. Cadie and Daniela's interrupted friendship forms the core of the novel, and Dalton captures that best-friend bond so intensely forged in youth. Through vivid and emotional imagery, Waiting for the Night Song speaks to the power that a place and its people can have over your life." —BookPage
Forge Books, 9781250269201, 336pp.
Publication Date: January 18, 2022
About the Author
As a journalist, JULIE CARRICK DALTON has published more than a thousand articles in The Boston Globe, BusinessWeek, The Hollywood Reporter, Orion Magazine, Electric Literature, and other publications. A Tin House and Bread Loaf alum, and graduate of GrubStreet's Novel Incubator, Dalton holds a master's degree in literature and creative writing from Harvard Extension School. She is a frequent speaker on the topic of writing fiction in the age of climate crisis. A mom to four kids and two dogs, Dalton is an avid skier, hiker, and kayaker. A former beekeeper, she also farms a gorgeous tract of land in rural New Hampshire.