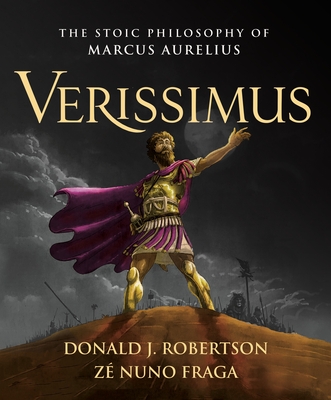 Verissimus
The Stoic Philosophy of Marcus Aurelius
Hardcover

* Individual store prices may vary.
Description
In the tradition of Logicomix, Donald J. Robertson's Verissimus is a riveting graphic novel on the life and stoic philosophy of Marcus Aurelius.

Marcus Aurelius was the last famous Stoic of antiquity but he was also to become the most powerful man in the known world – the Roman emperor. After losing his father at an early age, he threw himself into the study of philosophy. The closest thing history knew to a philosopher-king, yet constant warfare and an accursed plague almost brought his empire to its knees. "Life is warfare", he wrote, "and a sojourn in foreign land!" One thing alone could save him: philosophy, the love of wisdom!

The remarkable story of Marcus Aurelius' life and philosophical journey is brought to life by philosopher and psychotherapist Donald J. Robertson, in a sweeping historical epic of a graphic novel, based on a close study of the historical evidence, with the stunning full-color artwork of award-winning illustrator Zé Nuno Fraga.
Praise For Verissimus: The Stoic Philosophy of Marcus Aurelius…
"A superb graphic novel that provides stunning insights into one of the most interesting figures of antiquity, as well as into the philosophy that guided him throughout his life." --Massimo Pigliucci, author of How to Be a Stoic

"Donald Robertson is one of my favorite writers about Stoicism." –-Ryan Holiday, #1 New York Times bestselling author and founder of The Daily Stoic

"Verissimus represents the vanguard of the next phase of the ongoing Stoic renaissance." –-William B. Irvine, author of A Guide to the Good Life

"A remarkable work that is awesome in its conception and execution." --Karen Duffy, author of Backbone

"Whether you're new to Marcus Aurelius or already know him as a friend and guide, this graphic 'novel' will open your eyes. The book truly makes him a three-dimensional person, not just the writer of Meditations. Author and artist have found – invented, I might say – a brilliant combination of entertainment and education." –-Robin Waterfield, translator of Marcus Aurelius and Epictetus

"Superb rendering of Marcus' action-filled life and times. Readers are in safe hands knowing the text comes from Stoic philosophy expert Donald Robertson. Don't be fooled by the graphic nature of this book, you will learn a lot – and be inspired at the same time." –-Tom Butler-Bowdon, author of the 50 Classics series
St. Martin's Press, 9781250270955, 272pp.
Publication Date: July 12, 2022
About the Author
Donald J. Robertson is a cognitive-behavioral psychotherapist, trainer, and writer. He was born in Ayrshire, Scotland, and after living in England and working in London for many years, he emigrated to Canada where he now lives.

Robertson has been researching Stoicism and applying it in his work for twenty years. He is one of the founding members of the non-profit organization Modern Stoicism.

Donald is the author of How to Think Like a Roman Emperor.