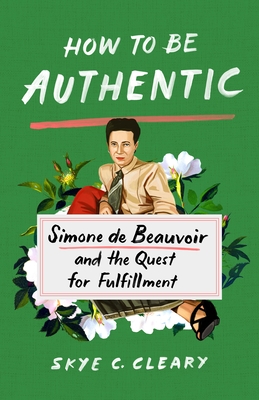 How to Be Authentic
Simone de Beauvoir and the Quest for Fulfillment
Hardcover

* Individual store prices may vary.
Description
An illuminating introduction to the philosophy of Simone de Beauvoir and its relevance to modern life

In an age of self-exposure, what does it mean to be authentic?

"Authenticity" has become attenuated to the point of meaninglessness; everyone says to be yourself, but what that means is anyone's guess. For existential philosopher Simone de Beauvoir, authenticity is not the revelation of a true self, but an exhilarating quest towards fulfillment. Her view, central to existentialism, is that we exist first and then spend the rest of our lives creating—not discovering—who we are. To be authentic is to live in pursuit of self-creation and self-renewal, with many different paths towards diverse goals.

How to Be Authentic is a lively introduction to Simone de Beauvoir's philosophy of existentialism, as well as an exploration of the successes and failures that Beauvoir and other women have experienced in striving towards authenticity. Skye C. Cleary takes us through some of life's major relationships and milestones: friendship; romantic love; marriage; children; and death, and examines how each offers an opportunity for us to stretch toward authenticity. While many people don't get to choose their path in life—whether because of systemic oppression or the actions of other individuals—Cleary makes a compelling case that Beauvoir's ideas can help us become more conscious of living purposefully, thoughtfully, and with vitality, and she shows us how to do so in responsible ways that invigorate every person's right to become poets of their own lives.
Praise For How to Be Authentic: Simone de Beauvoir and the Quest for Fulfillment…
"Sits at the intersection of biography, philosophy, and self-help, yet it transcends all three. Cleary successfully fuses philosophical analysis, personal insight, and cultural commentary….How to Be Authentic is fresh, new, and prescient."—Rebecca Brenner Graham, Los Angeles Review of Books

"This lucid introduction to de Beauvoir and existentialism has some worthwhile insights."--Publishers Weekly

"Being authentic is not a matter of book learning, but certain books—the best ones—can clear a way for us to live a little more honestly and fully. This is one of them... Cleary allows Beauvoir to speak to our age and dares us, repeatedly, to become who we are." —John Kaag, author of Hiking with Nietzsche and Sick Souls, Healthy Minds

"As engaging and entertaining as it is thought provoking and serious. In her characteristically accessible and intimate style, Cleary takes us on a fascinating journey in search of the true meaning of authenticity, clearing away as she proceeds many of the tired clichés about 'being oneself' or 'finding oneself'. Cleary's focus in this book is feminism from an existentialist perspective. She explores what it is for women to achieve authenticity in today's complex world." —Gary Cox PhD, author of How to Be an Existentialist and The Existentialist's Guide

"This timely book is a guide to living authentically and intentionally in a chaotic world. Cleary is a modern-day Simone de Beauvoir, drawing on Beauvoir's important canon of work but going beyond to offer practical lessons for creating the existence that you truly want. If there's just one authentic choice you can make today, buy this book!" —Scott Barry Kaufman, author of Transcend, and Host of The Psychology Podcast
St. Martin's Essentials, 9781250271358, 352pp.
Publication Date: August 16, 2022
About the Author
Skye C. Cleary, PhD is a philosopher and writer. She teaches at Columbia University, Barnard College, and the City University of New York, and is the author of Existentialism and Romantic Love and co-editor of How to Live a Good Life. Cleary's writing has appeared in The Paris Review, Aeon, The Times Literary Supplement, TED-Ed, and Los Angeles Review of Books, among other outlets. She won the 2017 New Philosopher Writers' Award and was a 2021 MacDowell Fellow. She lives in New York City with her partner and son.