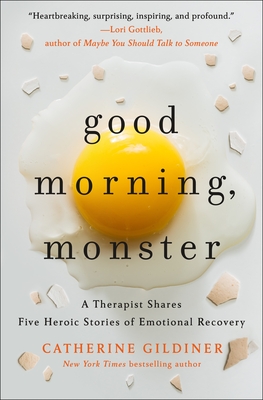 Good Morning, Monster
A Therapist Shares Five Heroic Stories of Emotional Recovery
Hardcover

* Individual store prices may vary.
Description
As seen on Good Morning America's SEPTEMBER 2020 READING LIST and FAVORITE BOOKS OF 2020!

"We need to read stories about folks who have been through hell and kept going... Fascinating." Glennon Doyle, A Favorite Book of 2020 on Good Morning America

"Gildiner is nothing short of masterfulas both a therapist and writer. In these pages, she has gorgeously captured both the privilege of being given access to the inner chambers of people's lives, and the meaning that comes from watching them grow into the selves they were meant to be." Lori Gottlieb, New York Times bestselling author of Maybe You Should Talk to Someone

In this fascinating narrative, therapist Catherine Gildiners presents five of what she calls her most heroic and memorable patients. Among them: a successful, first generation Chinese immigrant musician suffering sexual dysfunction; a young woman whose father abandoned her at age nine with her younger siblings in an isolated cottage in the depth of winter; and a glamorous workaholic whose narcissistic, negligent mother greeted her each morning of her childhood with "Good morning, Monster."

Each patient presents a mystery, one that will only be unpacked over years. They seek Gildiner's help to overcome an immediate challenge in their lives, but discover that the source of their suffering has been long buried.

As in such recent classics as The Glass Castle and Educated, each patient embodies self-reflection, stoicism, perseverance, and forgiveness as they work unflinchingly to face the truth. Gildiner's account of her journeys with them is moving, insightful, and sometimes very funny. Good Morning Monster offers an almost novelistic, behind-the-scenes look into the therapist's office, illustrating how the process can heal even the most unimaginable wounds.
Praise For Good Morning, Monster: A Therapist Shares Five Heroic Stories of Emotional Recovery…
ONE OF Newsweek's 30 THOUGHTFUL BOOKS TO GIFT

"A longtime psychologist chronicles the lives of five of her most inspirational patients for a story that's both wrenching and hopeful." Newsweek

"Although this book centers on the healing of Gildiners patients, it is also about her own gifts and growth as a therapist. Her blind spots and aha! moments are constant reminders that under a clinical veneer lies a person simply trying to do their best. No one but a wise clinician could turn these victims into heroes. Hats off to Gildiner for doing a heroic therapeutic job and for writing about it so eloquently." New York Journal

"For fans of Lori Gottlieb... a therapist recounts five of her most fascinating patients, with a focus on how heroic they are for overcoming seemingly insurmountable obstacles." Business Insider

"Affecting... Insightful psychological lessons of special interest to readers on therapeutic journeys of their own." Kirkus

"Clinical psychologist, Gildiner, shares heart-wrenching stories... [that] inspire awe for the ways people who suffered horrific abuse were able to find a measure of recovery." Publisher's Weekly

"Brilliant piece of work, both heart-rending and chilling. I was moved to tears... a great book for any time. The greatest value is the skill of the storyteller and the insights into her own incredible contribution to the outcome of these extraordinary people. I had promised myself that I would read one episode for each of five days. Instead I read right through from beginning to end." Valery Hemingway, author of Running With the Bulls

Gildiners subject is heroismwrit large and with poignant specificity in five unforgettable patients lives. Good Morning, Monster will bolster your faith in human endurance, and make you root more fiercely for us all. Paula McLain, author of Love and Ruin and The Paris Wife

"...These stories show how the process of therapy can heal even the deepest wound and most traumatic of experiences." Lee Woodruff

"Good Morning, Monster allows one the privilege of seeing the therapist-patient relationship as an essentially human interaction." JM Coetzee, Winner of the Nobel Prize for Literature

"Heartbreaking, surprising, inspiring, and profound, this is ultimately a book about the power of connection and the triumph of the human spirit." Lori Gottlieb, New York Times bestselling author of Maybe You Should Talk to Someone: A Therapist, Her Therapist, and our Lives Revealed

Enthusiastic and insightful Toronto Star

"As anyone who has sat through a Zoom therapy session knows, there's really no substitute for the real thing. But, the book world is giving it a shot... Good Morning, Monster by Catherine Gildiner is a psychologist's retelling of five of her most memorable (and harrowing) cases." Entertainment Weekly

Like Oliver Sacks, Catherine Gildiner loves her patients... Gildiner is a master of shoot-from-the-hip nonfictionfunny, direct and honest about what she sees in others and what she sees in herself. Highly readable! Susan Swan, author of The Wives of Bath

This is a compelling and compressed journey through years of psychotherapy for each of these five people, with crystalline moments of connection and meaning Gildiner is astute, active, pragmatic, and hopeful. She is also very funny. Her wit and her wisdom are gifts shared with these five peopleand now with all of us readers. David S. Goldbloom, co-author of How Can I Help?: A week in My Life as a Psychiatrist

These stories are almost mythic in their power... I couldnt put this book down. Antanas Sileika, author of Provisionally Yours

Compelling, heart-in-throat stories prove no one is damaged goods. Im in awe of the five patients and of Gildiners exceptional creativity as she guides each one toward emotional freedom. Rona Maynard, author of My Mothers Daughter

"A fascinating memoir...heartwarming, heartbreaking, and inspirational." Midwest Book Review

St. Martin's Press, 9781250271488, 368pp.
Publication Date: September 22, 2020
About the Author
CATHERINE GILDINER was a clinical psychologist in private practice for twenty-five years. Her best-selling memoir Too Close to The Falls was published to international acclaim. She lives in Toronto.