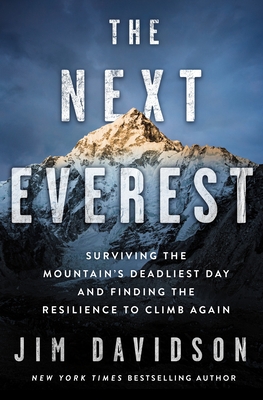 The Next Everest
Surviving the Mountain's Deadliest Day and Finding the Resilience to Climb Again
Hardcover

* Individual store prices may vary.
Other Editions of This Title:
Digital Audiobook (4/19/2021)
Paperback (3/29/2022)
Description
One of Atlas & Boots' Top 10 Adventure Travel Books of 2021

A dramatic account of the deadly earthquake on Everest—and a return to reach the summit.

On April 25, 2015, Jim Davidson was climbing Mount Everest when a 7.8 magnitude earthquake released avalanches all around him and his team, destroying their only escape route and trapping them at nearly 20,000 feet. It was the largest earthquake in Nepal in eighty-one years and killed about 8,900 people. That day also became the deadliest in the history of Everest, with eighteen people losing their lives on the mountain.

After spending two unsettling days stranded on Everest, Davidson's team was rescued by helicopter. The experience left him shaken, and despite his thirty-three years of climbing and serving as an expedition leader, he wasn't sure that he would ever go back. But in the face of risk and uncertainty, he returned in 2017 and finally achieved his dream of reaching the summit.

Suspenseful and engrossing, The Next Everest portrays the experience of living through the biggest disaster to ever hit the mountain. Davidson's background in geology and environmental science makes him uniquely qualified to explain how this natural disaster unfolded and why the seismic threats lurking beneath Nepal are even greater today. But this story is not about "conquering" the world's highest peak. Instead, it reveals how embracing change, challenge, and uncertainty prepares anyone to face their "next Everest" in life.
Praise For The Next Everest: Surviving the Mountain's Deadliest Day and Finding the Resilience to Climb Again…
Praise for The Next Everest:
"In this deft and honest memoir, Jim Davidson exorcises the demons of a tragedy. He turns personal disappointment into humanitarian witness after the disastrous Everest season of 2015, when an earthquake shut down climbing and took a far more horrendous toll on a whole nation. Returning two years later and at last reaching the summit, Davidson sagely weighs the rewards of individual achievement against moral questions that transcend mountaineering."
—David Roberts, author of The Mountain of My Fear and Limits of the Known

"Among all outdoor pursuits, climbing mountains offers the purest, most direct challenge. Jim Davidson weaves his experiences with avalanches, crevasse falls, earthquakes, altitude, frostbite, and other Himalayan hazards into an exciting, sometimes somber introspective narrative, describing not just how he survives climbing the highest mountains in the world, but more importantly, why he must go again and again."
—Roman Dial, author of The Adventurer's Son

"I've climbed with Jim for almost two decades, and in The Next Everest he skillfully binds together his wit, geology training, quirky analytics, and enormous sensitivity into a delightful style. He weaves a tapestry of life lessons and experiences that take the reader along with him to Everest."
—Alan Arnette, Everest and K2 summiteer and contributor to Outside, Rock & Ice, and National Geographic

"Davidson puts the reader on the mountain, and in a position to learn. Out of tragedy emerges the human will to survive and help others. A tour de force of resilience."
—Chris Tomer, coauthor of Sleeping on the Summits, mountaineer, and Emmy Award–winning meteorologist

"A gripping, personal story of high-altitude disaster, teamwork, and survival. Davidson's keen geologist's eye brings Everest and other summits—both physical and emotional—into sharp relief, offering a testament to the resilience of the human spirit when faced with uncertainty and tragedy. The Next Everest is a harrowing, moving adventure narrative that is both riveting and revelatory."
—Buddy Levy, author of Labyrinth of Ice

"Davidson captures—with welcome humility and honesty—the true essence of Mount Everest. He details the skills, tenacity, and resilience needed to climb the highest mountain on Earth, and the metaphorical mountains in all our lives. A poignant read for our current times."
—Jake Norton, veteran of eight Everest expeditions; UN Goodwill Ambassador, and award-winning Everest filmmaker

"[Davidson] follows in the literary trail blazed by Krakauer. He provides a gripping account of a series of avalanches on Everest on April 25, 2015, which followed a powerful earthquake in Nepal."
—The New Yorker

"[The Next Everest] nicely bookends Into Thin Air and the author's own Ledge as considerations of adventures that have only three outcomes: summiting, turning back, or dying. Essential for alpinists, though armchair travelers will be bound up in Davidson's thrill-a-minute narrative, too."
—Kirkus

"There's more to this book than a disaster survival story...authentic, illuminating."
—Outside

"Davidson's personal account is real and gripping...a vivid picture."
—GearJunkie

"The Next Everest is not just an adventure story, but one of resilience and courage."
—Man of la Book

"Extraordinarily well written and presented. An inherently fascinating read from cover to cover."
—Midwest Book Review

"Harrowing."
—Forbes

"An inspiring narrative of triumph over trauma and a spiritual guide for how to accomplish such a thing."
—Matador Network

"Suspenseful and engrossing, this true-life account portrays the experience of living through the biggest disaster to ever hit the mountain."
—Deccan Herald


Praise for The Ledge:
"A story of trust that explores a precarious situation in which men are literally bound to one another for survival." —Kirkus Reviews

"It's a grippingly written book—the scene in which Davidson falls into the crevasse, in particular, is vivid and frightening…the book definitely stands on its own two feet." —Booklist

"More than your standard entry in the survival canon…tells a gripping true story." —The Denver Post
St. Martin's Press, 9781250272294, 416pp.
Publication Date: April 20, 2021
About the Author
Jim Davidson is an accomplished high-altitude climber, motivational speaker, and coauthor of the New York Times bestseller The Ledge. Along with his teammates, he has been commended twice by the U.S. National Park Service for volunteering on risky and remote mountain rescues. He has inspired audiences across the United States and internationally through his business, Speaking of Adventure. Davidson has two adventurous children and lives in Colorado with his wife.