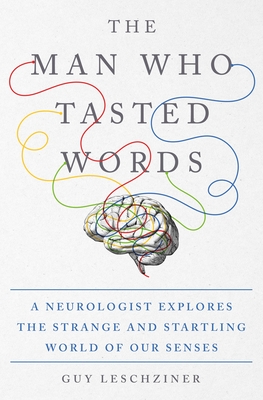 The Man Who Tasted Words
A Neurologist Explores the Strange and Startling World of Our Senses
Hardcover

* Individual store prices may vary.
Description
In The Man Who Tasted Words, Guy Leschziner leads readers through the senses and how, through them, our brain understands or misunderstands the world around us.

Vision, hearing, taste, smell, and touch are what we rely on to perceive the reality of our world. Our senses are the conduits that bring us the scent of a freshly brewed cup of coffee or the notes of a favorite song suddenly playing on the radio. But are they really that reliable? The Man Who Tasted Words shows that what we perceive to be absolute truths of the world around us is actually a complex internal reconstruction by our minds and nervous systems. The translation into experiences with conscious meaning—the pattern of light and dark on the retina that is transformed into the face of a loved one, for instance—is a process that is invisible, undetected by ourselves and, in most cases, completely out of our control.

In The Man Who Tasted Words, neurologist Guy Leschziner explores how our nervous systems define our worlds and how we can, in fact, be victims of falsehoods perpetrated by our own brains. In his moving and lyrical chronicles of lives turned upside down by a disruption in one or more of their five senses, he introduces readers to extraordinary individuals, like one man who actually "tasted" words, and shows us how sensory disruptions like that have played havoc, not only with their view of the world, but with their relationships as well. The cases Leschziner shares in The Man Who Tasted Words are extreme, but they are also human, and teach us how our lives and what we perceive as reality are both ultimately defined by the complexities of our nervous systems.
Praise For The Man Who Tasted Words: A Neurologist Explores the Strange and Startling World of Our Senses…
"In vivid stories of patient maladies that affect our very human sensations of sight, sound, smell, touch and pain, Leschziner has deeply explored the sensory experiences that bombard every moment of our lives but of which we are barely aware. What a terrific melding of brain science with thoughtful ideas on our window to the outside world."
—Allan Ropper, M.D., author of Reaching Down the Rabbit Hole and How the Brain Lost Its Mind

"A truly astonishing book—from the story of the man who tasted words to that of Paul who could pull out his own teeth and break his legs yet feel no pain. These are beautifully and engagingly written stories of how our senses tell us about the reality of the world—or, sometimes, don't."
—Gavin Esler, author of How Britain Ends

"If we have all our senses intact, we see, taste, hear, touch, and smell every day and probably think little about the complex systems that make it all possible and the many things science still ignores about those processes. This book changes that and forces readers to question the "reality" they have created, and that makes it the kind of book that has a lasting impact."
—NPR.org

"A fascinating deep dive into the functions and malfunctions of the five senses . . . packed with insights."
—Publishers Weekly

"Vibrant with personality and full of wonder. Prof. Leschziner takes us through an exploration of our senses, making us question the nature of our reality and how we interpret the world around us. It is a profound, entertaining and quite exceptional book."
—Dr. Alastair Santhouse, psychiatrist and author of Head First

"Stories of people who experience the world differently show us what it means to be human. This is a deeply moving and powerful book, full of provocative ideas about human perception and the way we construct reality."
—Daniel M. Davis, author of The Secret Body and The Beautiful Cure

"From the opening paragraph, I was spellbound, entranced. Through real stories about what happens when our fragile perception of the world around us and within us is severed, Guy Leschziner connects us back to our senses."
—Professor Alice Roberts, broadcaster, author, anatomist and anthropologist

"An important, fascinating and disturbing book. Words will never taste the same again!"
—John Humphrys, journalist and broadcaster
St. Martin's Press, 9781250272362, 336pp.
Publication Date: February 22, 2022
About the Author
DR. GUY LESCHZINER is the author of The Nocturnal Brain, as well as a professor of neurology and sleep medicine in London. He sees patients with a range of neurological and sleep disorders, and is actively involved in research and teaching. He has also presented series on sleep and neurology for BBC World Service and Radio 4.