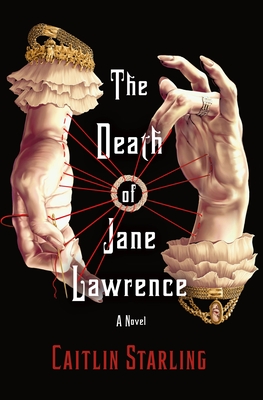 The Death of Jane Lawrence
A Novel
Hardcover

* Individual store prices may vary.
Other Editions of This Title:
Digital Audiobook (10/4/2021)
Paperback (10/4/2022)
Description
***AN INSTANT BESTSELLER!***
Best Books of 2021 · NPR
ALA/The Reading List Best Horror 2021 Pick
Longlisted for the Bram Stoker Awards for Superior Achievement in a Novel, 2021

From the Bram Stoker-nominated author of The Luminous Dead comes a gothic fantasy horror—The Death of Jane Lawrence.

"A jewel box of a Gothic novel." —New York Times Book Review

"Delicious.... By the time the book reached that point of no return, I was so invested that I would have followed Jane into the very depths of hell." —NPR.org

"Intense and amazing! It's like Jonathan Strange and Mr. Norrell meets Mexican Gothic meets Crimson Peak." —BookRiot

Practical, unassuming Jane Shoringfield has done the calculations, and decided that the most secure path forward is this: a husband, in a marriage of convenience, who will allow her to remain independent and occupied with meaningful work. Her first choice, the dashing but reclusive doctor Augustine Lawrence, agrees to her proposal with only one condition: that she must never visit Lindridge Hall, his crumbling family manor outside of town.

Yet on their wedding night, an accident strands her at his door in a pitch-black rainstorm, and she finds him changed. Gone is the bold, courageous surgeon, and in his place is a terrified, paranoid man—one who cannot tell reality from nightmare, and fears Jane is an apparition, come to haunt him. By morning, Augustine is himself again, but Jane knows something is deeply wrong at Lindridge Hall, and with the man she has so hastily bound her safety to.

Set in a dark-mirror version of post-war England, Caitlin Starling crafts a new kind of gothic horror from the bones of the beloved canon. This Crimson Peak-inspired story assembles, then upends, every expectation set in place by Shirley Jackson and Rebecca, and will leave readers shaken, desperate to begin again as soon as they are finished.
Praise For The Death of Jane Lawrence: A Novel…
"A delicious Gothic romance.... It has to walk the line between romance and horror and not flinch away from either. The Death of Jane Lawrence is up to this task…. By the time the book reached that point of no return, I was so invested that I would have followed Jane into the very depths of hell." —NPR.org

"Starling is one of the new leading voices in horror." —Locus Magazine

"Inspired by Crimson Peak, the horror in this gothic set in an alternate postwar England subtly increases as the novel progresses, unease seeping into the pages." —Buzzfeed

"Don't read this one alone at night; Caitlin Starling has done it again. Unsettling, atmospheric, and downright brutal at times, The Death of Jane Lawrence will continue to haunt you long after you leave Lindridge Hall…if the house lets you leave, that is." —Genevieve Gornichec, author of The Witch's Heart

"With The Death of Jane Lawrence, Caitlin Starling establishes herself as a queen of gothic horror. I absolutely loved this smart, compelling book about the weight and consequence of love, and how far we are willing to go in its service." —Kat Howard, Alex Award-winning author of An Unkindness of Magicians

"With labyrinthine twists and characters to fall for, Starling's gothic horror is a tale that haunts you even after you're done. The Death of Jane Lawrence is Jonathan Strange & Mr. Norrell with sharp teeth and a Crimson Peak you're scared to look in the eye." —Linden A. Lewis, author of The First Sister

"A sublime Gothic romance with bonesaw prose and a spreading stain of cosmic horror." —Seth Dickinson, author of The Traitor Baru Cormorant

"Elegantly atmospheric and grotesquely visceral, The Death of Jane Lawrence both haunts and tears open the ghost to show the gory insides. I loved every page!" —C.A. Higgins, author of Lightless

"A keen, visceral study in dread, The Death of Jane Lawrence is a harrowing plunge into the beating heart of hope and madness. The occult magic of Lindridge Hall captured me from the first page, and I never wanted it to let me go. Starling is a master of mind games with a twisted talent for dragging her characters through hell. I will read anything she writes next." —Kate Dollarhyde, Nebula award-winning game writer

"This blood-soaked book was chilling from beginning to end, with great reveals and an intense romance, plus lots of ghosts, gore, and guts!" —BookRiot

"A torturous book. Horrifying in small, cutting, personal ways, and in the more classic scare-in-a-dark-room way. But there's an iron rod of panicked strength that runs through the middle of it." —NPR, Jason Sheehan, on The Luminous Dead

"This claustrophobic, horror-leaning tour de force is highly recommended for fans of Jeff VanderMeer's Annihilation and Andy Weir's The Martian." —Publishers Weekly, starred review, on The Luminous Dead

"Starling has written a tightly-focused novel, part psychological thriller, part deep character study." —Tor.com, Liz Bourke, on The Luminous Dead
St. Martin's Press, 9781250272584, 368pp.
Publication Date: October 5, 2021
About the Author
Caitlin Starling writes horror-tinged speculative fiction of all flavors. Her first novel, The Luminous Dead, won the LOHF Best Debut Award and was nominated for both the Bram Stoker and Locus Awards. She is also the author of the gothic horror tales Yellow Jessamine and The Death of Jane Lawrence, as well as a novella in the Vampire: The Masquerade audio collection, Walk Among Us. Her nonfiction has appeared in Nightmare and Uncanny. Starling also works in narrative design, and has been paid to invent body parts. She's always on the lookout for new ways to inflict insomnia.