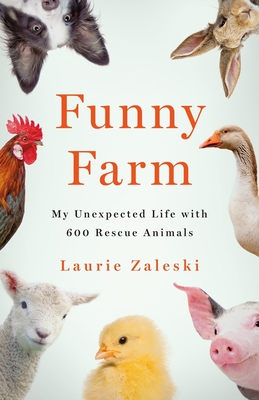 Funny Farm
My Unexpected Life with 600 Rescue Animals
Hardcover

* Individual store prices may vary.
Description
An inspiring and moving memoir of the author's turbulent life with 600 rescue animals.

Laurie Zaleski never aspired to run an animal rescue; that was her mother Annie's dream. But from girlhood, Laurie was determined to make the dream come true. Thirty years later as a successful businesswoman, she did it, buying a 15-acre farm deep in the Pinelands of South Jersey. She was planning to relocate Annie and her caravan of ragtag rescues—horses and goats, dogs and cats, chickens and pigs—when Annie died, just two weeks before moving day. In her heartbreak, Laurie resolved to make her mother's dream her own. In 2001, she established the Funny Farm Animal Rescue outside Mays Landing, New Jersey. Today, she carries on Annie's mission to save abused and neglected animals.

Funny Farm is Laurie's story: of promises kept, dreams fulfilled, and animals lost and found. It's the story of Annie McNulty, who fled a nightmarish marriage with few skills, no money and no resources, dragging three kids behind her, and accumulating hundreds of cast-off animals on the way. And lastly, it's the story of the brave, incredible, and adorable animals that were rescued.
Praise For Funny Farm: My Unexpected Life with 600 Rescue Animals…
"Funny Farm is the satisfying tumultuous story of one mama who understood that a messy life crowded with love and animals is plenty good enough. Her daughter would grow up to tackle that legacy and build her own thriving animal sanctuary. Laurie Zaleski writes in vivid unsentimental language, equal parts passion and grit. She would balk at being called tender hearted. She'd better get used to it."--Ellen Stimson, Author of Mud Season and Good Grief

"I found myself up till much later at night than was good for me, just to read one more chapter. I laughed, I cried, I related in a very deep way, and most of all, I fell in love with Laurie, her mom, and her whole family, both human and non. Funny Farm was moving, inspiring, honest, and refreshingly real. I loved every page!"--Ellie Laks-Weiner, author of My Gentle Barn

"[A] heartwarming debut...Zaleski masterfully illustrates how one person can rise above difficult circumstances to do substantial good. Lovers of the furry and feathery will revel in this feel-good story."--Publishers Weekly

St. Martin's Press, 9781250272836, 256pp.
Publication Date: February 22, 2022
About the Author
LAURIE ZALESKI is the founder of the Funny Farm, a charitable organization located in Mizpah, New Jersey. Since 2000, the farm has welcomed all kinds of rescue animals. Laurie is also the founder, president and CEO of Art-Z Graphics. She has been named a New Jersey Heartland Hero, is listed in the 2019 Who's Who of Professional Women, and has received numerous awards and acknowledgements for her work to save animals and educate the public about animal abuse.