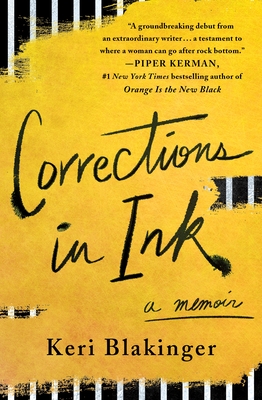 Corrections in Ink
A Memoir
Hardcover

* Individual store prices may vary.
Description
An electric and unforgettable memoir about a young woman's journey—from the ice rink, to addiction and a prison sentence, to the newsroom—and how she emerged with a fierce determination to expose the broken system she experienced.

An elite, competitive figure skater growing up, Keri Blakinger poured herself into the sport, even competing at nationals. But when her skating partnership ended abruptly, her world shattered. With all the intensity she saved for the ice, she dove into self-destruction. From her first taste of heroin, the next nine years would be a blur—living on the streets, digging for a vein, selling drugs and sex, eventually plunging off a bridge when it all became too much, all while trying to hold herself together enough to finish her degree at Cornell.

Then, on a cold day during Keri's senior year, the police stopped her. Caught with a Tupperware container full of heroin, she was arrested and ushered into a holding cell, a county jail, and finally into state prison. There, in the cruel "upside down," Keri witnessed callous conditions and encountered women from all walks of life—women who would change Keri forever.

Two years later, Keri walked out of prison sober and determined to make the most of the second chance she was given—an opportunity impacted by her privilege as a white woman. She scored a local reporting job and eventually moved to Texas, where she started covering nothing other than: prisons. Now, over her career as an award-winning journalist, she has dedicated herself to exposing the broken system as only an insider could.

Not just a story about getting out and getting off drugs, this rich memoir is about finding redemption within yourself, as well as from the outside world, and the power of second chances. Written in a searing voice, Corrections in Ink is told with unflinching honesty and jolts of irreverent humor, and uncovers a dark and brutal system that affects us all.
Praise For Corrections in Ink: A Memoir…
"Corrections in Ink is a groundbreaking debut from an extraordinary writer; in her memoir, Blakinger offers a searing work of self-examination, an inquiry of power, and a funny, provocative, and inspiring personal story of addiction, prison, and investigative journalism. Her book stands as a feminist response to David Carr's The Night of the Gun, a testament to where a woman can go after rock-bottom, the power to transform oneself, and the imperative to discover and tell the truth." —Piper Kerman, #1 New York Times bestselling author of Orange Is the New Black

[Corrections in Ink] is a hair-raising tale of a girl torn between perfectionism and self-destruction, and a woman who uses her profound gifts to help set others free. How that girl became that woman demonstrates the beauty of storytelling—and sobriety." —Sarah Hepola, New York Times bestselling author of Blackout

"It's hard to think of a reporter more deeply devoted to exposing the brokenness of the American prison system than Keri Blakinger, who in Corrections in Ink turns her journalistic eye and narrative gift to her own story—a riveting journey through the depths of addiction and incarceration. As Keri writes, so few who are sucked into the carceral system receive the second chance that she was given, which is why it's impossible to read this book and not be inspired, and called to action, by her dedication to exposing the inhumane and injustice status quo within our country's jails and prisons." —Wesley Lowery, Pulitzer Prize winning journalist and author of They Can't Kill Us All: Ferguson, Baltimore and a New Era in America's Racial Justice Movement

"Corrections in Ink is magical. Keri Blakinger is a fresh and brave voice; her writing is sharp and effective. I love this book." —Molly Jong-Fast, editor-at-large at The Daily Beast

"Blakinger's harrowing tale of her stretch in the American carceral system is one of the more foreboding in recent memory. Thankfully, it's also punctuated by wonderfully bone-dry humor, which makes the book not only bearable, but brilliant. When it's over, you'll want to raze every correctional facility in the land." —Elon Green, author of Last Call
St. Martin's Press, 9781250272850, 336pp.
Publication Date: June 7, 2022
About the Author
Keri Blakinger is an investigative reporter based in Texas. She covers criminal justice and injustice for The Marshall Project and writes "Inside Out," a regular column published in collaboration with NBC News. She previously worked for the Houston Chronicle and her writing has appeared everywhere from the New York Daily News to the BBC and from VICE to The New York Times. She was a member of the Chronicle's Pulitzer-finalist team in 2018 and her 2019 coverage of women's jails for The Washington Post Magazine helped earn a National Magazine Award. Before becoming a reporter, she did prison time for a drug crime in New York.