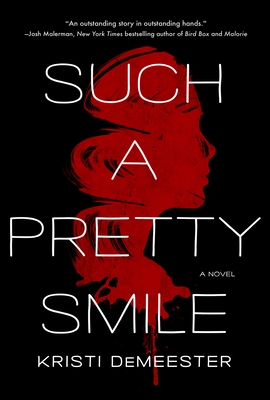 Such a Pretty Smile
A Novel
Hardcover

* Individual store prices may vary.
Description
"Wonderfully well-written. The dread, the enigma, build with each scene." - Josh Malerman

A biting novel from an electrifying new voice, Kristi DeMeester's Such a Pretty Smile is a heart-stopping tour-de-force about powerful women, angry men, and all the ways in which girls fight against the forces that try to silence them.

There's something out there that's killing. Known only as The Cur, he leaves no traces, save for the torn bodies of girls, on the verge of becoming women, who are known as trouble-makers; those who refuse to conform, to know their place. Girls who don't know when to shut up.

2019: Thirteen-year-old Lila Sawyer has secrets she can't share with anyone. Not the school psychologist she's seeing. Not her father, who has a new wife, and a new baby. And not her mother—the infamous Caroline Sawyer, a unique artist whose eerie sculptures, made from bent twigs and crimped leaves, have made her a local celebrity. But soon Lila feels haunted from within, terrorized by a delicious evil that shows her how to find her voice—until she is punished for using it.

2004: Caroline Sawyer hears dogs everywhere. Snarling, barking, teeth snapping that no one else seems to notice. At first, she blames the phantom sounds on her insomnia and her acute stress in caring for her ailing father. But then the delusions begin to take shape—both in her waking hours, and in the violent, visceral sculptures she creates while in a trance-like state. Her fiancé is convinced she needs help. Her new psychiatrist waives her "problem" away with pills. But Caroline's past is a dark cellar, filled with repressed memories and a lurking horror that the men around her can't understand.

As past demons become a present threat, both Caroline and Lila must chase the source of this unrelenting, oppressive power to its malignant core. Brilliantly paced, unsettling to the bone, and unapologetically fierce, Such a Pretty Smile is a powerful allegory for what it can mean to be a woman, and an untamed rallying cry for anyone ever told to sit down, shut up, and smile pretty.

"A righteously angry fever dream." - Paul Tremblay

"Brutal and shocking. - emily m. danforth

"Darkly feminist." - Karma Brown

"Razor-sharp. This one will cut you." - Christopher Golden
Praise For Such a Pretty Smile: A Novel…
"Wonderfully well written; the dread, the enigma, build with each scene. It's coming of age, it's family secrets, it's life in the balance, too. It's Thomas Harris, it's Lois Duncan… but no, it's Kristi DeMeester, in complete confident control of your experience. An outstanding story in outstanding hands." –Josh Malerman New York Times bestselling author of Bird Box and Malorie

"With expert pacing and captivating characters, Kristi DeMeester's SUCH A PRETTY SMILE is a gothic thriller that speaks to the strength of women. A darkly feminist and timely novel, I was spellbound until the final page." – Karma Brown, bestselling author of RECIPE FOR A PERFECT WIFE

"Kristi DeMeester's novel is a menacing, mysterious, and righteously angry fever dream, one that hooks into you from page one. SUCH A PRETTY SMILE is unafraid to bare its feminist fangs."--Paul Tremblay, author of A Head Full of Ghosts and Survivor Song

"I've never read anything quite like SUCH A PRETTY SMILE: at turns brutal and shocking, at turns lush and evocative, and deeply disquieting throughout. This novel unsettled me at nearly every turn of the page, and that feeling has stayed with me since I closed its cover days ago. Kristi DeMeester is a highly-original voice in horror and I can't wait to see what she writes next." -emily m. danforth

"A mother and daughter fight for their lives and their sanity in Kristi DeMeester's SUCH A PRETTY SMILE, a quietly brutal feminist horror novel about what it means to be a 'good girl' in a world of men—and monsters. Thoughtful, creepy, and razor-sharp. This one will cut you." —Christopher Golden, New York Times bestselling author of Ararat and Red Hands
St. Martin's Press, 9781250274212, 320pp.
Publication Date: January 18, 2022
About the Author
Kristi DeMeester is the author of Beneath, a novel published by Word Horde Publications, and Everything That's Underneath, a short fiction collection from Apex Books. Her short fiction has appeared in publications such as Ellen Datlow's The Year's Best Horror Volume 9, 11, and 12; Stephen Jones' Best New Horror, Year's Best Weird Fiction Volumes 1, 3, and 5; in addition to publications such as Pseudopod, Black Static, Fairy Tale Review, and several others. In her spare time, she alternates between telling people how to pronounce her last name and how to spell her first.