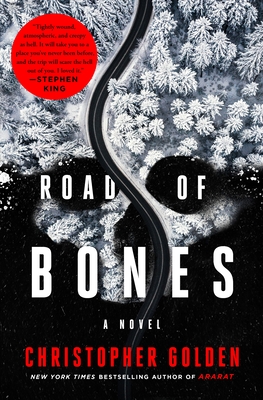 Road of Bones
A Novel
Hardcover

* Individual store prices may vary.
Other Editions of This Title:
Paperback (12/27/2022)
Compact Disc (4/26/2022)
MP3 CD (4/26/2022)
Description
An American documentarian travels a haunted highway across the frozen tundra of Siberia in New York Times bestselling author Christopher Golden's Road of Bones, a "tightly wound, atmospheric, and creepy as hell" (Stephen King) supernatural thriller.

Surrounded by barren trees in a snow-covered wilderness with a dim, dusky sky forever overhead, Siberia's Kolyma Highway is 1200 miles of gravel packed permafrost within driving distance of the Arctic Circle. A narrow path where drivers face such challenging conditions as icy surfaces, limited visibility, and an average temperature of sixty degrees below zero, fatal car accidents are common.

But motorists are not the only victims of the highway. Known as the Road of Bones, it is a massive graveyard for the former Soviet Union's gulag prisoners. Hundreds of thousands of people worked to death and left where their bodies fell, consumed by the frozen elements and plowed beneath the permafrost road.

Fascinated by the history, documentary producer Felix "Teig" Teigland is in Russia to drive the highway, envisioning a new series capturing Life and Death on the Road of Bones with a ride to the town of Akhust, "the coldest place on Earth", collecting ghost stories and local legends along the way. Only, when Teig and his team reach their destination, they find an abandoned town, save one catatonic nine-year-old girl—and a pack of predatory wolves, faster and smarter than any wild animals should be.

Pursued by the otherworldly beasts, Teig's companions confront even more uncanny and inexplicable phenomena along the Road of Bones, as if the ghosts of Stalin's victims were haunting them. It is a harrowing journey that will push Teig beyond endurance and force him to confront the sins of his past.
Praise For Road of Bones: A Novel…
Tor Nightfire Most Anticipated Horror Books

"Christopher Golden's Road of Bones is tightly wound, atmospheric, and creepy as hell. It will take you to a place you've never been before, and the trip will scare the hell out of you. I loved it." —Stephen King

"Golden, an economical writer, creates a mother lode of terror in just over 200 pages.... Shamans and spirits, the undead and the feral, the creatures of the Kolyma Highway and the unimaginable horrors of its history make for riveting reading." —The New York Times Book Review

"Two men willing to risk their lives for a last-chance reality TV pitch find themselves on a white-knuckle hell ride on Siberia's infamous Kolyma Highway. Road of Bones is unrelenting and will chill you to your core." —Paul Tremblay, New York Times Bestselling author

"[A] horror-thriller hybrid that will chill even the most jaded readers...Give to fans of emotional, thought-provoking, nature inspired horror like The Only Good Indians (2020) by Stephen Graham Jones or Wonderland (2020) by Zoje Stage." —Booklist (starred)

"The road is long, the night is cold, and there's terror at every pullout, nothing but dread between. Just try and put this book down, I dare you." —Stephen Graham Jones, bestselling author of The Only Good Indians

"A slash in reality, or what we mistakenly assume is the real, exposing not only extrinsic horrors but those within, all found in a corner of the globe that has long held our fascination, though most of us don't have the courage to make the trek. Golden has that courage. Road of Bones is a masterclass in mind-set and setting; I've never felt the temperature of a book so firmly. I've also never been so afraid to step outside. In some ways a quick story (the central events span much less than 24 hours), in other ways enormous: the emotional stakes could not be higher. A breathtaking experience, a glacial gust of a book, Christopher Golden's best yet." –Josh Malerman, New York Times best selling author of Bird Box and Goblin.

"Road of Bones is wonderful! The frozen waste is so vividly rendered, I felt the biting cold in my own bones and drew breath with the characters as they fought for survival against the vastness of nature. Gripping, eerie and ultimately beautiful. It's a breakneck speed adventure, with so much soul at its heart." —Catriona Ward, author of The Last House on Needless Street

"I don't know how else to say it. This book is scary as f***. Do not read alone in the dark." —New York Times Bestselling author Catherynne M. Valente

"This book is legit great. Golden is the master of what I think of as 'adventure horror.' People in strange places and extreme situations meeting terror at the edges of the world. Road of Bones is scary as hell and does not fuck around." —Chuck Wendig, New York Times bestselling author of Wanderers and The Book of Accidents

"Damn. Road of Bones is a relentless nightmare, part terrifying fable, part fever dream, set in the perpetual claustrophobic darkness of a Siberian landscape that's cold enough to crack bones." —Eric Rickstad, New York Times Bestselling author

"You know you're reading a Christopher Golden horror joint when you signed up for a horror novel, that's why you're here, but when the bad shit starts you're like, 'wait, can I shift genres to something where these guys just get to have a nice road trip and everything's okay?'" —Seanan McGuire

"Road of Bones is thrilling and relentless, with a wild and unsettling heart. It's a nonstop drive into terror, and you won't want to stop." –Meg Gardiner, author of the UNSUB novels

"A chilling... supernatural thriller best read by the fireplace." —Kirkus Reviews

"An essential read for horror and supernatural thriller fans." — Library Journal (Starred)

"Golden is writing at the top of his game." —Publishers Weekly (starred)
St. Martin's Press, 9781250274304, 240pp.
Publication Date: January 25, 2022
About the Author
CHRISTOPHER GOLDEN (he/him) is the New York Times bestselling and Bram Stoker award-winning author of Ararat, Snowblind, Dead Ringers, and Of Saints and Shadows, among many other novels. With Mike Mignola, he is the co-creator of two cult favorite comic book series, Baltimore and Joe Golem: Occult Detective. Golden is also the editor of such anthologies as Seize the Night, The New Dead, and Dark Cities, and the co-host of the popular podcast "Three Guys with Beards." He lives in Massachusetts.