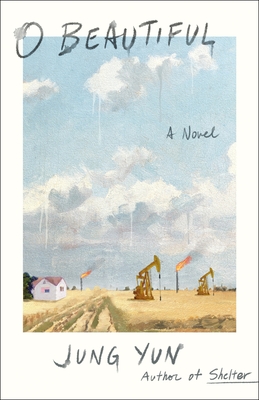 O Beautiful
A Novel
Hardcover

* Individual store prices may vary.
Description
From the critically-acclaimed author of Shelter, an unflinching portrayal of a woman trying to come to terms with the ghosts of her past and the tortured realities of a deeply divided America.

Elinor Hanson, a forty-something former model, is struggling to reinvent herself as a freelance writer when she receives an unexpected assignment. Her mentor from grad school offers her a chance to write for a prestigious magazine about the Bakken oil boom in North Dakota. Elinor grew up near the Bakken, raised by an overbearing father and a distant Korean mother who met and married when he was stationed overseas. After decades away from home, Elinor returns to a landscape she hardly recognizes, overrun by tens of thousands of newcomers.

Surrounded by roughnecks seeking their fortunes in oil and long-time residents worried about their changing community, Elinor experiences a profound sense of alienation and grief. She rages at the unrelenting male gaze, the locals who still see her as a foreigner, and the memories of her family's estrangement after her mother decided to escape her unhappy marriage, leaving Elinor and her sister behind. The longer she pursues this potentially career-altering assignment, the more her past intertwines with the story she's trying to tell, revealing disturbing new realities that will forever change her and the way she looks at the world.

With spare and graceful prose, Jung Yun's O Beautiful presents an immersive portrait of a community rife with tensions and competing interests, and one woman's attempts to reconcile her anger with her love of a beautiful, but troubled land.
Praise For O Beautiful: A Novel…
"Enthralling and thought-provoking…Explore[s] larger questions about power and belonging in modern America….A quiet and dangerous story and an insightful meditation on how to make our lives here, amid the beauty and horror of our country."—Crystal Hana Kim, The Washington Post

"Mesmerizing and timely."—Elisabeth Egan, The New York Times

"A novel that transcends genre; it is as propulsive as a mystery, as evocative of time and place as historical fiction, and as breathtakingly timely as contemporary fiction or journalism... Yun's tender, sparse prose and clear-eyed gaze make her sophomore release something truly special and poignant.... Insightful, shrewd, and surprisingly tender and heartfelt, O BEAUTIFUL is a searingly current and necessary addition to every bookshelf and library, and a courageous portrait of a country on the brink of unwinding."—Rebecca Munro, Bookreporter.com


"With a shrewd eye and sharp sense of humor, Yun finds in the familiar tale of one woman's return to her small town roots a story as big as the nation itself." —Rumaan Alam, New York Times bestselling author of Leave the World Behind

"A grand and stunning piece of work, at times humorous, sad, and breathtaking."—Edward P. Jones, Pulitzer-Prize winning author of The Known World

"While serving as a snapshot of our contemporary moment, O Beautiful opens us up to the expanse of a woman's life while walking us through the fast-moving and deeply devastating days of a community's unwinding."—Wiley Cash, New York Times bestselling author of The Last Ballad and A Land More Kind Than Home

"O Beautiful will make you think and see anew the strangeness and complexity of race, class, and gender in this page-turning, tender novel that journeys into the heart of America." —Krys Lee, author of How I Became a North Korean
St. Martin's Press, 9781250274328, 320pp.
Publication Date: November 9, 2021
About the Author
Jung Yun was born in Seoul, South Korea and grew up in Fargo, North Dakota. Her debut novel, Shelter was long-listed for the Center for Fiction's First Novel Prize, a finalist for the Barnes & Noble Discover Great New Writers Award, and a semi-finalist for Good Reads' Best Fiction Book of 2016. She was a MacDowell fellow, and her work has appeared in The Atlantic, The Washington Post, and Tin House, among others. Currently, she resides in Baltimore, and serves as an assistant professor of English at the George Washington University in Washington, D.C.
1.  What were your initial impressions of Elinor Hanson in the opening chapters? How did those impressions change over time?
2.  How do Elinor's overlapping identities affect the way she experiences the Bakken? How does identity affect the way someone might see or tell a story?
3. Maren and Elinor grew up in the same household and were raised by the same parents. Why do you think these sisters turned out so differently? How does their relationship reflect Elinor's relationships with other women?
4. Elinor didn't mind being catcalled as a teenager because "it was the first time she'd ever felt noticed for being pretty instead of being different." Are there events from your own youth that you look back on differently with adult eyes? What accounts for the change(s) in your perspective?
5. What coping mechanisms did you observe Elinor using in response to incidents of misogyny or racism? How would you respond/how have you responded under similar circumstances?
6. Elinor often feels minimized or erased by virtue of being a woman and/or a person of color. How does she occasionally minimize or erase others?
7. There are several "bad actors" in and around Avery who overshadow the presence of good. Were there characters in whom you recognized goodness and kindness? If so, how did these qualities manifest?
8. In a moment of anger, Kathryn Tasso tells Elinor, "Women like you make it so much harder for the rest of us." Do you agree with this statement? Do you think Elinor agrees with it? Why or why not?
9. "Great beauty" and "terrible ugliness" are themes that run throughout this novel. What other themes did you identify that resonated with you?
10. How does the landscape of Avery and the surrounding areas serve as a metaphor for contemporary America?
11. In the final scene, Elinor imagines returning to the reservation to see Shawnalee and begin writing her story for the Standard anew. Why do you think she wants to do this?
12. What emotions does the ending of the novel leave you with? What do you hope Elinor will do next?