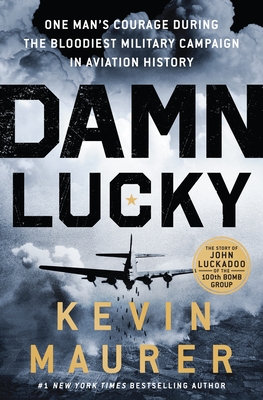 Damn Lucky
One Man's Courage During the Bloodiest Military Campaign in Aviation History
Hardcover

* Individual store prices may vary.
Other Editions of This Title:
Digital Audiobook (4/18/2022)
Library Binding, Large Print (5/11/2022)
Paperback (4/18/2023)
Description
From Kevin Maurer—the #1 New York Times bestselling, award-winning coauthor of No Easy Day—comes the true story of a World War II bomber pilot who survived twenty-five missions in Damn Lucky, "an epic, thrillingly written, utterly immersive account of a very lucky, incredible survivor of the war in the skies to defeat Hitler" (New York Times bestselling author Alex Kershaw).

"We were young citizen-soldiers, terribly naive and gullible about what we would be confronted with in the air war over Europe and the profound effect it would have upon every fiber of our being for the rest of our lives. We were all afraid, but it was beyond our power to quit. We volunteered for the service and, once trained and overseas, felt we had no choice but to fulfill the mission assigned. My hope is that this book honors the men with whom I served by telling the truth about what it took to climb into the cold blue and fight for our lives over and over again."
—John "Lucky" Luckadoo, Major, USAF (Ret.) 100th Bomb Group (H)

Pearl Harbor, Hawaii was a world away from John Luckadoo's hometown of Chattanooga, Tennessee. But when the Japanese attacked the American naval base on December 7, 1941, he didn't hesitate to join the military. Trained as a pilot with the United States Air Force, Second Lieutenant Luckadoo was assigned to the 100th Bomb Group stationed in Thorpe Abbotts, England. Between June and October 1943, he flew B-17 Flying Fortresses over France and Germany on bombing runs devised to destroy the Nazi war machine.

With a shrapnel torn Bible in his flight jacket pocket and his girlfriend's silk stocking around his neck like a scarf as talismans, Luckadoo piloted through Luftwaffe machine-gun fire and antiaircraft flak while enduring subzero temperatures to complete twenty-five missions and his combat service. The average bomber crew rarely survived after eight to twelve missions. Knowing far too many airmen who wouldn't be returning home, Luckadoo closed off his emotions and focused on his tasks to finish his tour of duty one moment at a time, realizing his success was more about being lucky than being skilled.

Drawn from Luckadoo's firsthand accounts, acclaimed war correspondent Kevin Maurer shares his extraordinary tale from war to peacetime, uncovering astonishing feats of bravery during the bloodiest military campaign in aviation history, and presenting an incredible portrait of a young man's coming-of-age during the world's most devastating war.
Praise For Damn Lucky: One Man's Courage During the Bloodiest Military Campaign in Aviation History…
"Journalist Maurer (coauthor, No Easy Day) delivers a comprehensive account of bomber pilot John 'Lucky' Luckadoo's experiences during WWII. … Drawing on extensive interviews with Lucky, Maurer recounts each mission in cinematic detail and vividly evokes the emotional toll taken by the air war's heavy casualties. … This somber and well-crafted biography is a fitting tribute to its resolute subject." —Publishers Weekly

"Drawing from Luckadoo's first hand-accounts, Kevin Maurer creates a vivid and riveting story of an idealistic young man who tried to join the Royal Air Force before the war to flying dangerous missions with the Eighth Air Force's 100th Bomb Group. It culminates with a heart-stopping battle over the skies of Germany. This is a deeply absorbing reading experience, filled with memorable characters and fascinating details. With heart-stopping details, it's impossible to put down. In the end, Damn Lucky is a profound and riveting story of courage and friendship against the backdrop of the bloodiest military campaign in aviation history." —Chris Wallace, anchor of Fox News Sunday and #1 New York Times bestselling author of Countdown Bin Laden

"An epic, thrillingly written, utterly immersive account of a very lucky, incredible survivor of the war in the skies to defeat Hitler. A wonderfully entertaining, fast read. Don't miss this one." —Alex Kershaw, New York Times bestselling author of The Longest Winter and The Liberator

"Kevin Maurer has crafted a heart-pounding narrative of the air war in Europe, framed around the incredible true story of pilot John "Lucky" Luckadoo who survived twenty five missions against the Third Reich. In Maurer's talented hands, readers will hear the thunder of flak, wince under the rattle of machinegun fire, and feel the fear that haunted the dreams of America's brave airmen. Damn Lucky is a damn fine book!" —James M. Scott, Pulitzer Prize finalist and author of Target Tokyo and Rampage

"In this action-packed flyboy saga, the reader is in the co-pilot's seat next to Lt. John "Lucky" Luckadoo as his B-17 Flying Fortress rains destruction on the Nazi Fatherland. The scenes of the deadly duels between bold American bombers and desperate German fighters are riveting and remind us of the terrible toll it took to earn victory in World War II." —Bob Drury and Tom Clavin, New York Times bestselling authors of Blood and Treasure and Lucky 666

"Damn Lucky brings to life World War II's deadliest campaign in a riveting account of aerial combat over the skies of Nazi Germany. From the freezing cockpit of a Flying Fortress to surviving flak so thick pilots joked they could land on it, Lucky Luckadoo's story of service and survival is timeless. He personifies America's greatest generation." —Mitch Weiss, Pulitzer Prize-winning investigative reporter and New York Times bestselling coauthor of Countdown 1945

"Maurer, as always, makes the details of war compelling." —Kelly Kennedy, author of They Fought for Each Other: The Triumph and Tragedy of the Hardest Hit Unit in Iraq

"Few writers working today are able to marry historical fact with propulsive narrative like Kevin Maurer can." —Wiley Cash, New York Times bestselling author of The Last Ballad
St. Martin's Press, 9781250274380, 320pp.
Publication Date: April 19, 2022
About the Author
KEVIN MAURER is an award-winning journalist and three-time New York Times bestselling co-author of No Easy Day, No Hero and American Radical among others. For the last eleven years, Maurer has also worked as a freelance writer covering war, politics and general interest stories. His writing has been published in GQ, Men's Journal, The Daily Beast, The Washington Post, and numerous other publications.