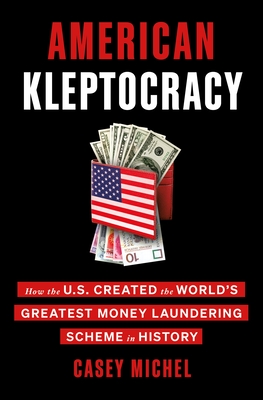 American Kleptocracy
How the U.S. Created the World's Greatest Money Laundering Scheme in History
Hardcover

* Individual store prices may vary.
Description
A remarkable debut by one of America's premier young reporters on financial corruption, Casey Michel's American Kleptocracy offers an explosive investigation into how the United States of America built the largest illicit offshore finance system the world has ever known.

"An indefatigable young American journalist who has virtually cornered the international kleptocracy beat on the US end of the black aquifer."
—The Los Angeles Review of Books

For years, one country has acted as the greatest offshore haven in the world, attracting hundreds of billions of dollars in illicit finance tied directly to corrupt regimes, extremist networks, and the worst the world has to offer. But it hasn't been the sand-splattered Caribbean islands, or even traditional financial secrecy havens like Switzerland or Panama, that have come to dominate the offshoring world. Instead, the country profiting the most also happens to be the one that still claims to be the moral leader of the free world, and the one that claims to be leading the fight against the crooked and the corrupt: the USA.

American Kleptocracy examines just how the United States' implosion into a center of global offshoring took place: how states like Delaware and Nevada perfected the art of the anonymous shell company, and how post-9/11 reformers watched their success usher in a new flood of illicit finance directly into the U.S.; how African despots and post-Soviet oligarchs came to dominate American coastlines, American industries, and entire cities and small towns across the American Midwest; how Nazi-era lobbyists birthed an entire industry of spin-men whitewashing trans-national crooks and despots, and how dirty money has now begun infiltrating America's universities and think tanks and cultural centers; and how those on the front-line are trying to restore America's legacy of anti-corruption leadership—and finally end this reign of American kleptocracy.
Praise For American Kleptocracy: How the U.S. Created the World's Greatest Money Laundering Scheme in History…
"Brilliantly clear." —Anne Applebuam, The Atlantic

"Fluid, coherent and entertaining." —The Economist

"Michel masterfully recounts the tragicomic outcomes when outré autocrats meet serviceable financial and legal systems....deserve(s) praise for going beyond moralising and pointing out how an industry geared to enabling the corrupt is not just unsavoury but can hurt a country's real economic prospects." —Financial Times

"Michel's diligent dissection is...a capable, eye-opening account of laissez faire financial laws and practices that serve the interest of criminals alone." —Kirkus Reviews

"A blistering account of how greed, deregulation, and deliberate avoidance have enabled dictators and drug cartels to launder their illicit profits in the U.S....Through rigorous research and cogent prose, Michel builds a persuasive case that the influx of unregulated money decimates America's industrial regions and poses a grave threat to democracy. This is a stunning portrait of avarice run amok." —Publishers Weekly

"Michel's clear prose helps make a complicated subject comprehensible, and leaves readers with some hope that financial corruption may not be so inevitable after all." —Booklist

"[Michel] is a masterful storyteller who grips readers with truthful and disturbing accounts of outlandish schemes...eye-opening and comprehensive." —Library Journal

"Michel, a dogged investigative reporter, is as knowledgeable as they come on financial corruption in and around the United States. In American Kleptocracy, he brings it all together....Michel makes a convincing case that there has never been an illicit financial system as robust and versatile as the one the U.S. has created, a shadow economy servicing financiers, lobbyists, old money and the newly corrupted." —CrimeReads

"Clearly-written, compelling and fast-paced...a clarion call for citizens and those at all levels of government who have not yet realized that we need to clean up our own act to protect ourselves from predatory adversaries." —Fiona Hill, senior fellow at the Brookings Institution

"Casey Michel brings home the extent to which the United States has fueled money laundering, corruption, and other crimes plaguing the world. His passionate writing comes from his outrage at what has gone on in our own backyard and his understanding of what is at stake, namely trillions of dollars hidden from our national treasury with help from U.S. banks. Readers will learn why it is critical for Americans to look inward and do more to stop the abuses here at home that are helping to power illicit finance around the world."
—Senator Carl Levin

"Remarkable and well-researched....Casey Michel shows how the US has taken the top spot at the ease of doing illicit business legally." —Katharina Pistor, author of Code of Capital

"Remarkable and perspicacious...an important and eye-opening book." —Bradley Hope, New York Times bestselling co-author of Billion Dollar Whale

"Casey Michel cuts through the spin, to reveal the inner workings of the American economy. His writing has shown again and again the subterfuges and secrecy at the heart of how money moves through the financial system, and does it with panache, wit, and a blessed aversion to jargon." —Oliver Bullough, author of the international bestseller Moneyland: The Inside Story of the Crooks and Kleptocrats Who Rule the World

"Casey is the foremost journalistic voice in the fight against kleptocracy. No other individual is so consistently on the case and interested in both the actors and the possible policy responses. His knowledge of the existential danger posed by kleptocracy is bar none, and we rely on his work like no one else to inform policy."
—Paul Massaro, Congressional Policy Advisor, U.S. Helsinki Commission

"American Kleptocracy is essential reading to understand how the U.S. has become the global destination for dirty money. Michel exposes the international shell games that the super-wealthy and their professional enablers deploy to launder and stash cash. He exposes why this matters, as illicit funds disrupt local real estate markets and undermine honest economic activity." —Chuck Collins, Institute for Policy Studies, author of The Wealth Hoarders: How Billionaires Pay Millions to Hide Trillions

"An indefatigable young American journalist who has virtually cornered the international kleptocracy beat on the US end of the black aquifer." —The Los Angeles Review of Books

"In this vitally important book, Casey Michel follows the money. He shows us how, and why, so much of it ends up in American luxury real estate, hedge funds, startups, and shell corporations. Compelling true-life stories, carefully marshaled statistics, and careful analysis combine to make Michel's book the must-read account of one of the key challenges of our time." —Dan Nexon, Professor of Government and Foreign Service at Georgetown University and co-author of Exit from Hegemony

"Casey Michel has written a vivid, compelling account of the terrifying march of dirty money. His book helps us understand how some of America's abiding ideals—property, privacy, philanthropy, free markets, capitalism, even democracy itself—are being hijacked. American Kleptocracy should be read urgently by anyone who wants to preserve open societies and the rule of law." —Tom Burgis, author of Kleptopia

"Casey Michel's book is a wake-up call: America has become the money laundering capital of the world. The book underlines: If you want to interrupt corrupt money flows you should start in the U.S." —Frederik Obermaier, author of The Panama Papers

"A superb, read-it-immediately study of one of the darkest phenomena of our times." —Ben Judah, author of This is London

"If the right person writes the right book, and enough of the right people read it, incredible changes can take place. Casey Michel has written such a book. In the right hands, it could spur policy shifts in the U.S. that would have global ramifications." —Jasmin Mujanovic, author of Hunger and Fury

"Compelling and colorful....Casey Michel is one of the United States' brightest emerging foreign policy thinkers—a scholar, journalist and policy expert who has spent years chronicling the rise of globalized corruption in meticulous detail. In American Kleptocracy, he provides the definitive account of the defining threat of our era—weaving together an irresistible narrative with a bold but pragmatic agenda for reform that can end America's complicity in foreign corruption." —Nate Sibley, Head of Hudson Institute's Kleptocracy Initiative

"Excellent...Michel's genius lies in his narrative, which weaves together the development of U.S. financial secrecy and countermoves with actions in the United States of two of the world's great kleptocrats." —Anders Åslund, Just Security

"Rule-of-law democracies are engaged in a clash of civilizations against international criminals, kleptocrats, and corrupt politicians. Michel exposes the troubling role the U.S. has played in facilitating the dark economy and underscores the urgent need for transparency, reform, and accountability." —Senator Sheldon Whitehouse
St. Martin's Press, 9781250274526, 368pp.
Publication Date: November 23, 2021
About the Author
Casey Michel is a writer and journalist based in New York City. His writings on offshoring, kleptocracy, and financial secrecy have appeared in Foreign Affairs, The Atlantic, The Washington Post, Vox, The New Republic, and POLITICO Magazine, among others. He is a member of the advisory council for the Hudson Institute's Kleptocracy Initiative, and has contributed research pertaining to offshoring, illicit finance, and foreign interference to the German Marshall Fund, the Human Rights Foundation, and others. He received his Master's degree in Russian, Eurasian, and East European Studies from Columbia University's Harriman Institute, and served as a Peace Corps Volunteer in northern Kazakhstan. American Kleptocracy is his first book.