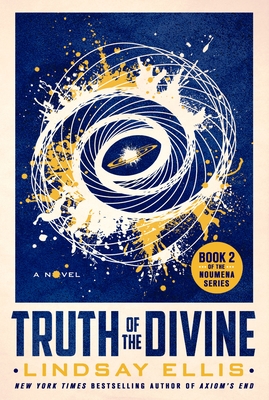 Truth of the Divine
A Novel (Noumena #2)
Hardcover

* Individual store prices may vary.
Other Editions of This Title:
Digital Audiobook (10/18/2021)
Paperback (10/25/2022)
Description
USA TODAY BESTSELLER

Truth of the Divine is the latest alternate-history first-contact novel in the Noumena series from the instant New York Times, Wall Street Journal and Los Angeles Times bestselling author Lindsay Ellis.

The human race is at a crossroads; we know that we are not alone, but details about the alien presence on Earth are still being withheld from the public. As the political climate grows more unstable, the world is forced to consider the ramifications of granting human rights to nonhuman persons. How do you define "person" in the first place?

Cora Sabino not only serves as the full-time communication intermediary between the alien entity Ampersand and his government chaperones but also shares a mysterious bond with him that is both painful and intimate in ways neither of them could have anticipated. Despite this, Ampersand is still keen on keeping secrets, even from Cora, which backfires on them both when investigative journalist Kaveh Mazandarani, a close colleague of Cora's unscrupulous estranged father, witnesses far more of Ampersand's machinations than anyone was meant to see.

Since Cora has no choice but to trust Kaveh, the two must work together to prove to a fearful world that intelligent, conscious beings should be considered persons, no matter how horrifying, powerful, or malicious they may seem. Making this case is hard enough when the public doesn't know what it's dealing with—and it will only become harder when a mysterious flash illuminates the sky, marking the arrival of an agent of chaos that will light an already-unstable world on fire.

With a voice completely her own, Lindsay Ellis deepens her realistic exploration of the reality of a planet faced with the presence of extraterrestrial intelligence, probing the essential questions of humanity and decency, and the boundaries of the human mind.

While asking the question of what constitutes a "person," Ellis also examines what makes a monster.
Praise For Truth of the Divine: A Novel (Noumena #2)…
Praise for Truth of the Divine:

"Ellis continues to use her sharp, mid-2000s, first-contact series to delve into serious topics both personal and political." —Booklist

"Ellis draws skillful parallels between her science-fictional politics and real world issues, gracefully navigating the difficult topics of discrimination, violent extremism, mental health, and addiction. This thought-provoking novel will linger long in readers' minds." —Publishers Weekly (starred review)

"The rare second book in a series that improves the first in hindsight, alternately thrilling and gut-wrenching, Truth of the Divine will put your expectations in its crosshairs and then nuke them from orbit. From aliens with inscrutable motives, to conniving bureaucrats and armed hate groups, you really get the sense that this is what a first contact scenario would actually look like. And I don't mean that in a good way." —Jason Pargin, New York Times bestselling author of John Dies at the End

"Everything about the book just works. Truth of the Divine is a must-read for all sci-fi fans, alien invasion fans, and lovers of Axiom's End." —Geek Vibes Nation

"Truth of the Divine is a massive step forward for this series." —Pajiba

"[A] story that exemplifies the power of science fiction." —Autostraddle

Praise for Lindsay Ellis and Axiom's End:

"Axiom's End is somehow deeply aware of not just what it is to be human, but what it is to be any intelligent species. It's as real as any first-contact story I have ever read. Wonderfully plotted and paced, the adventure never lets up, and neither does the insight." —Hank Green, #1 New York Times bestselling author of An Absolutely Remarkable Thing

"So much fun. Lindsay Ellis's experience as one of our sharpest cultural observers gives Axiom's End an edge of realism that makes it both cutting and compelling. Close encounters have a whole new look."
—John Scalzi, New York Times bestselling author and Hugo Award winner

"Axiom's End is eerily plausible and wildly entertaining. An alternate history that fully delivers on its premise." —Caitlin Doughty, New York Times Bestselling Author and Mortician

"Lindsay Ellis's storytelling is what good science fiction should be: smart but heartfelt, full of profound ideas delivered with a sense of humanity. Axiom's End is engaging precisely because it is about something all of us have experienced: That moment when you grow up enough to realize that the universe is more wondrous—and dangerous than you could ever have imagined."
—Jason Pargin, New York Times bestselling author

"Axiom's End: if you enjoy first contact tales, alien cultures, inexplicable found families, beautiful chaos and elegantly constructed stories." —Seanan McGuire, New York Times bestselling author and Hugo Award Winner

"Suspenseful and inventive, but also funny and full of action, Axiom's End remixes the Hollywood alien-invasion playbook." —Patrick Rapa, Philadelphia Inquirer

"Communication and trust are matters of life and death in Ellis's thoughtful, fast-paced debut...the powerful connection that grows between Cora and Ampersand as they teach each other about their respective cultures is masterfully done. Lovers of character-focused sci-fi will find plenty to enjoy in this gripping alternate history." —Publishers Weekly

"At its core, Axiom's End is warm-hearted...For all of its drama and philosophical conundrums, Ellis's book is ultimately about the power of empathy and kindness in a universe that never has enough of either." —Shelf Awareness (starred review)

"A moving first contact thriller...touching on issues of prejudice and xenophobia along the way, Axiom's End is the engaging first volume of a projected series." —The Guardian (UK)

"Axiom's End is the most relatable sci-fi novel in years…if you want to read a serious sci-fi novel that feels like it was written by a fan who understands the pop culture side of fandom, you're in good hands…It's a heartfelt story of alien first contact, but, luckily, unlike so many "big idea" sci-fi books, it's utterly unpretentious…You've read other books about similar things, but you've never read them from this perspective." —Syfy Wire

"Axiom's End has gripping action scenes, but the bulk is an examination of language and what it means to communicate at all. Ellis' endless literary knowledge shines through." —San Francisco Chronicle
St. Martin's Press, 9781250274540, 496pp.
Publication Date: October 19, 2021
About the Author
LINDSAY ELLIS is a New York Times bestselling author, Hugo Award finalist, and video essayist who creates online content about media, narrative, literature, and film theory. After earning her bachelor's in cinema studies from NYU's Tisch School of the Arts, she earned her MFA in film and television production, with a focus in documentary and screenwriting, from USC's School of Cinematic Arts. She lives in Long Beach, California. Her debut novel, Axiom's End, was an instant New York Times bestseller.