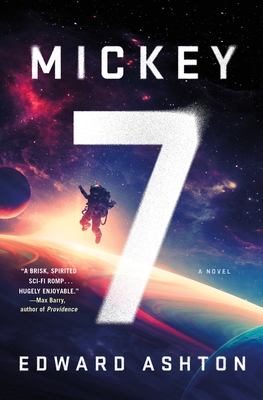 Mickey7
A Novel
Hardcover

* Individual store prices may vary.
Other Editions of This Title:
Digital Audiobook (2/14/2022)
Paperback (2/7/2023)
Description
The Martian meets Dark Matter in Edward Ashton's high concept science fiction thriller, in which Mickey7, an "expendable," refuses to let his replacement clone Mickey8 take his place.

Dying isn't any fun…but at least it's a living.

Mickey7 is an Expendable: a disposable employee on a human expedition sent to colonize the ice world Niflheim. Whenever there's a mission that's too dangerous—even suicidal—the crew turns to Mickey. After one iteration dies, a new body is regenerated with most of his memories intact. After six deaths, Mickey7 understands the terms of his deal…and why it was the only colonial position unfilled when he took it.

On a fairly routine scouting mission, Mickey7 goes missing and is presumed dead. By the time he returns to the colony base, surprisingly helped back by native life, Mickey7's fate has been sealed. There's a new clone, Mickey8, reporting for Expendable duties. The idea of duplicate Expendables is universally loathed, and if caught, they will likely be thrown into the recycler for protein.

Mickey7 must keep his double a secret from the rest of the colony. Meanwhile, life on Niflheim is getting worse. The atmosphere is unsuitable for humans, food is in short supply, and terraforming is going poorly. The native species are growing curious about their new neighbors, and that curiosity has Commander Marshall very afraid. Ultimately, the survival of both lifeforms will come down to Mickey7.

That is, if he can just keep from dying for good.
Praise For Mickey7: A Novel…
*NPR Best Books of 2022*

"Mickey7 is a unique blend of thought-provoking sci-fi concepts, farcical relationship drama and exotic body horror. Edward Ashton keeps it all grounded via a protagonist who experiences the wonders of interstellar travel and alien contact while literally having the worst job in the universe. The result is alternately amusing, intriguing and horrifying, with each chapter seeming to engage a different part of your brain." —Jason Pargin, New York Times Bestselling author

"Mickey7 is a mind-bending and powerful exploration of identity. This is why we read science fiction! Highly recommended." —Jonathan Maberry, NY Times bestselling author of Rage and Ink

"I loved Mickey 7—a smart, breezy SF novel that doubles as a pitch-black comedy of errors." —Dexter Palmer, critically acclaimed author of Version Control

"Fun, thoughtful, and immensely personable, Mickey7 is a brisk, spirited sci-fi romp with alien intelligences, extra lives, and a little romance, too. Hugely enjoyable." — Max Barry, author of Providence

"Andy Weir, watch out!" —Stephen Baxter

"Sci-fi readers will be drawn in by the inventive premise and stick around for the plucky narrator." —Publishers Weekly

"Ashton's novel begins as farce and ends as something considerably deeper; as an Expendable, Mickey7 is able to ask what makes someone human or who has the right to destroy a place in order to occupy it. Highly recommended for readers of colonization SF." -Library Journal, starred

"A multilayered, wildly entertaining story…Ashton is a talented storyteller and MICKEY7 has something for everyone while also putting a fresh spin on the idea of clones." —Locus Magazine

"A sharp speculative work that is both intellectually-oriented and action-packed. [Mickey7] is smart and funny and well-crafted across the board. If you're a fan of science fiction, you won't regret meeting Mickey. He's so fine." —The Maine Edge

"A killer premise, and its mix of social commentary, dark humor, and horrifying surprises makes it ideal for the director of Parasite." —The Film Stage

"Mickey7 is a smart philosophical satire masquerading as an adventure novel. It draws readers in with flippant black humor and a clever premise, then stabs them in the back with devastating insight into the human talent for suppressing intolerable truths." —New York Journal of Books

"The fun [in reading Mickey7] is trying to keep up with Mr. Ashton's twists and turns, and the extra fun is that you never do." —The Wall Street Journal

"A wildly entertaining mix of action and big ideas peppered with humor and a bizarre love story, this novel is proof that, when done right, science fiction can be one of the most entertaining genres out there. Between fighting alien creatures, pondering what it means to be human, and looking at cloning from various perspectives, there is something for everyone here, and Ashton delivers all of it with plenty of wittiness and flair." —NPR


St. Martin's Press, 9781250275035, 304pp.
Publication Date: February 15, 2022
About the Author
Edward Ashton (he/him) is the author of the novels Three Days in April, The End of Ordinary, and Mickey7, as well as of short stories which have appeared in venues ranging from the newsletter of an Italian sausage company to Escape Pod, Analog, and Fireside Fiction. He lives in upstate New York in a cabin in the woods (not that cabin in the woods) with his wife, a variable number of daughters, and an adorably mopey dog named Max. In his free time, he enjoys cancer research, teaching quantum physics to sullen graduate students, and whittling.