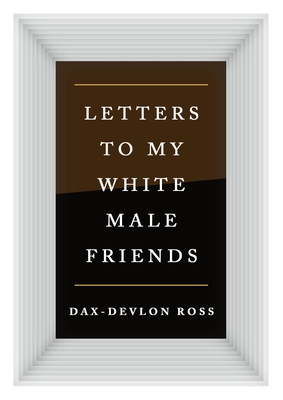 Letters to My White Male Friends
Hardcover

* Individual store prices may vary.
Description
In Letters to My White Male Friends, Dax-Devlon Ross speaks directly to the millions of middle-aged white men who are suddenly awakening to race and racism.

White men are finally realizing that simply not being racist isn't enough to end racism. These men want deeper insight not only into how racism has harmed Black people, but, for the first time, into how it has harmed them. They are beginning to see that racism warps us all. Letters to My White Male Friends promises to help men who have said they are committed to change and to develop the capacity to see, feel and sustain that commitment so they can help secure racial justice for us all.

Ross helps readers understand what it meant to be America's first generation raised after the civil rights era. He explains how we were all educated with colorblind narratives and symbols that typically, albeit implicitly, privileged whiteness and denigrated Blackness. He provides the context and color of his own experiences in white schools so that white men can revisit moments in their lives where racism was in the room even when they didn't see it enter. Ross shows how learning to see the harm that racism did to him, and forgiving himself, gave him the empathy to see the harm it does to white people as well.

Ultimately, Ross offers white men direction so that they can take just action in their workplace, community, family, and, most importantly, in themselves, especially in the future when race is no longer in the spotlight.
Praise For Letters to My White Male Friends…
"Letters To My White Male Friends is an urgent appeal to confront systemic racism. Dax-Devlon Ross combines deeply personal experiences with our country's painful history to call upon us all to work towards real justice. This book forces us to question what we think we know about inequality - and challenges us to act."
--Sheryl Sandberg, COO of Facebook and founder of Lean In and Option B

"A compelling blend of memoir and call to action, Dax-Devlon Ross invites readers to reflect on their own racial socialization as he reflects on his and challenges them not to turn away from the reality of systemic racism but to listen, learn and take action for meaningful social change in their spheres of influence. Not one of those "White Male Friends"? Read it anyway. You'll be glad you did."--Beverly Daniel Tatum, Ph.D., author of Why Are All the Black Kids Sitting Together in the Cafeteria? and Other Conversations About Race

"In this deeply intimate and often searing account, Ross upends the narrative well intentioned White people often tell themselves about the Black experience. It's a must read coming-of-age story for our times."--Elsa Walsh, journalist and bestselling author of Divided Lives

"A sweeping deep dive into decades of American social history and politics that is at once personal, compelling, and damning. A fiery, eloquent call to action for White men who want to be on the right side of history."--Kirkus Reviews (starred)

"[An] astute and accessible account.Ross folds analyses of Supreme Court rulings, gentrification, the "war on drugs," and income disparities into his candid personal reflections, and offers a useful framework for how white men, in particular, can "shift culture and advance equity" by paying attention to how they receive feedback and by drawing on their own feelings of powerlessness to empathize with marginalized groups. This commonsense guide tackles a pressing social issue head-on."--Publishers Weekly

"Ross models the vulnerability and openness that sustained anti-racism work seems to require."--Boston Globe

"I thought I knew about the racial injustice that exists in this country, but this book blew my preconceived notions and truly opened my eyes. To live in America today this book should be required reading."--Fisher Stevens, director, actor, producer, and activist

"Dax-Devlon Ross manages to tackle the extraordinarily difficult issues of race with kindness, compassion and cogency. His story is profoundly personal and deeply compelling. This is required reading for anyone who is prepared to face these sensitive issues with openness and honesty. I loved this book."--Jon Bernthal, actor and director
St. Martin's Press, 9781250276834, 240pp.
Publication Date: June 15, 2021
About the Author
DAX-DEVLON ROSS is the author of several books (including The Nightmare and the Dream and Make Me Believe) and his journalism has been featured in Time, The Guardian, The New York Times, Virginia Quarterly Review, The Washington Post Magazine, and other national publications. He won the National Association of Black Journalists' Investigative Reporting Award for his coverage of jury exclusion in North Carolina courts and is currently a reporting fellow at Type Media Center.

A New York City teaching fellow turned nonprofit executive, Dax is now a principal at the social-impact consultancies Dax-Dev and Third Settlements, both of which focus on designing disruptive strategies to generate equity in workplaces and education spaces alike.

Dax received his Juris Doctor from George Washington University. He currently resides in Washington, D.C., with his wife, Alana, and their young daughter, Ella.
1. When did you first become aware of your race?
2. Who were the Black people in your life growing up? What role(s) did they play?
3. Looking back, were you raised to be color blind, color cognizant, or something else?
4. Looking back, how did the people who raised you think and talk about race?
5. How did race manifest in your education?
6. How do you think that the color of your skin has shaped your life?
7. Looking over your life, what are the major moments (the Obama presidency, Trayvon Martin's killing, etc.) wherein the national conversation on race entered your field of vision? Where did you stand in those moments? What was informing that stance?
8. What does it mean to not be a racist?
9. How have you participated in maintaining the pillars of white silence—whether it be through disengagement with racial issues, unconsciousness about racism's manifestations or otherwise?
10. What would it mean to move away from white silence? What would it take?
11. What are some of the advantages that you believe you experience as a white person?
12. What are some of the disadvantages that you believe you experience as a white person?
13. What is your reaction to Ross' concept of "white disbelief"? Where have you seen "white disbelief" of Black experiences show up in your life?
14. What were your initial reactions in reading and/or learning about white dominant culture? Has that changed over time?
15. How have you seen white dominant culture in your personal/professional life? How have you propagated it? How have you resisted it?
16. What can you–and others–do to address white dominant culture? What are you willing to give? What do you need?
17. How does race manifest in the community in which you live?
18. How does race manifest in your workplace (or past workplaces)? How can you push your workplace forward?
19. How does race manifest in your habits of consumption (where you shop, your entertainment preferences, etc.)?
20. When is a time you were simply 'neutral'? What informed that decision?
21. How does race manifest in your children's education? How does it manifest in their social lives?
22. What would it look like to raise anti-racist children?
23. In the last chapter of the book, Ross asks the reader to "focus on impact". Are there practical steps you can take in your everyday life to prevent historically harmed people from being harmed again?
24. Do you have people in your life that can serve as a support system and/or discussion partners for your continuing work in ending white supremacy?