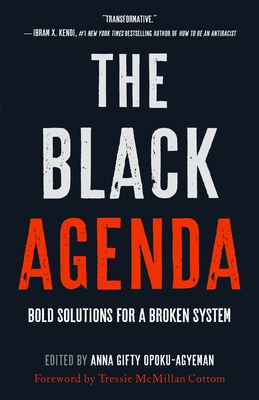 The Black Agenda
Bold Solutions for a Broken System
Hardcover

* Individual store prices may vary.
Description
The first book of its kind, a collection bringing together leading Black scholars and experts for a policy-oriented approach to the fight for racial justice in America.

From ongoing reports of police brutality to the disproportionate impact COVID-19 has had on Black Americans, the year 2020 brought a renewed awareness to the deep-rootedness of racism and white supremacy in every facet of American life. As people have looked both inward and to their communities to understand the impact of systemic oppression, they have turned in droves to books for guidance in working toward a more just and equitable world. Until now, however, there has yet to be a book published for a general audience from the perspective of Black scholars and experts proposing ideas from a policy-oriented standpoint.

Anna Gifty Opoku-Agyeman's The Black Agenda: Bold Solutions for a Broken System features Black voices across economics, education, health, climate, and technology, speaking to the question "What's next?" as it pertains to centering Black people in policy matters in our country. Essayists including Dr. Sandy Darity, Dr. Hedwig Lee, Mary Heglar, and Janelle Jones present groundbreaking ideas ranging from Black maternal and infant health to reparations to AI bias to inclusive economic policy, with the potential to uplift and heal not only Black America, but the entire country.

With a Foreword by Tressie McMillan Cottom
Praise For The Black Agenda: Bold Solutions for a Broken System…
"The Black Agenda is urgent. It's urgent that white people recognize that centering, listening to, and being led by the voices in this book are the start to investing in societal solutions. I wish that moral arguments of equity were enough but know they're not. These chapters are a strong mix of diagnosis and prescription, with an appropriate layer of moral calling to help us learn, reflect, and be motivated toward specific action." —Chelsea Clinton, New York Times bestselling author of She Persisted

"This book is overdue and imperative. We can't get clear national momentum without a core focus on the Black agenda. I am thrilled for the conversation and action this will inspire." —Wes Moore, New York Times bestselling author of The Other Wes Moore
St. Martin's Press, 9781250276872, 288pp.
Publication Date: February 1, 2022
About the Author
Anna Gifty Opoku-Agyeman is a Ghanaian-American researcher, writer, author, science communicator, and activist, specializing in the future of work and its implications for Black people in both corporate and academic spaces. Her advocacy and research have been featured by press and media such as Teen Vogue, The New York Times, Slate Magazine, NPR, Fortune, Marketplace, and The Guardian. She the co-founder of The Sadie Collective, a nonprofit addressing the pipeline and pathway problem for Black women in economics, finance, data science, and policy. In 2020, she became the youngest recipient for the CEDAW Women's Rights Award by the UN Convention on the Elimination all forms of Discrimination Against Women.