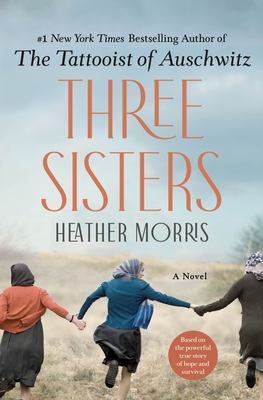 Three Sisters
A Novel
Hardcover

* Individual store prices may vary.
Other Editions of This Title:
Digital Audiobook (10/4/2021)
Paperback (9/6/2022)
CD-Audio (10/5/2021)
Library Binding, Large Print (11/1/2021)
Description
From Heather Morris, the New York Times bestselling author of the multi-million copy bestseller The Tattooist of Auschwitz and Cilka's Journey: a story of family, courage, and resilience, inspired by a true story.

Against all odds, three Slovakian sisters have survived years of imprisonment in the most notorious death camp in Nazi Germany: Auschwitz. Livia, Magda, and Cibi have clung together, nearly died from starvation and overwork, and the brutal whims of the guards in this place of horror. But now, the allies are closing in and the sisters have one last hurdle to face: the death march from Auschwitz, as the Nazis try to erase any evidence of the prisoners held there. Due to a last minute stroke of luck, the three of them are able to escape formation and hide in the woods for days before being rescued.

And this is where the story begins. From there, the three sisters travel to Israel, to their new home, but the battle for freedom takes on new forms. Livia, Magda, and Cibi must face the ghosts of their past--and some secrets that they have kept from each other--to find true peace and happiness.

Inspired by a true story, and with events that overlap with those of Lale, Gita, and Cilka, The Three Sisters will hold a place in readers' hearts and minds as they experience what true courage really is.
Praise For Three Sisters: A Novel…
"Livia, Cibi and Magda promise their dying father they'll stick together- a vow later tested at Auschwitz, on a so-called death march and in the postwar era. A stunning novel based on the true story of sisters acquainted with the real-life subjects of Morris's 2018 bestseller The Tattooist of Auschwitz." --PEOPLE

"Three Sisters … takes readers on an emotional roller coaster … As fascinating as the novel is, the story of how Morris came to discover the women whom she based her plot around is equally compelling." --Hadassah Magazine

"Morris (The Tattooist of Auschwitz) follows the real-life Meller sisters, who all survived imprisonment at Auschwitz-Birkenau and a winter death march during WWII, in her extraordinary latest. Morris skillfully chronicles the lives of the sisters from childhood to old age, balancing fictional invention with extensive research and immersion into the Mellers' lives. Readers will be greatly inspired by this story of resilience. --Publisher's Weekly (Starred review)

Praise for Cilka's Journey:

"In the stirring follow-up to The Tattooist of Auschwitz, Morris tells the story of a woman who survives Auschwitz, only to find herself locked away again. Morris's propulsive tale shows the goodness that can be found even inside the gulag."--Publishers Weekly


St. Martin's Press, 9781250276896, 416pp.
Publication Date: October 5, 2021
About the Author
HEATHER MORRIS is a native of New Zealand, now resident in Australia. For several years, while working in a large public hospital in Melbourne, she studied and wrote screenplays, one of which was optioned by an Academy Award-winning screenwriter in the US. In 2003, Heather was introduced to an elderly gentleman who 'might just have a story worth telling'. The day she met Lale Sokolov changed both their lives. Their friendship grew and Lale embarked on a journey of self-scrutiny, entrusting the innermost details of his life during the Holocaust to her. Heather originally wrote Lale's story as a screenplay – which ranked high in international competitions – before reshaping it into her debut novel, The Tattooist of Auschwitz.
1. What do you think it was about these three sisters that meant they survived the Holocaust when so many others didn't? Was it luck or something else?
2. Why do you think the girls were so often treated better than other prisoners, by the block kapos and other guards, another fact that meant that they survived?
3. How important were relationships in the camps—between family, friends, and those in charge?
4. There is a sense that Magda felt guilt at not having been in the camp for as long as her sisters. Is this justified?
5. How do you think being in the camps shaped the people these three sisters became?
6. How did Three Sisters change your perceptions about the Holocaust in particular, and war in general? What implications does this book hold for our own time?
7. Why do you think the sisters chose to leave their home in Slovakia after the war and embark on a journey to Israel? Do you think they would have done this had it not been for their experiences in the Holocaust?
8. How do you think the sisters' experiences affected the relationships they formed after the Holocaust?
9. The scene in which the group of girls who have just survived the death march find an abandoned house and decide to take the dining table outside to eat is incredibly powerful. Why do you think they did this after everything they'd been through, rather than eating inside, and would you have done the same?
10. What was your overwhelming feeling when you finished the novel? Was it one of hope?
11. The sisters were barely older than children when they were taken to Auschwitz—Livia just fifteen. Do you think their youth gave them an advantage, or was the opposite the case?
12. Each of the sisters married a Holocaust survivor, with his own story of survival. Why do you think this might be?
13. Do you see the sisters as heroines or ordinary women?