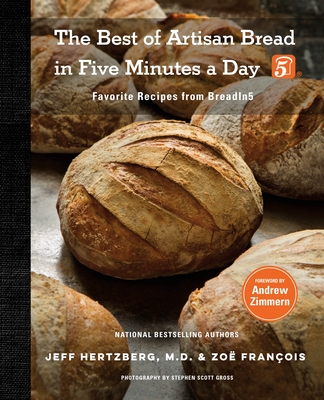 The Best of Artisan Bread in Five Minutes a Day
Favorite Recipes from BreadIn5
Hardcover

* Individual store prices may vary.
Description
WITH A FOREWORD BY ANDREW ZIMMERN

"What Zoë and Jeff have done with the Artisan Bread in Five Minutes series is prove that the world's easiest yeasted loaf, the most versatile bread dough recipe (even pizza!), can be taken in so many directions and have so many applications that it has created a series of hits." —From the Foreword by Andrew Zimmern

From Jeff Hertzberg, M.D., and Magnolia Network's Zoë François, the authors of the Artisan Bread in Five Minutes a Day series, comes a collection of all time favorite recipes and techniques.

With nearly one million copies of their books in print, Jeff Hertzberg and Zoë François have proven that people want to bake their own bread, so long as they can do it easily and quickly. But with five very different "Bread in Five" books to choose from, bakers have been asking: "Which one should I get if I want a little of everything: the best of European and American classics, whole-grain recipes, pizza and flatbread, gluten-free, sourdough, and loaves enriched with eggs and butter?"

With The Best of Artisan Bread in Five Minutes a Day, Jeff and Zoë have chosen their absolute favorite 80 recipes from all five of their books, bringing them together into a single volume that is the only bread book a baker needs. In addition to old favorites, the book pulls in a few new tricks, tips, and techniques that Jeff and Zoë have learned along the way. With this revolutionary stored-dough technique—along with color and instructional black-and-white photographs—readers can have stunning, delicious bread on day one. The Best of Artisan Bread in Five Minutes a Day will make everyone a baker—with only five minutes a day of active preparation time.
Praise For The Best of Artisan Bread in Five Minutes a Day: Favorite Recipes from BreadIn5…
Praise for Jeff Hertzberg and Zoë François:

"The contents are superb, the recipes are absolute." —Andrew Zimmern, from the Foreword

"The entire bread-making process can be quite time-consuming, relegating the creation of homemade artisan loaves to exceedingly rare open weekends. But with the method introduced in this cookbook, you can have those artisan loaves anytime, with only, truly, about five minutes of work...I cannot overemphasize how easy this is...I will be relying on this book for quick, easy bakes I can offer my family every day." —San Francisco Book Review

"[In] this definitive guide to bread making...[both] veteran and novice bread bakers will find empowerment and inspiration." —Publishers Weekly

"I made it for about three days straight (the last day I made two loaves) and every day, a lovely small round loaf of bread came out. It was delicious. People were coming into the kitchen asking what that delicious smell was. Everytime it rose perfectly." —Parkersburg News & Sentinel

"Looking for a new passion or hobby? The days are short and the smell of your own bread as it bakes will make every day feel special. Therefore, I'm giving two thumbs up to The Best of Artisan Bread in Five Minutes a Day....Put the electric bread maker away and try artisan loaves of bread by hand. I think you'll be hooked." —The Advice Sisters blog

"Zoë François and Jeff Hertzberg have amazingly demystified the arcane and delightful world of artisan bread." —Andrew Zimmern on Healthy Bread in Five Minutes a Day

"Soon the bread will be making itself... The crusty, full-flavored loaf that results may be the world's easiest yeast bread." —The New York Times

"Hertzberg and François' practical, common-sense method… is, quite simply, genius." —Chicago Tribune
St. Martin's Press, 9781250277435, 272pp.
Publication Date: October 12, 2021
About the Author
Jeff Hertzberg, M.D.
grew up eating great bread and pizza in New York City. He continues to teach the importance of moderation and variety in a healthy diet, and works as a medical director and consultant focusing on health-improvement programs. During his medical residency, he started a years-long quest to figure out how to make dough that was convenient enough to use every day. He turned an obsession with bread and pizza into a second career as a cookbook author.
Zoë François
is a pastry chef and baker trained at the Culinary Institute of America. With Jeff Hertzberg, M.D., she is the author of
Artisan Bread in Five Minutes a Day
and
Healthy Bread in Five Minutes a Day,
and
Pizza and Flatbread in Five Minutes a Day
. In addition to co-authoring the Bread in Five Minutes series, Zoë hosts her own TV series, Zoë Bakes, on the Magnolia Network and has written a solo cookbook,
Zoë Bakes Cake.
Passionate about food that is real, healthy and always delicious, François teaches baking and pastry courses nationally, is a consultant to the food industry, and creates artful desserts and custom wedding cakes. She also writes the recipe blog Zoë Bakes. She lives in Minneapolis, Minnesota, with her husband and two sons.
ANDREW ZIMMERN is a chef, food writer, and teacher, as well as the host of the Travel Channel's hit show, Bizarre Foods with Andrew Zimmern and Bizarre Foods America. Andrew has been a featured guest on various popular national television shows such as NBC's Today Show, The Dr. Oz Show, Access Hollywood, Nightline, and E!'s The Soup. Born and raised in New York City, Andrew currently resides in Minnesota with his wife and son.