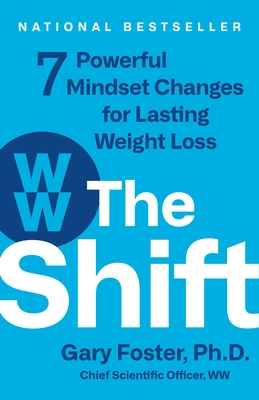 The Shift
7 Powerful Mindset Changes for Lasting Weight Loss
Hardcover

* Individual store prices may vary.
Other Editions of This Title:
Paperback (5/2/2023)
Description
The Shift is not about what to eat or not eat. It's not about when to eat. It's about building thinking habits, proven through science, that help you lose weight.

There are so many myths surrounding weight loss: Setbacks mean failure. Big results require big goals. You need to power through alone. You have to hate your body to lose weight. Happiness awaits you only at the end of the journey.

All of these are untrue, unhelpful—and actually undermine long-term weight loss.

Dr. Gary Foster's 7 Mindset Shifts show you how to—and why you should—treat yourself in a way that feels better and primes you for likelier success. His argument and the techniques in each chapter, built on years of research and breakthroughs in cognitive behavioral therapy and positive psychology, can lead to results on the scale—but, more important, in your own thinking. The Shift flips old-fashioned weight-loss theory on its head, training you to recognize when your thinking is taking you away from your goals, to focus on action rather than outcome, and to value non-scale victories more than the number on the digital display. It's evidence-based motivation—and it really works!

The 7 Mindset Shifts include treating yourself with compassion, leaning into your strengths, appreciating the power of small steps (and more frequent rewards), finding your people, and truly relaxing into happiness and gratitude.

"Diet thinking" isn't habit-forming; mindset shifts are. And muscular yet kind mental habits, like the ones found in The Shift, are key to long-term, positive change.
Praise For The Shift: 7 Powerful Mindset Changes for Lasting Weight Loss…
"Gary Foster is the mastermind behind WW's innovative, effective, and practical approach to removing mental obstacles in our path to true wellness. I've seen first hand how changing the way I think has been the single greatest factor in helping me achieve my goals, and Gary is sharing all his most powerful, tested techniques for creating habits that serve us in The Shift. Get your highlighter ready and dig in!"
—Daphne Oz, award-winning television host and bestselling author of The Happy Cook

"Shifting your mindset toward successful and lasting weight loss is easier than ever now that Dr. Foster has distilled the complexity of behavioral science into practical, easy-to-understand and bite-sized action steps for a healthier and happier life."
—Robert Kushner, M.D., Director, Center for Lifestyle Medicine, Northwestern Medicine and author of Six Factors to Fit: Weight Loss that Works for You!

"Gary Foster's The Shift is full of intelligent, incisive information and tools we can all use to achieve any personal goal. But what's best about it—and why I'm keeping it by my bedside to dip into for inspiration—is that Foster gives us all permission to be kind to ourselves. Once we make a shift in how we think about ourselves, anything is possible."
—Annaleigh Ashford, Tony Award-winning actress

"What a remarkable book from one of the world's foremost authorities on weight and wellbeing. With rare kindness and abundant wisdom, Gary Foster helps us see the central roles of self-compassion and mindful planning in achieving success. This book will dramatically shift the way that all of us, including health professionals, approach weight management."
—Thomas A. Wadden, Ph.D., Albert Stunkard Professor in Psychiatry, Center for Weight and Eating Disorders, Perelman School of Medicine at the University of Pennsylvania

"When you're an obesity scientist, everyone asks for the "secret" to weight loss. There is one, but it's not a diet or exercise plan. Here it is: getting motivated to lose weight is relatively easy; what matters is keeping ourselves motivated to do what it takes to lose weight. In The Shift, Gary Foster brilliantly shows how to change our mindset to build and sustain motivation for lasting weight loss. Foster—a luminary of weight loss research—distills the complexities of mindset science into seven strategies that will help you lose weight and improve your well-being."
—Gary G. Bennett, Ph.D., Professor of Psychology & Neuroscience, Global Health & Medicine, Duke University
St. Martin's Press, 9781250277756, 240pp.
Publication Date: October 5, 2021
About the Author
Gary Foster, Ph.D., is the Chief Scientific Officer at WW (formerly Weight Watchers International). He is the founder and former director of the Center for Obesity Research and Education at Temple University, and he served as clinical director of the Weight and Eating Disorders Program at the University of Pennsylvania School of Medicine. He is the author of numerous scientific publications on the psychology, causes, and treatment of obesity and has worked with thousands of people in group and individual settings. He lives in Philadelphia.