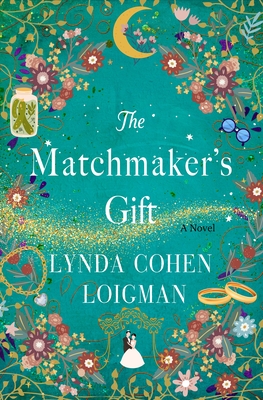 The Matchmaker's Gift
A Novel
Hardcover

* Individual store prices may vary.
Description
A heartwarming story of two extraordinary women from two different eras who defy expectations to realize their unique gift of seeing soulmates in the most unexpected places.

Is finding true love a calling or a curse?

Even as a child in 1910, Sara Glikman knows her gift: she is a maker of matches and a seeker of soulmates. But among the pushcart-crowded streets of New York's Lower East Side, Sara's vocation is dominated by devout older men—men who see a talented female matchmaker as a dangerous threat to their traditions and livelihood. After making matches in secret for more than a decade, Sara must fight to take her rightful place among her peers, and to demand the recognition she deserves.

Two generations later, Sara's granddaughter, Abby, is a successful Manhattan divorce attorney, representing the city's wealthiest clients. When her beloved Grandma Sara dies, Abby inherits her collection of handwritten journals recording the details of Sara's matches. But among the faded volumes, Abby finds more questions than answers. Why did Abby's grandmother leave this library to her and what did she hope Abby would discover within its pages? Why does the work Abby once found so compelling suddenly feel inconsequential and flawed? Is Abby willing to sacrifice the career she's worked so hard for in order to keep her grandmother's mysterious promise to a stranger? And is there really such a thing as love at first sight?
Praise For The Matchmaker's Gift: A Novel…
"Loigman's latest is a gem. A scrappy Jewish teenager newly arrived in 1920s New York struggles to follow her calling as a matchmaker––seventy years later, her cynical divorce-attorney granddaughter realizes she has very inconveniently inherited the family gift for matching soulmates. Both funny and moving, The Matchmaker's Gift made me smile from start to finish."
––Kate Quinn, New York Times bestselling author of The Rose Code

"In the inviting The Matchmaker's Gift, Loigman takes the readers by the hand and leads them into the world of shadchanim, or matchmakers, of both a historic and modern variety. This charming story about a realm that is at once familiar and magical invites contemplation of the many ways in which the past reverberates into the present."
––Marie Benedict, New York Times bestselling author of The Mystery of Mrs. Christie

"Loigman brilliantly illuminates the struggle of two women, generations apart, torn between society's traditions and expectations and their own personal fulfillment. The novel bubbles with romance and love matches, yet the joys of early infatuation are deftly layered over an exquisite exploration of grief. Glorious and powerful."
––Fiona Davis, New York Times bestselling author of The Lions of Fifth Avenue

"Combining authentic historical fiction with mystery and a touch of romance, Loigman artfully reminds us that the past is never far, the present is a gift and the future is ours for the making. The Matchmaker's Gift is timely and timeless, and readers should make time for this original and touching story about the things that matter most."
––Pam Jenoff, New York Times bestselling author of The Woman With The Blue Star

"Written in luminous and lyrical prose, The Matchmaker's Gift is a powerful and profoundly emotional novel that charts two generations of women seeking to find their place and forge their independence in an ever-changing world. Exquisitely rendered and masterfully plotted, Loigman delves into the mysteries of what makes the heart soar and the soul find its perfect match. As magical and timeless as love itself, this is a book to be shared between generations."
––Alyson Richman, bestselling author of The Lost Wife

"Loigman once again taps into her exquisite ability to create rich characters that take us into the past while at the same time telling a universal story about destiny, family, and being authentic. I got lost equally in the stories of both Sara and Abby and was charmed by their connection to each other as well as to their craft. With her trademark ability to spin a tale and the heart with which she does it, Loigman has provided her readers with a story they won't soon forget."
––Susie Orman Schnall, author of We Came Here to Shine

"The Matchmaker's Gift has all the right ingredients for an enthralling read—history, humor, romance, mystery, and a dash of magic. Loigman's latest book brims with optimism, a cast of colorful characters, and two smart heroines who dare to forge their own brave paths in life. I was completely charmed by this clever dual-timeline novel."
––Elise Hooper, author of The Other Alcott
St. Martin's Press, 9781250278098, 320pp.
Publication Date: September 20, 2022
About the Author
Lynda Cohen Loigman is the author of The Wartime Sisters and The Two-Family House. She received a B.A. in English and American Literature from Harvard College and a J.D. from Columbia Law School. She grew up in Longmeadow, MA, and now lives in Chappaqua, NY.