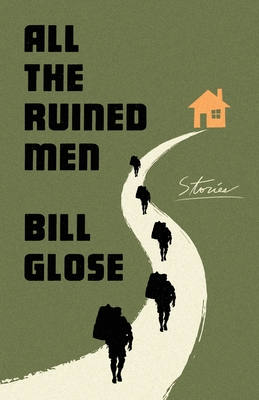 All the Ruined Men
Stories
Hardcover

* Individual store prices may vary.
Description
For readers of Phil Klay, Kevin Powers, and Tim O'Brien: Dramatic, powerful, authentic short stories of soldiers fighting a "forever war," in combat and back home.

Combat takes a different toll on each soldier; so does coming home. All the Ruined Men by Bill Glose comprises linked stories that show veterans struggling for normalcy as they grapple with flashbacks, injuries (both physical and psychological), damaged relationships, loss of faith, and loss of memory. Beginning in 2003, All the Ruined Men spans ten years, from the confident beginning of America's "forever war" to the confusion and disillusionment that followed.

As a former paratrooper and Gulf War veteran, author Bill Glose is closely bound to these stories. Drawing from his own experiences and military knowledge, Glose presents a cast of complex and sympathetic characters: young men who embraced what seemed like a war of just cause, who trained and fought and lived and died together, and who have returned to families, wives, children, civilian life, and an America that has lost its way.

Unforgettable, moving, filled with moments of anguish, doubt, love, hope, and other emotions, All the Ruined Men is a singular debut collection.
Praise For All the Ruined Men: Stories…
"In this collection, Bill Glose hinges the traumas of war to everyday events: playing poker, hosting a party, digging a pool. All the Ruined Men is an impressive debut from a seasoned storyteller who understands nuance and character and how memory abides inside every present moment. These stories are brutal, disarming, tender, and wrenching. They are also very well-written — lyrical, yet understated — harrowing, piercing, fierce." —Sheri Reynolds, author of The Tender Grave and The Rapture of Canaan

"Through these heartfelt stories Bill Glose shatters the myth of the tight-lipped, stoic veteran." —Will Mackin, author of Bring Out the Dog

"Brutally honest.... An important book all Americans should read to understand the fallout from twenty years of continuous war." —Brian Castner, author of The Long Walk

"Searing, evocative, masterfully told." —Mark Treanor, author of A Quiet Cadence

"This accomplished book is more than a collection of war tales. It's a reckoning." —Matt Gallagher, author of Empire City and Youngblood

"Glose rivets the reader's attention with gritty, convincing detail...A tribute to those whose lives were wrecked by fighting in America's longest war, All the Ruined Men is one of the most moving collections I've ever read." —David Poyer, author of Violent Peace and Heroes of Annapolis

"Glose adds his impressive voice to those of writers like Kevin Powers and Phil Klay who have produced powerful fiction about the experience of American soldiers fighting in the 21st-century wars in Iraq and Afghanistan. . . A collection of painfully honest and consistently empathetic glimpses of modern American soldiers in war and peace." —Kirkus, starred review

"Emotionally charged...This sterling connection stands with Tim O'Brien's The Things They Carried." —Publishers Weekly starred review
St. Martin's Press, 9781250279880, 288pp.
Publication Date: August 2, 2022
About the Author
Bill Glose is a combat veteran and former paratrooper. He is the author of several books of poetry, including Postscript to War and Virginia Walkabout. His magazine articles, stories, poems, and essays have appeared in numerous publications, including The Missouri Review, The Sun, Narrative Magazine, and The Writer. Glose received the F. Scott Fitzgerald Short Story Award, the Robert Bausch Fiction Award, and the Dateline Award for Excellence in Journalism. Glose was named the Daily Press Poet Laureate in 2011 and featured by NPR on The Writer's Almanac in 2017.