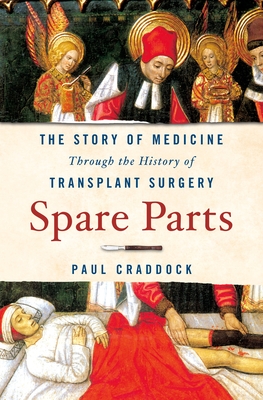 Spare Parts
The Story of Medicine Through the History of Transplant Surgery
Hardcover

* Individual store prices may vary.
Description
Paul Craddock's Spare Parts offers an original look at the history of medicine itself through the rich, compelling, and delightfully macabre story of transplant surgery from ancient times to the present day.

How did an architect help pioneer blood transfusion in the 1660's?
Why did eighteenth-century dentists buy the live teeth of poor children?
And what role did a sausage skin and an enamel bath play in making kidney transplants a reality?

We think of transplant surgery as one of the medical wonders of the modern world. But transplant surgery is as ancient as the pyramids, with a history more surprising than we might expect. Paul Craddock takes us on a journey - from sixteenth-century skin grafting to contemporary stem cell transplants - uncovering stories of operations performed by unexpected people in unexpected places. Bringing together philosophy, science and cultural history, Spare Parts explores how transplant surgery constantly tested the boundaries between human, animal, and machine, and continues to do so today.

Witty, entertaining, and illuminating, Spare Parts shows us that the history - and future - of transplant surgery is tied up with questions about not only who we are, but also what we are, and what we might become.
Praise For Spare Parts: The Story of Medicine Through the History of Transplant Surgery…
"A thrilling and often terrifying ride through transplantation and the theories and techniques that made it possible." –The New York Times Book Review

"By turns delightful and disturbing, even the most seasoned of medical history buffs will be astonished by Spare Parts. A thoroughly engrossing read that I couldn't put down." –Dr. Lindsey Fitzharris, bestselling author of The Butchering Art

"Thoroughly researched and appealingly digressive, this fascinating medical and cultural history sheds light on what it means to be human." –Publishers Weekly

"With Spare Parts Paul Craddock has achieved something unique: a serious, entertaining and thoroughly researched work that usefully sets the history of transplantation in the context of the evolution of ideas about the human body." –Times Literary Supplement (UK)

"Stuffed with eccentric characters and questionable experiments, this is a joyful romp through a fascinating slice of medical history." --Wendy Moore, author of The Knife Man

"A riveting journey through the story of anatomical alchemy...filled with adventure, delight and surprise." --Dr. Rahul Jandial, surgeon and author of Life on a Knife's Edge

"This compelling and impeccably researched history of transplant surgery puts you right at the heart of the gruesome action." --Richard Hollingham, author of Blood and Guts

"Craddock combines meticulous scholarship with wry wit in lucid prose...a narrative that challenges our ideas of what transplantation means." --Prof. Roger Kneebone, author of Expert

"A captivating and sure-footed exploration of the medical, historical and mythological landscape in which humans use parts from each other to make themselves whole. With compassion and insight, Paul Craddock elucidates vital questions about what it means to be human and to realise our dreams of survival." --Dr. Emily Mayhew, author of Wounded

"Spare Parts is such a pleasure to read, filled with so many fascinating characters and stories that seem almost too crazy to be real...a book that makes us proud of our macabre past and excited about what can only be a limitless future." --Josh Mezrich, author of When Death Becomes Life
St. Martin's Press, 9781250280329, 320pp.
Publication Date: May 10, 2022
About the Author
PAUL CRADDOCK is Honorary Senior Research Associate in the Division of Surgery and Interventional Sciences at UCL Medical School in London. His PhD explored how transplants have for centuries invited reflection on human identity, a subject on which he has also lectured internationally. Spare Parts is his first book.