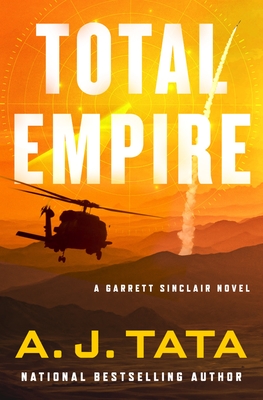 Total Empire
A Garrett Sinclair Novel
Hardcover

* Individual store prices may vary.
Description
General Garrett Sinclair undertakes a rogue mission in the Sahara Desert to thwart an international nuclear threat in Total Empire, an explosive thriller from A. J. Tata.

When Sergeant Major Sylvester "Sly" Morgan is killed on a mission, his daughter, Zoey, tells General Garrett Sinclair that her father's death wasn't random. Morgan had recorded a high-level meeting between Chinese, American, and French diplomats as they spoke about a plan for a new global government.

The "Chinese-U.S. Partnership", or CUSP, intends to combine the world's two largest economies and militaries to usher in a new era of partnership and leadership. But China's offer has a deadline and penalties for noncompliance. As a safeguard, China has five high-tech hypersonic glide vehicles armed with nuclear weapons orbiting the Earth ready to strike. When Zoey disappears in Africa, seemingly while in pursuit of her father's killer, Sinclair and Dagger Team are caught off-guard as they scramble to catch up.

Without authorization, Sinclair takes Dagger Team into Dakhla, Morocco as he attempts to save his goddaughter's life. With too many missions to complete and not enough information, Sinclair and team discover that the Chinese plan is nearly complete. As one nuclear glide vehicle misses Washington, DC but hits Loudoun County, Virginia, Sinclair's mission in the Sahara is to stop the Chinese from using its ground based laser targeting system before they can more accurately launch the remaining four. Facing insurmountable odds and without support from his government, Sinclair takes his team into the maw of the Saharan death pit, the Eye of Africa.
Praise For Total Empire: A Garrett Sinclair Novel…
Praise for Total Empire:

"The authenticity [A. J. Tata] brings to Total Empire is off the charts. A master of high speed political-military action thrillers, no writer since Clive Cussler has so completely transported me to exotic locales or made them seem so believably dangerous." —Robert Crais, #1 New York Times bestselling author of Racing the Light

"Lots of credible action, plenty of government traitors, and shocking losses fuel the action. Tata continues to rise among the ranks of today's top military action writers." —Publishers Weekly

Praise for Chasing the Lion:

"Garrett Sinclair is a powerhouse of a hero." —Mark Greaney, #1 New York Times bestselling author of One Minute Out

If you are looking for a good night's sleep, leave this one in the nightstand." —Jack Carr, #1 New York Times bestselling author of Savage Son

"Tata just keeps getting better and better, slowly but surely cementing his future as a thriller master." —Steve Berry, #1 New York Times bestselling author of the Cotton Malone series

"Tony Tata has written a white knuckle read that I dare you to put down." —Joel C. Rosenberg, #1 New York Times bestselling author of The Last Jihad and The Jerusalem Assassin

"Full of energy and snapping with action, Chasing the Lion is Tony Tata at his best." —Marc Cameron, #1 New York Times bestselling author

"General Tony Tata uses his experience to give us a glimpse into the fascinating world of military intrigue with a real human touch." —James O. Born, #1 New York Times bestselling author

"Chasing the Lion is a red hot thriller as timely as tomorrow's headlines." —Stephen Coonts, New York Times bestselling author

"A gripping, white-knuckle ride that will leave the reader looking for cover." —Simon Gervais, former RCMP counterterrorism officer and bestselling author of Hunt Them Down

"In addition to providing fully fleshed-out characters, Tata transforms familiar elements, including an Iranian terrorist bent on revenge, a new bioweapon, corrupt public officials in high places, and a hero whose family is in jeopardy, in ways that are exciting and fresh. Military action fans will get their money's worth." —Publishers Weekly

"[A] hybrid between Lee Child's "Jack Reacher," Clint Eastwood's "Dirty Harry," and Daniel Silva's "Gabriel Allon." ...General A.J. Tata (retired) proves to be a masterful storyteller, and weaves a convoluted, action packed narrative, brimming with authentic action sequences (as only told through the eyes of someone who actually has experienced the raw devastation of war). Tata expertly layers multidimensional characterizations onto both Sinclair and Parizad. The result is a riveting and deadly "cat and mouse" encounter that is truly cinematic and escalates into an exhilarating denouement...Hopefully further exploits of Garrett Sinclair will follow." —Mystery & Suspense
St. Martin's Press, 9781250281487, 352pp.
Publication Date: March 21, 2023
About the Author
A. J. TATA, Brigadier General, U.S. Army (Retired), most recently performed the duties of Under Secretary of Defense for Policy in the Pentagon. He also commanded combat units in the 82nd and 101st Airborne Divisions and the 10th Mountain Division. His last combat tour was in Afghanistan in 2007 where he earned the Combat Action Badge and Bronze Star Medal. He is the author of numerous national bestselling novels, including books from The Captain Jake Mahegan and Threat Series. He was the National Security Expert for One America News Network and a frequent foreign policy guest commentator on Fox News and CNN.