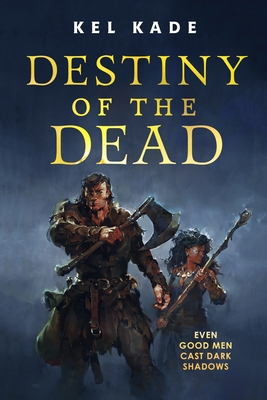 Destiny of the Dead (The Shroud of Prophecy #2)
Hardcover

* Individual store prices may vary.
Other Editions of This Title:
Paperback (2/7/2023)
Description
Destiny of the Dead is the second novel in a genre-bending series from New York Times bestselling author Kel Kade.

One of Amazon's Best of the Month Books!

The God of Death is tired of dealing with the living, so he's decided everyone should die. And he's found allies. The Berru, an empire of dark mages, has unleashed a terrifying army of monstrous lyksvight upon everyone with a pulse.

While the wealthy and powerful, the kings and queens, abandon the dying world, one group of misfits says no more. Through dogged determination and the ability to bind souls to their dead bodies, Aaslo and his friends fight on.

In the mountains of the far north, another bastion of defense is opened. Cherrí, the avatar of a vengeful fire god, has united the survivors amongst her people and begun her own war on the invaders.

Now, Aaslo and Cherrí must find a way to unite their powers, one divine, the other profane, to throw back the monsters of the Berru, and challenge Death itself.

The Shroud of Prophecy Series:
Fate of the Fallen
Destiny of the Dead
Praise For Destiny of the Dead (The Shroud of Prophecy #2)…
Praise for Destiny of the Dead
"Witty batter lightens the doomsday atmosphere, and readers will be eager for Aaslo's return in the proposed third book in the Shroud of Prophecy series."—Booklist

Praise for The Shroud of Prophecy series
"Kade's exciting disregard for convention makes for a world where everything is possible and no one is safe." —Publisher's Weekly

"A fun reimagining of a tired fantasy trope." —Paste Magazine

"Above all, that's just what this book is: FUN."—Fantasy Book Review

"Kade has written a real gem of a fantasy in Fate of the Fallen." —Fantasy Hive

"A tapestry of fascinating characters who were easy to love." —Dragonmount
Tor Books, 9781250293824, 320pp.
Publication Date: March 22, 2022
About the Author
Kel Kade lives in Texas and occasionally serves as an adjunct college faculty member, inspiring young minds and introducing them to the fascinating and very real world of geosciences. Thanks to Kade's enthusiastic readers and the success of the King's Dark Tidings series, Kade is now able to create universes spanning space and time, develop criminal empires, plot the downfall of tyrannous rulers, and dive into fantastical mysteries full time.


Growing up, Kade lived a military lifestyle of traveling to and living in new places. These experiences with distinctive cultures and geography instilled in Kade a sense of wanderlust and opened a young mind to the knowledge that the Earth is expansive and wild. A deep interest in science, ancient history, cultural anthropology, art, music, languages, and spirituality is evidenced by the diversity and richness of the places and cultures depicted in Kade's writing.